Red Sox unveil Tony C. display at Fenway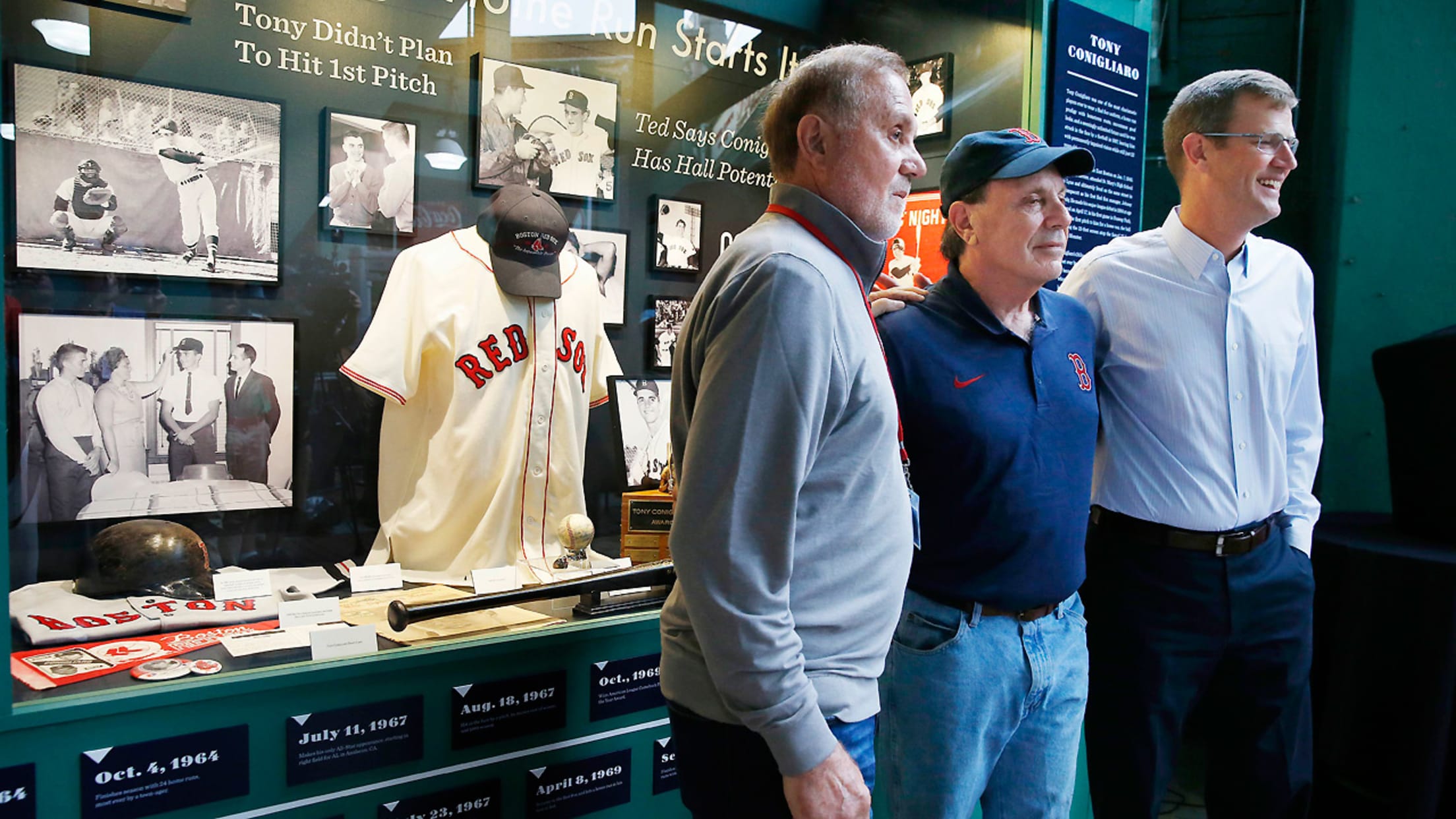 Tony Conigliaro's brothers pose for a photo with Red Sox president Sam Kennedy in front of the display at Fenway Park. (AP)
BOSTON -- The Red Sox added another piece of history to Fenway Park on Friday, unveiling a glass display in honor of Red Sox legend Tony Conigliaro.As fans step through Gate C, they'll see a display that includes Conigliaro's helmet, Red Sox jersey and American League championship ring from the
BOSTON -- The Red Sox added another piece of history to Fenway Park on Friday, unveiling a glass display in honor of Red Sox legend Tony Conigliaro.
As fans step through Gate C, they'll see a display that includes Conigliaro's helmet, Red Sox jersey and American League championship ring from the 1967 "Impossible Dream" season.
For brother Billy Conigliaro, who played for the Red Sox from 1969-71, his favorite piece of memorabilia was Tony's draft card. It included information about Tony's signing with the Red Sox and details about his signing bonus.
"I'm going to walk through Gate C every time I come to the ballpark," said brother Richie.
Tony Conigliaro enjoyed a charmed rookie season in 1964 at the age of 19, when he hit .290 with 24 home runs and 52 RBIs in only 111 games. That included a towering blast in Conigliaro's first game at Fenway on April 17, 1964.
Conigliaro hit 32 roundtrippers the following season to become the youngest home run champ in American League history. He holds the Major League record for most home runs hit as a teenager with 24, and remains the youngest player in AL history to hit 100 home runs, reaching the century mark at 22 years and 197 days old.
"Tony set the gold standard in terms of young players coming in at the Major League level and having an impact," Red Sox president Sam Kennedy said. "It is remarkable to think about the impact he had. You strive to find players like that."
A promising, possibly historic career was changed forever on Aug. 18, 1967, when Angels pitcher Jack Hamilton hit Conigliaro on his left cheekbone with a pitch.
The young slugger's sight was permanently altered, but after missing the 1968 season, Conigliaro managed to hit 56 home runs the following two seasons.
"Every time we see a clip of that, or that we hear his brother speak at the writer's dinner every year, you are just reminded a great career was cut short. And I think it's pretty remarkable what he was able to come back and do in [those two years] following," Red Sox manager John Farrell said. "But glad to see there's been a tribute paid to Tony here at the ballpark now, and to me, it's unfortunate that what was looking like was going to be a great career was cut short."
Conigliaro passed away from kidney failure in 1990 at the age of 45.
"Wherever Tony is, I hope he knows what's going on," Richie said. "I don't think he'd believe he is being honored like this. I wish he was here."
Quinn Roberts is a reporter for MLB.com.