Price, Sox look forward to resetting Tuesday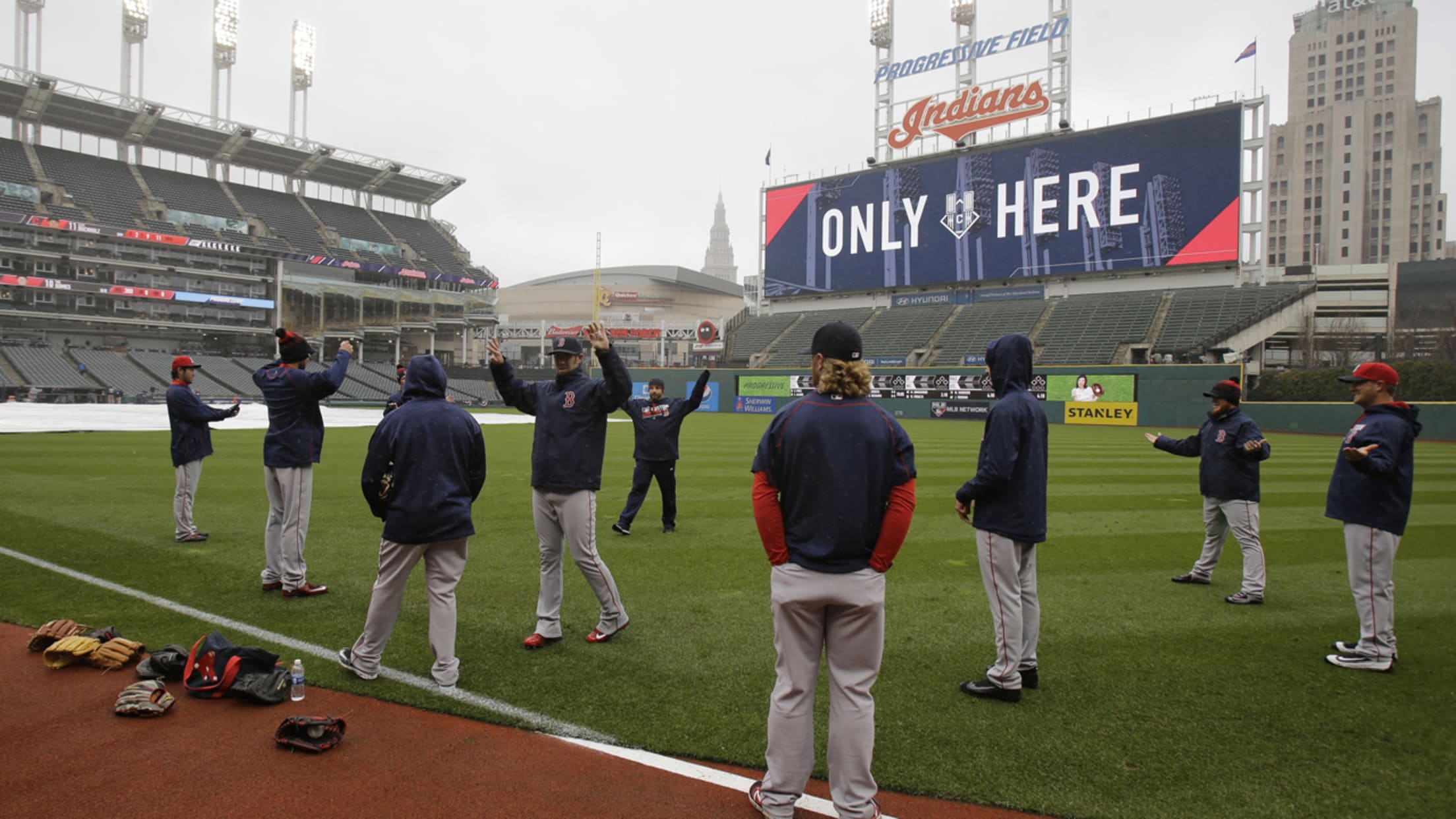 Members of the Red Sox stretch on the field prior to Monday's game being postpone. (AP)
CLEVELAND -- Red Sox ace David Price had no issue with Monday's "coldout" in Cleveland. Roughly an hour after the decision had been made to postpone Opening Day until Tuesday at 1:10 p.m. ET, Price still had numbness in his throwing hand -- and that was just from playing catch
CLEVELAND -- Red Sox ace David Price had no issue with Monday's "coldout" in Cleveland. Roughly an hour after the decision had been made to postpone Opening Day until Tuesday at 1:10 p.m. ET, Price still had numbness in his throwing hand -- and that was just from playing catch for five minutes.
Price will undoubtedly have full feeling back in his hand by the time he takes the mound against the Indians. At least on Tuesday, the first-pitch temperature is expected to be above freezing, albeit only by a couple of degrees, and it will be dry.
"I think it's the cold and the wind and just that wind chill," Price said of the decision not to play Monday. "It feels like 17 out there, and that's how people get hurt. You're not out there the entire time, so you're staying on the field, especially for position players. That's how guys can hurt hamstrings.
"I was out there for five or six minutes playing catch and my ring finger and my middle finger on my left hand, they're still numb now. That's probably the toughest part."
When Price first walked on to the field on Monday morning, snowflakes were falling and the lefty thought he'd have a chance to redeem himself for last year's snow catastrophe in Detroit.
Pitching against the Yankees with the white stuff falling on April 22, 2015, Price gave up 10 hits and eight runs over 2 2/3 innings.
"I gave up more runs than I got outs," said Price. "I've pitched in the snow before and it didn't go as well as I would have liked it to. I definitely wanted revenge in that weather, but I guess that will have to wait another day."
Shortstop Xander Bogaerts, who grew up on the soothing shores of Aruba, wasn't complaining either.
"I got to the park and went outside and was like, 'Do we even play in snow?' So that was kind of weird," said Bogaerts.
It was the first time the Red Sox have been postponed on Opening Day since 2009 at Fenway Park.
"Today's game was postponed due to the forecast changing from no precipitation to having precipitation most of the afternoon and into early evening," the Indians said in a statement outlining the reason behind the decision to wait until Tuesday to play. "That steady precipitation forecast combined with wind chills dropping into the teens, it was decided by both teams and umpires for fan comfort and player safety to postpone the game."
The Price-Corey Kluber matchup of former Cy Young Award winners should be able to go off without any delays or precipitation on Tuesday.
"I don't think anyone wants to start and stop regardless of what game or time of the year," said Red Sox manager John Farrell. "You're sending your No. 1 starter out for the first time in a Red Sox uniform and this way, based on the weather report, we've got a chance to go uninterrupted starting at 1 o'clock tomorrow."