Cora to use matchups for postseason setup role
Red Sox will turn to group of relievers before closer Kimbrel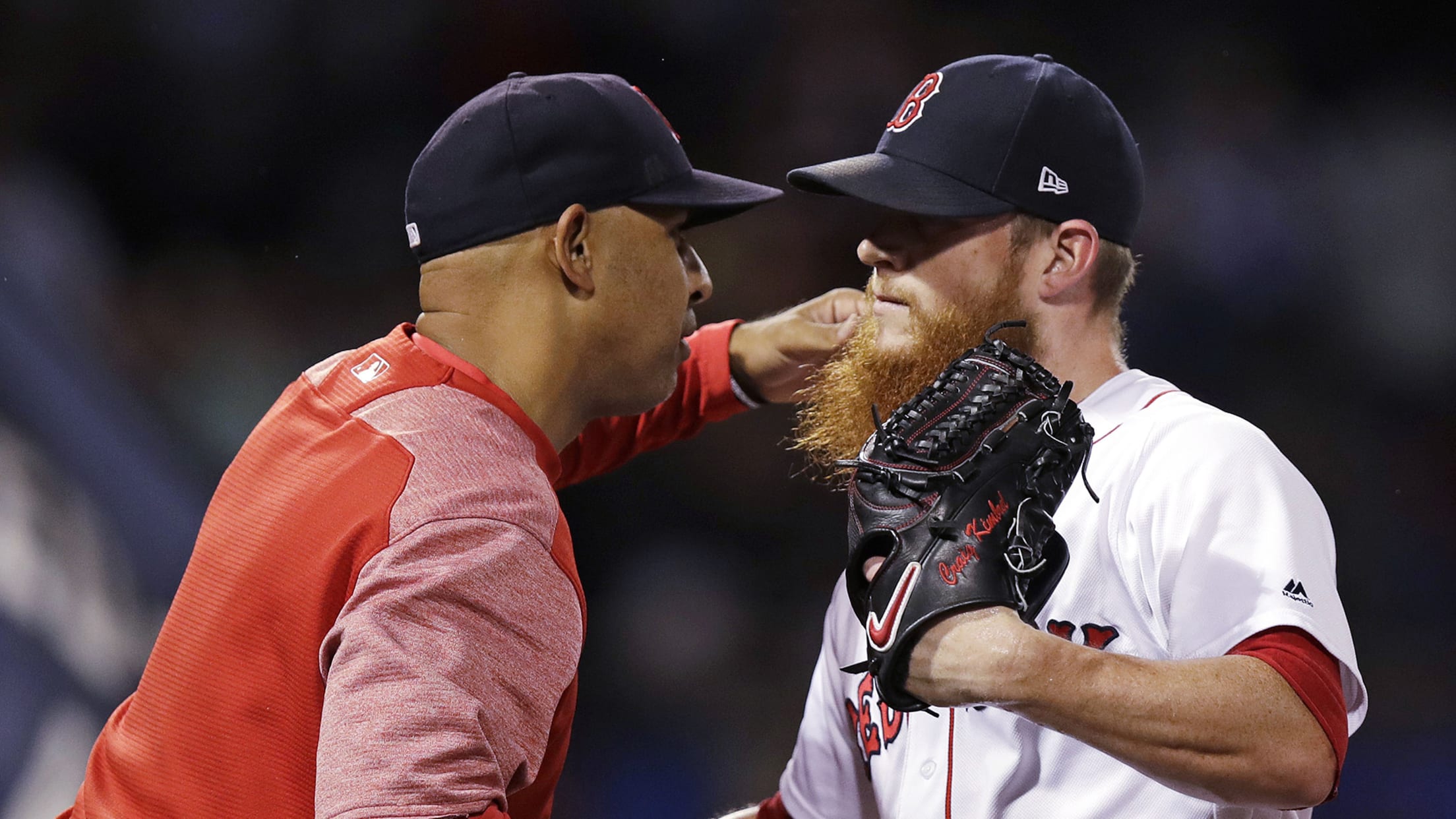 Boston Red Sox relief pitcher Craig Kimbrel, right, is embraced by manager Alex Cora after Kimbrel earned a save, defeating the Toronto Blue Jays 1-0 for the team's 100th win of the season after a baseball game at Fenway Park in Boston, Wednesday, Sept. 12, 2018. (AP Photo/Charles Krupa) (Charles Krupa/AP)
BOSTON -- While Red Sox Nation has spent a good deal of time dissecting who should be the eighth-inning setup man in the postseason, manager Alex Cora seems fine not giving one reliever that distinction.Perhaps Cora would feel differently if his bullpen had a wipeout reliever in front of Craig
BOSTON -- While Red Sox Nation has spent a good deal of time dissecting who should be the eighth-inning setup man in the postseason, manager Alex Cora seems fine not giving one reliever that distinction.
Perhaps Cora would feel differently if his bullpen had a wipeout reliever in front of Craig Kimbrel. But Cora feels he can make it work with the group of Matt Barnes, Ryan Brasier, Steven Wright, Joe Kelly, Tyler Thornburg and others.
"No, I think we need versatility, guys that can match up with whoever we're facing," Cora said. "Fastballs up, breaking balls, slider, I think that's the most important thing. You guys saw earlier in the season how we're going with Joe and Barnesy, and now that things are going this way, you see it with [Bobby] Poyner getting switch-hitters out and lefties.
"You see Brasier coming in in the sixth inning or pitch in the eighth. It's about who can get people out and how can we match up with whoever we play. That's the most important thing. Obviously, those decisions will happen before we play [the American League Wild Card Game] or we play the Division Series. We'll look at the matchups we like and the matchups we can exploit and we can go from there."
One thing that should help the bullpen a significant amount is a healthy return from Barnes, who hasn't pitched since Sept. 3 due to inflammation in his left hip.
Barnes has been playing catch the last few days. The next step will be throwing a bullpen session.
"I don't know if the goal is to get him on the mound this weekend, but if it's not this weekend, probably next week," Cora said.
The Red Sox are hopeful Barnes will pitch again before the regular season ends. Cora said the hard-throwing righty could get additional innings in the instructional league in the days between the end of the regular season and the start of the postseason if necessary.
Mixing it up behind plate
Though Sandy Leon has been the starting catcher for the big three of Chris Sale, David Price and Rick Porcello, Cora plans on mixing up those combinations before the postseason.
Christian Vazquez and Blake Swihart are the team's two other catchers.
"We want everybody to catch everybody before the season is over," Cora said. "We don't know when we're going to start doing this, but we have to do it, I feel. They caught those guys before, but I think it will be important for us, for them, to catch them, too."
The Red Sox have had all three catchers on the roster for the entire season, with the exception of when Vazquez was hurt. Cora didn't count out the Sox carrying all three in the postseason.
"Maybe. We did last year, in Houston. We had three," Cora said. "So it all depends where we're at and what we need. It all depends on who we play, probably. That Wild Card Game is a lot different roster wise. Obviously, a Division Series is another roster, probably. We'll see where we're at, and we'll go from there."
Devers trying to stay sharp
Even though the Jays had a righty starter on Thursday in Sam Gaviglio, Cora went with Eduardo Nunez at third base instead of Rafael Devers. This has not been uncommon since Devers came off the disabled list last week. The 21-year-old has had an inconsistent season at the plate and in the field. Cora would like to see him build some momentum before the postseason.
When Nunez exited with right knee soreness, Devers came on as a pinch-runner and remained in the game. He would go on to homer in the sixth inning of a 4-3 Red Sox victory.
"We've had conversations, yeah, I talked to him. We talked, actually, a few days ago," Cora said. "He understands, and we're here to help him out. He's going out there early, catching ground balls, working with Timmy [Hyers] and Andy [Barkett] in the cage. He knows where we're at right now, and like I said, 'Just be ready. Whenever you're in the lineup, go out there and put quality at-bats, play good defense,' and that's all we need from him."