Reds' Top 5 left-handed starters: Sheldon's take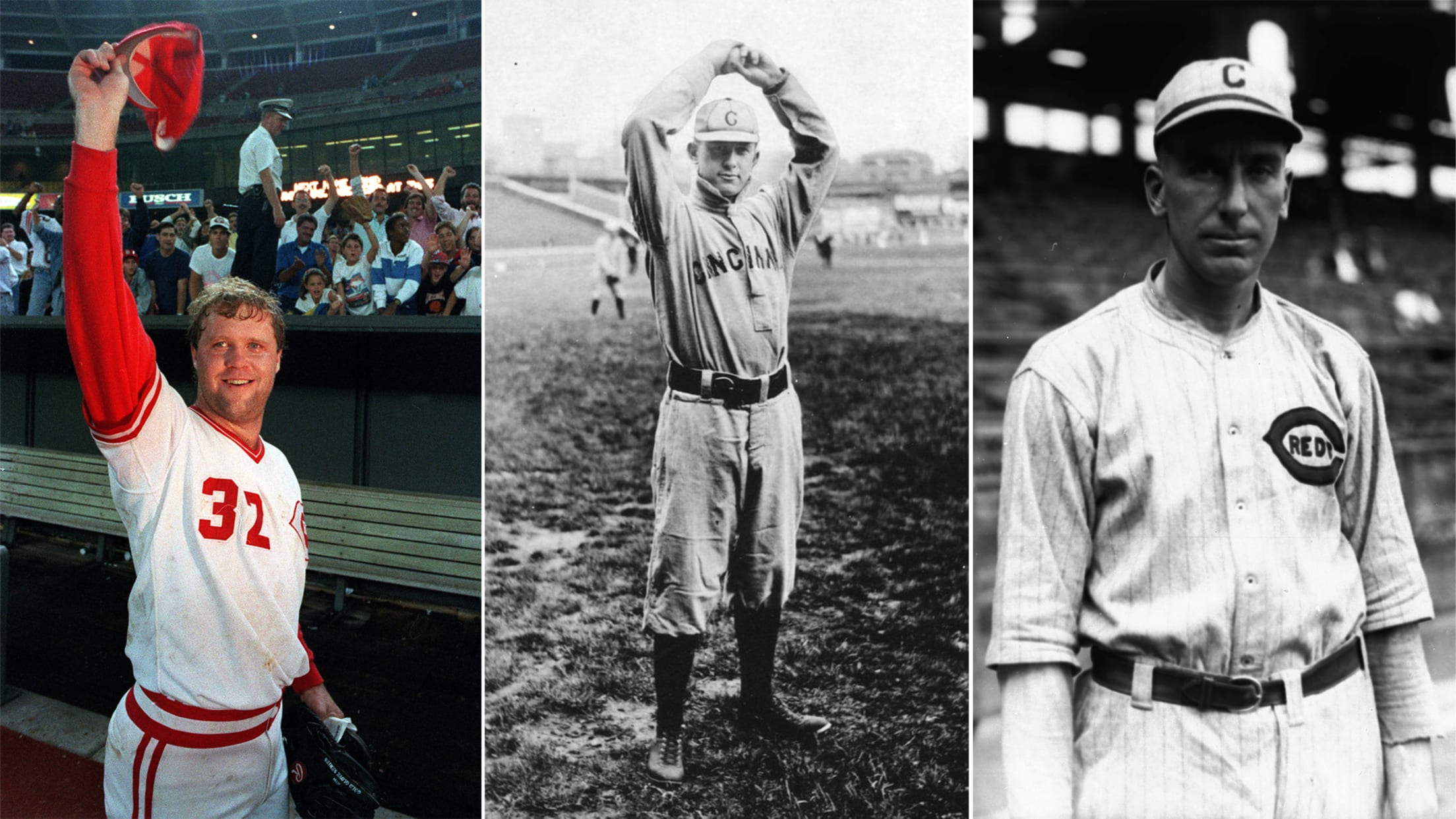 No one loves a good debate quite like baseball fans, and with that in mind, we asked each of our beat reporters to rank the top five players by position in the history of their franchise, based on their career while playing for that club. These rankings are for fun
No one loves a good debate quite like baseball fans, and with that in mind, we asked each of our beat reporters to rank the top five players by position in the history of their franchise, based on their career while playing for that club. These rankings are for fun and debate purposes only … if you don't agree with the order, participate in the Twitter poll to vote for your favorite at this position.
Now it's time to rank the best left-handed starting pitchers in #reds history. Who is your pick?

— Mark Sheldon (@m_sheldon) June 1, 2020
Here is Mark Sheldon's ranking of the top 5 left-handed starting pitchers in Reds history. Next week: Relievers
• Reds' All-Time Around the Horn Team: C | 1B | 2B | 3B | SS | LF | CF | RF | Bench | RHPs
1. Noodles Hahn, 1899-1905
Key fact: Recorded a career-high 239 strikeouts in 1901
According to the Society for American Baseball Research, since the mound was moved in 1893 to its modern location of 60 feet, 6 inches from home plate, only two pitchers have won 100 games before the age of 24 and two months -- Bob Feller and Hahn. Hahn also led the National League in strikeouts in each of his first three seasons and won 22 or more games in four of his first five. In 1901, Hahn pitched complete games in 41 of his 42 starts and was the victor in 22 of struggling Cincinnati's 52 wins.
Hahn worked 300 or more innings during each of his first four seasons, including a career-high 375 1/3 innings in 1901. Not surprisingly, arm injuries took hold and extinguished his career at the age of 27, while with the New York Highlanders. With the Reds, Hahn was 127-92 with a 2.52 ERA and 900 strikeouts.
2. Eppa Rixey, 1921-33
Key fact: Inducted into the Baseball Hall of Fame in 1963
A member of the Phillies when he left baseball to fight in World War I in 1918, Rixey struggled to regain his form when he returned to the game. But his career rebounded following a trade to Cincinnati ahead of the '21 season. Rixey enjoyed three 20-plus-win seasons and led the NL with 25 victories in '22. In '21, he allowed one home run in 301 innings pitched. At the age of 41 in '32, Rixey threw 27 consecutive scoreless innings from the span of July 24 to Aug. 28.
Rixey is the Reds' all-time leader with 179 wins, 2,890 innings pitched and 357 starts. He posted a 3.33 ERA with Cincinnati and had 23 shutouts.
3. Jim O'Toole, 1958-66
Key fact: Recorded 1,002 strikeouts in Cincinnati, second most among lefty starters
During the Reds' 1961 National League pennant-winning season, O'Toole was 19-9 with a 3.10 ERA in 39 games (35 starts) and 252 2/3 innings. Eighty-one of his 94 career wins in Cincinnati came over the five-year period of '60-64. In '63, his lone All-Star season, O'Toole was 17-14 with a 2.88 ERA, but he fared even better the following year, going 17-7 with a 2.66 ERA.
4. Tom Browning, 1984-94
Key fact: Owner of the only perfect game pitched in Reds history
A member of the 1990 World Series-winning Reds and a '91 All-Star, Browning made a big splash as a rookie in '85. He was 20-9 with a 3.55 ERA in 38 starts and 261 1/3 innings pitched, but he finished second in NL Rookie of the Year voting to St. Louis' Vince Coleman. The crowning moment of Browning's career came on Sept. 16, 1988, when he threw a perfect game for a 1-0 victory over the Dodgers. He led the NL in starts four times.
5. Johnny Vander Meer, 1937-43, '46-49
Key fact: Only Major League pitcher to throw back-to-back no-hitters
A four-time All-Star, the best of Vander Meer's career came before a two-year absence from baseball to serve the nation in World War II. Overall, he was 116-116 with a 3.41 ERA for Cincinnati and leads the club's lefty starters with 1,251 strikeouts. He led the NL in punchouts in three straight years from 1941-43. On June 11, 1938, vs. the Boston Bees at Crosley Field, Vander Meer threw a no-hitter in a 3-0 win. Four days later, at Ebbets Field, the lefty walked eight but struck out seven for a second consecutive no-hitter and 6-0 win over the Brooklyn Dodgers.
Honorable mentions
Don Gullett (1970-76) battled numerous injuries but was 91-44 with a 3.03 ERA and was part of the back-to-back World Series winners in '75 and '76 (and actually won a third consecutive with the Yankees in '77). … Gullett's teammate, Fred Norman (1973-79), was 85-64 with a 3.43 ERA.
Mark Sheldon has covered the Reds for MLB.com since 2006, and previously covered the Twins from 2001-05. Follow him on Twitter @m_sheldon and Facebook.