NL batting race aligns in Reds-Brewers series
Yelich's 4-hit cycle in opener ties Gennett atop leaderboard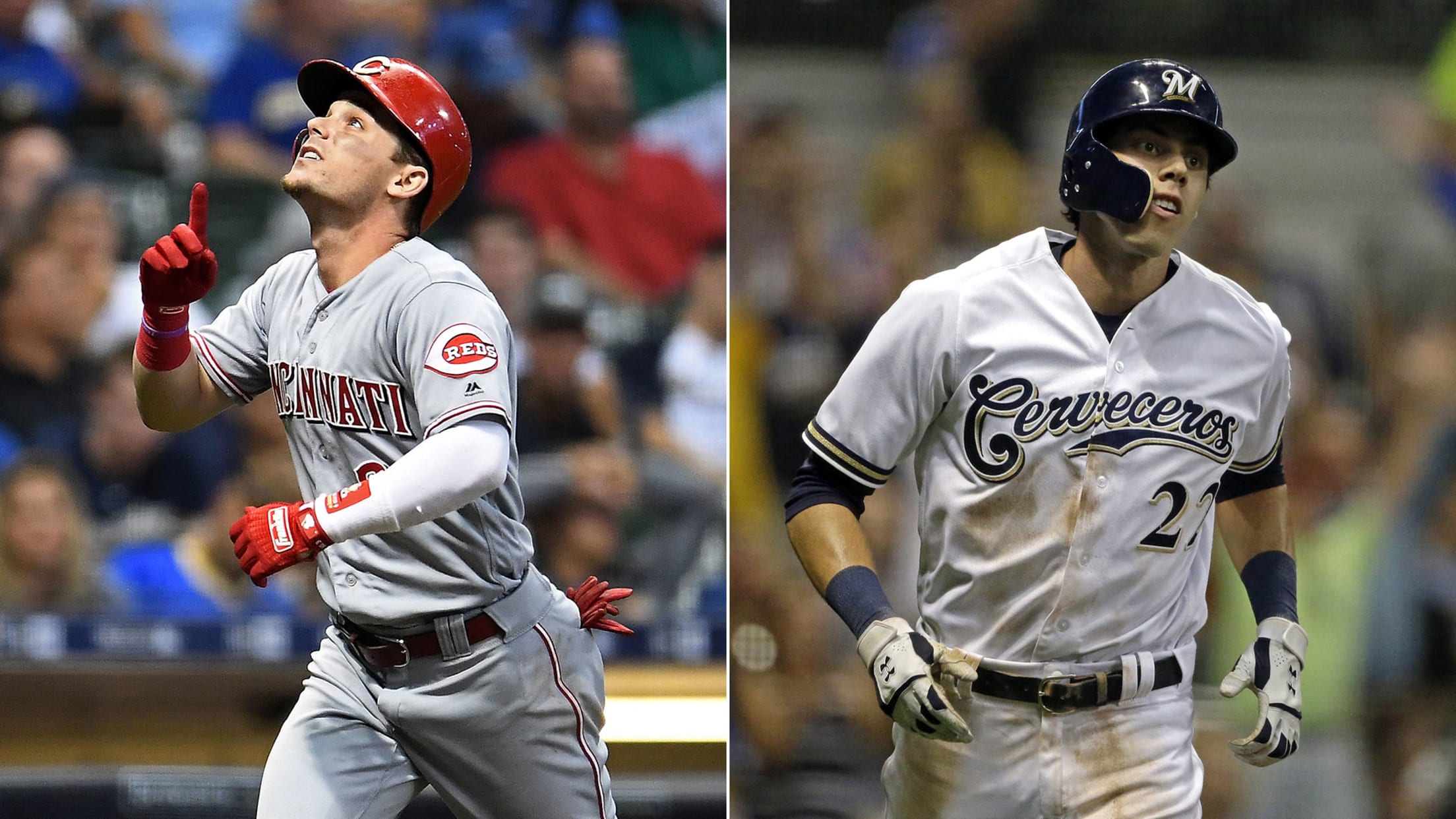 MILWAUKEE -- The road to the National League batting title travels through Miller Park this week, though you won't see it on the scoreboard unless you look closely when the Reds' Scooter Gennett and the Brewers' Christian Yelich and Lorenzo Cain come to bat.Miller Park is one of many stadiums
MILWAUKEE -- The road to the National League batting title travels through Miller Park this week, though you won't see it on the scoreboard unless you look closely when the Reds' Scooter Gennett and the Brewers' Christian Yelich and Lorenzo Cain come to bat.
Miller Park is one of many stadiums around baseball where batting average next to a player's name in the lineup has been replaced by a more advanced statistic that better captures offensive performance. In this case, it's OPS.
"I remember when they switched that. I think it was my last year here," Gennett said. "I thought it was odd. It probably took fans awhile to understand it."
Gennett said he considers OPS the truest way to measure a hitter, but he misses batting average on the big board. You can't blame him for wanting that number up there in lights. Gennett leads the NL with a .318 average, now tied with Yelich after his 4-for-4 performance and historic cycle in Milwaukee's 8-0 victory Monday night. Cain is also near the top of the NL leaderboard, batting .309.
The Brewers have never had a batting champion in 49 seasons as a franchise. The Reds have had nine since joining the NL in 1890, including Pete Rose three times.
"I think the batting title is still viewed as a big deal by players," Gennett said. "There are [statistics] people don't like as much or like more, but that's the same as always. You have your batting title, your MVPs, your Gold Gloves, your Silver Sluggers, your stolen-base leaders. All of those things are still relevant.
"But until it's down to the last week or even the last day, I'm not going to worry about it too much."
Yelich and Cain, meanwhile, have the Brewers' postseason bid on their minds, not the batting title. Both have surged into contention in the second half with the Majors' top two batting averages since the All-Star break: Yelich at .343 entering Monday and Cain at .337.
"I think all of those end-of-the season things, there's a little bit of meaning to them," Brewers manager Craig Counsell said. "The batting title, it's not statistically something that's valued [as much as before], but it's still an accomplishment and a sign of a great offensive season."
Major League Baseball formally recognizes the winner in each league as the "Tony Gwynn National League Batting Champion" and the "Rod Carew American League Batting Champion."
But as statistics have evolved, should the criteria of the "batting title" be updated to a worthier statistic?
"That's a bigger debate that I don't care to wade into," Counsell said with a grin. "It's a core number of baseball statistics. Is it the best? We're not talking about playing value on it, we're talking about who did the best job getting hits. That's what it's telling you. And the guys who are doing it are very difficult outs and very good players. There's no bad players at the top of that list."
Gennett is unique from the others in the top four in that the Reds are not playing for the postseason. That could come into play on the final day of the season, because teams sometimes remove players from games to protect the players' average. Gennett said he would resist such a move, "But if Jim [Riggleman] takes me out, that's their option."
He smiled and added, "What I really want is to hit .333."
Gennett wears uniform No. 3 in homage to the late racing legend Dale Earnhardt.
"That's my favorite number," he said. "I told somebody this before, and I was kind of joking but kind of serious: If it's the last day and I'm hitting .334 going into my last at-bat, I'm getting out on purpose. I would rather hit .333 than win a batting title."