Inbox: 3 offseason moves that could help Reds
Beat reporter Mark Sheldon answers questions from fans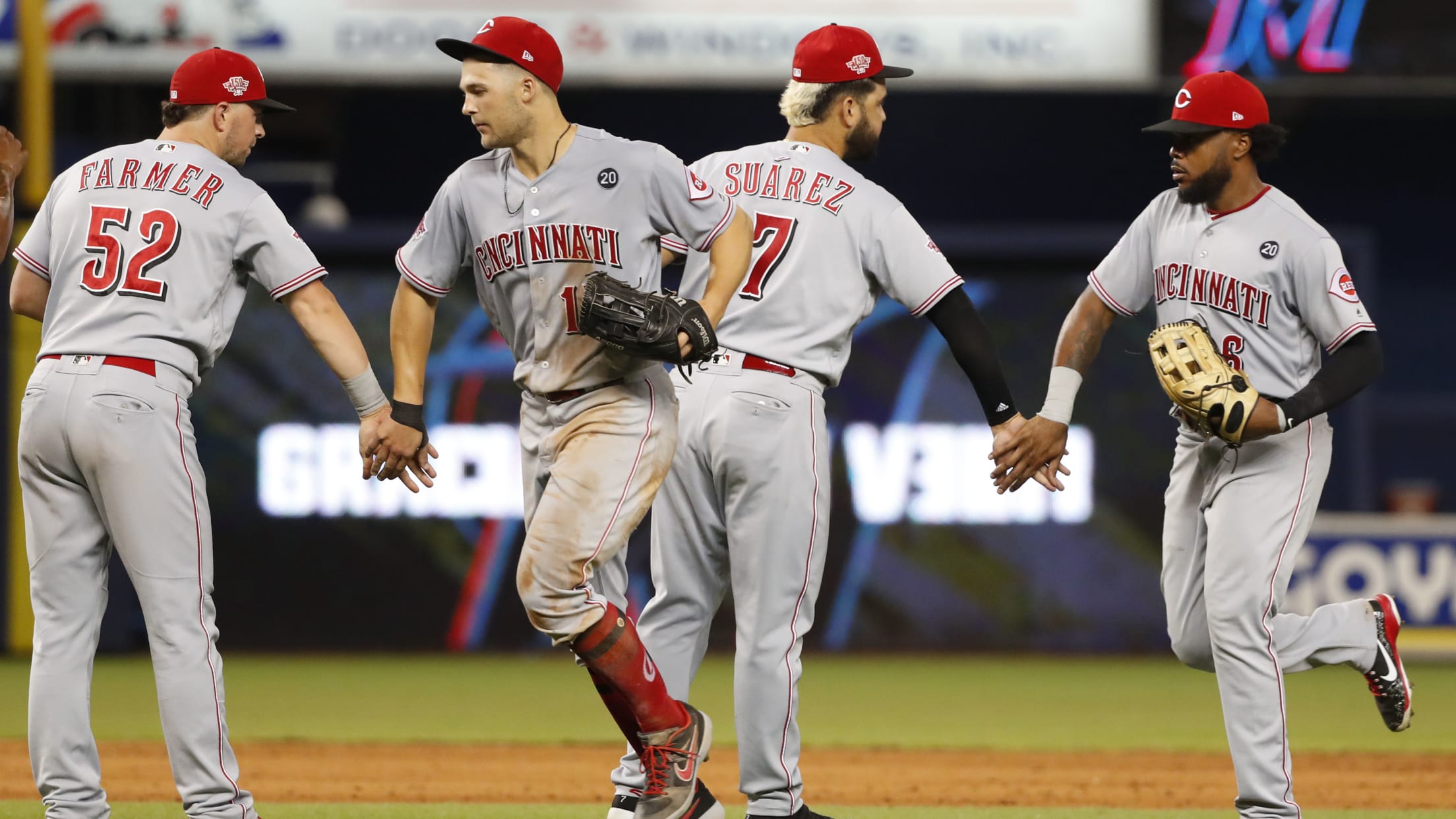 Once the World Series ends this week, the Hot Stove season will kick into gear. If last year was any indication, the Reds could be perky with maneuvers throughout the winter given that their front office has already signaled it's time to become contenders in 2020. Let's take a look
Once the World Series ends this week, the Hot Stove season will kick into gear. If last year was any indication, the Reds could be perky with maneuvers throughout the winter given that their front office has already signaled it's time to become contenders in 2020.
Let's take a look at some of your questions:
If you had three moves to improve next year's roster and $40 million to spend what you do?
-- Mike M., on Facebook
I doubt I would sink all of that cash into just three moves -- I'd try to spread it around to get the most for the money. But for the sake of this exercise, I'd be looking at the middle infield and outfield. Free-agent shortstop Didi Gregorius blossomed with the Yankees and has both good power and defensive skills. Gregorius was also once a Reds prospect before he was part of a three-team trade after the 2012 season that brought over Shin-Soo Choo from Cleveland.
I'd also take a long look at adding Mike Moustakas to play second base, if his $11 million option for 2020 isn't picked up. Moustakas languished on the open market each of the past two winters and had to sign one-year contracts at a discount both times -- first with Kansas City and then with Milwaukee. A three-time All-Star, Moustakas hit 35 home runs in 2019 and is a left-handed bat. At 31 years old, he also brings veteran experience and has played in two World Series for the Royals.
Lastly, I'd try to trade for outfielder Tommy Pham of the Rays. Pham has two years of arbitration left, can hit for power, has a .373 career on-base percentage and is good in the clubhouse. He could play center field in the event Nick Senzel is moved to the infield or handle one of the corner spots.
[I'm] watching the World Series and realizing that the Nationals are not that different from Reds. A real strengthening of the bullpen, one excellent hitting outfielder and an excellent hitting infielder seem to be necessities. What is [the] status of Michael A. Taylor?
-- Lawrence D., on Facebook
Well … they're not quite as similar as you might think, Lawrence. The Nationals came into the season with the third-highest payroll in the Major Leagues at roughly $204 million, according to USA Today. The Reds were middle of the pack at 14th with a $133 million payroll, although I've seen calculations that had it around $126 million. With their budget, the Nationals have better overall depth on their roster and their younger talent like Juan Soto came up and made a big impact immediately.
The areas that need improvement for the Reds were identified correctly, however. Cincinnati's payroll will be getting a bump, with the amount remaining undisclosed. As for the Nats' Taylor, he's an arbitration-eligible player who can become a free agent after the 2020 season. I don't believe that he checks enough boxes for what the Reds need. He doesn't hit with a ton of power and he doesn't get on base enough.
Hey Mark, any chance catcher Tyler Stephenson's progress in the Arizona Fall League cautions the front office to stay away from Yasmani Grandal? Could Stephenson get a call up early next year?
-- Johannes A., on Twitter
It's certainly a good reason to give pause, because I do think Stephenson could be close to the big leagues after another strong season overall. Cincinnati's first-round selection (11th overall) in the 2015 Draft, his first two seasons were marred by injuries and subpar performances. Now the organization's No. 7 prospect, according to MLB Pipeline, the 23-year-old had his best offensive season yet in 2019 for Double-A Chattanooga, batting .285/.372/.410 with six home runs and 44 RBIs in 89 games.
• Reds' Stephenson earns AFL's Stenson Award
Stephenson followed that by batting .347/.418/.490 in the AFL. Meanwhile, he's continuing to sharpen his defensive and game-calling skills behind the plate. As I wrote in last week's Inbox, I'd be wary of sinking long-term money on a catcher. Tucker Barnhart and Curt Casali form a good tandem and Stephenson could soon get his chance as well.
With Tommy Thrall moving into the main radio announcing role, will he call all 162 games, or will he have days off as well?
-- Scott L., on Facebook
Right now, the plan is to have Thrall working all 162 games. The Reds appear to be bringing back the rest of their radio and television broadcasters without any other changes. He was the "Iron Horse" of sorts among the broadcasters because he did work every single game in 2019 -- either in a play-by-play role filling in for Marty Brennaman or working the pregame and postgame shows. In his younger years next to Joe Nuxhall, Brennaman worked every game as well, with rare exception. He started dialing it back over the last decade or so before his retirement last month.
Mark Sheldon has covered the Reds for MLB.com since 2006, and previously covered the Twins from 2001-05. Follow him on Twitter @m_sheldon and Facebook.