Reds interviewing manager candidates for '19
Farrell, interim skipper Riggleman among those being considered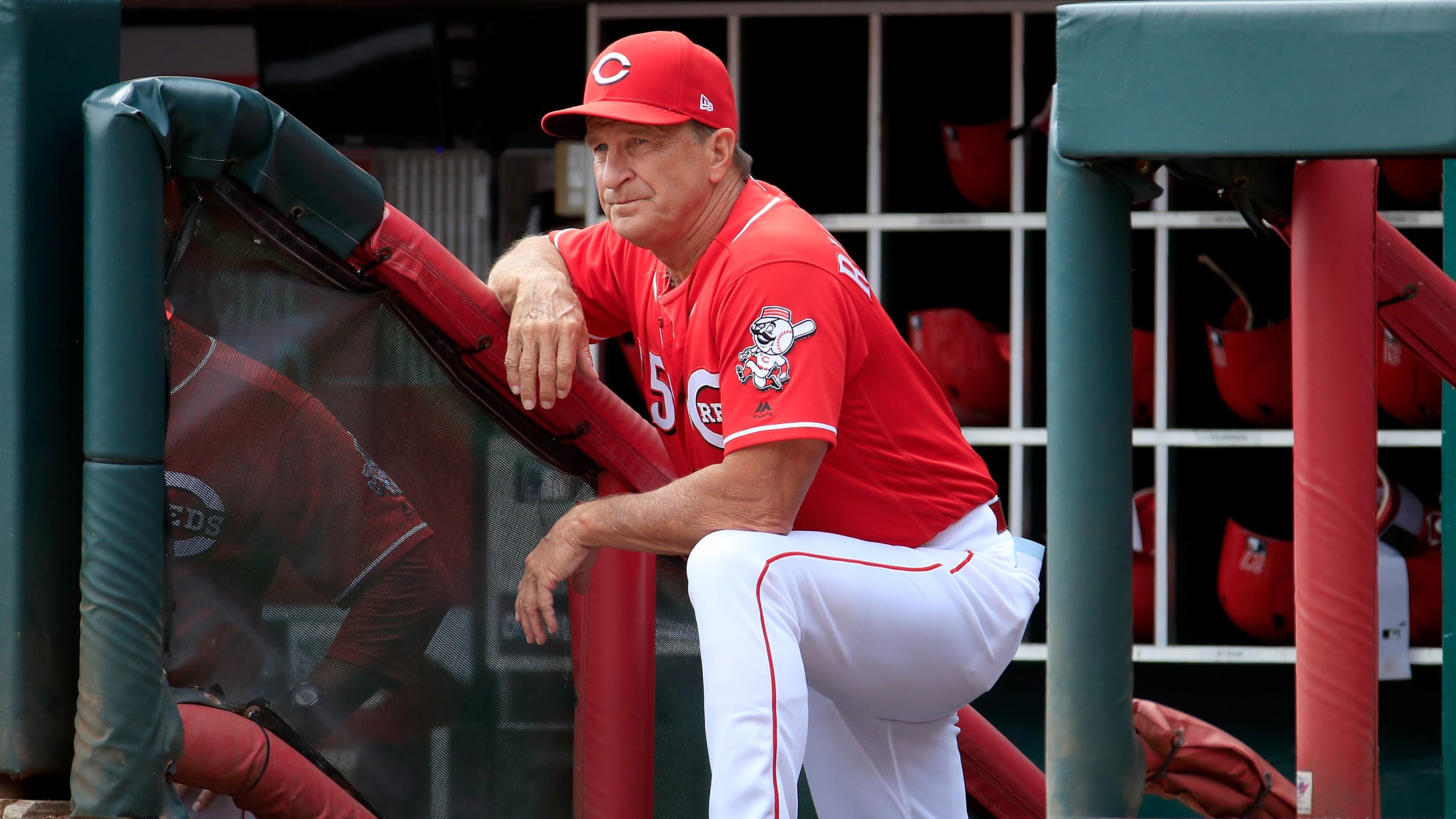 CINCINNATI, OH - SEPTEMBER 12: Jim Riggleman the manager of the Cincinnati Reds watches the action against the Los Angeles Dodgers at Great American Ball Park on September 12, 2018 in Cincinnati, Ohio. (Photo by Andy Lyons/Getty Images) (Andy Lyons/Getty Images)
CINCINNATI -- The Reds' search for a permanent manager for 2019 and beyond has already begun, president of baseball operations Dick Williams revealed on Tuesday. Three internal candidates have already interviewed, and two more will do so soon.Former Red Sox manager John Farrell, now a Reds scout and advisor, will
CINCINNATI -- The Reds' search for a permanent manager for 2019 and beyond has already begun, president of baseball operations Dick Williams revealed on Tuesday. Three internal candidates have already interviewed, and two more will do so soon.
Former Red Sox manager John Farrell, now a Reds scout and advisor, will be interviewed. Current interim manager Jim Riggleman will get his opportunity to interview shortly after the season. Bench coach Pat Kelly, third-base coach Billy Hatcher and first-base coach Freddie Benavides had their interviews while the team played in Miami over the weekend.
"I'm not going to comment on how those interviews go. I don't think there's any value to that," Williams said.
Also significant is a member of the organization who will not be a candidate -- Hall of Famer Barry Larkin, a special assistant to the general manager and a roving instructor in the Minors. Remaining on the development side appears to be Larkin's choice.
"He and I have had great conversations about his future with the organization," Williams said. "He's really happy with his current situation. He thinks he can help in a number of ways. He has helped in a lot of ways. He still has managing as a long-term goal. I'm supportive of that. The organization is supportive of that. I think he'll continue to work on his skill set to prepare for managing. Someday, he can do whatever he wants in this game if he puts his mind to it."
Williams hoped to have a new manager in place by the end of October and certainly before the General Managers Meetings in November. There will also be unspecified external candidates interviewed during the first two weeks of next month.
What type of person are the Reds looking at to lead the team?
"Right now, the target candidates either have managed at the big league level or have some big league coaching experience, have some Minor League managing experience," Williams said. "I don't see us targeting a lot of completely out-of-the-box candidates. I think we're going to want people who have a level of comfort in the dugout, preferably at the big league level, in their background."
Farrell, 56, managed the Red Sox for five seasons from 2013-17 -- including the World Series winner in '13. He was dismissed following last season with one year left on his contract and joined Cincinnati as an internal scout. From 2011-12, Farrell managed the Blue Jays and was previously Boston's pitching coach.
Riggleman replaced Bryan Price in the Reds' dugout on April 19, shifting over from bench coach to interim manager following the club's 3-15 start. He has maintained his desire to earn the full-time job. After being near .500 for a lengthy stretch, the Reds entered Tuesday at 63-76 since Riggleman took over.
Williams praised the 65-year-old Riggleman's professionalism during the season.
"What a wonderful job he did stepping into a tough situation and leading this team for the rest of the year," Williams said. "Then to go through all that, knowing we were going to go through a [hiring] process. We were as transparent with him as could be by design. Still, to go through knowing we're going to interview some of the coaches, and we will be interviewing some external candidates, he's been cooperative. I'm looking forward to our discussions with him after the season."
The Reds felt that moving Price out early in the season helped them get more preparation time to collect information on candidates.
"I believe that [manager] is a really critical position for the organization. If done correctly, interviews take a long time to prepare for," Williams said. "This is a really intensive process that you go through to [find] the type of person [who is] going to lead the organization. You're asking them to lead on the field, away from the field, really set the tone for the whole organization.
"So, we spent a lot of time researching the candidates we wanted to talk to. We spent a lot of time creating the interview itself -- the questions and what we will discuss over the course of the day. I anticipate these interviews taking all of the day and probably a dinner because we really want to spend time with candidates and get to know them."