Mahle pulled after four 1/3 in loss to Rangers
'It's getting pretty ridiculous at this point'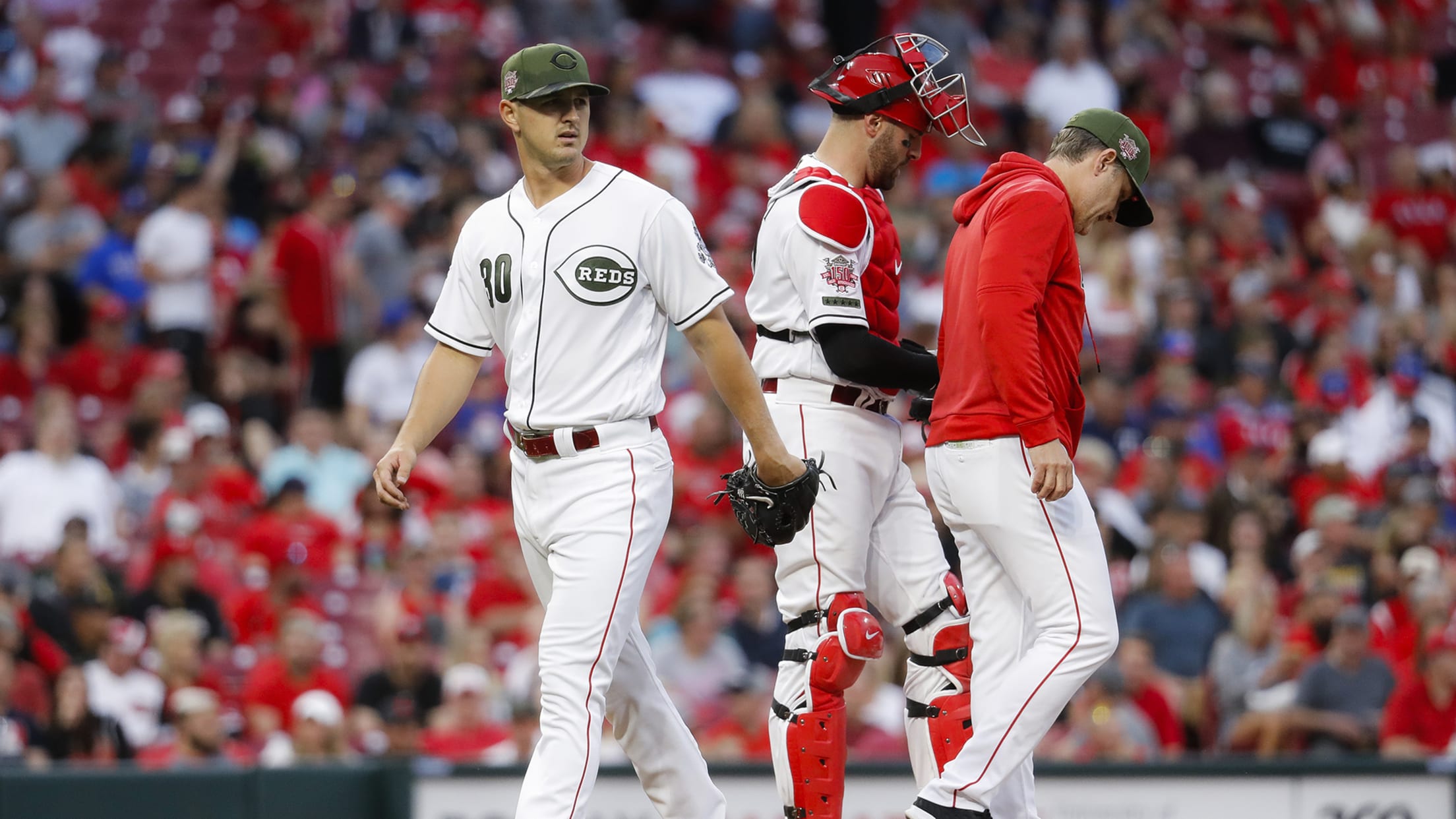 CINCINNATI -- Reds starting pitchers may rank second among National League rotations in ERA, but they also rank 12th in innings pitched. Some starters have subtly chafed about being given quicker hooks by manager David Bell, but Friday's starter Tyler Mahle didn't tiptoe around the topic. During a 7-1 loss
CINCINNATI -- Reds starting pitchers may rank second among National League rotations in ERA, but they also rank 12th in innings pitched. Some starters have subtly chafed about being given quicker hooks by manager David Bell, but Friday's starter Tyler Mahle didn't tiptoe around the topic.
During a 7-1 loss to the Rangers at Great American Ball Park, Mahle threw 96 pitches over 4 1/3 innings and was charged with four earned runs, four hits and three walks with four strikeouts. He left with two runners on with one out in the fifth. The inning imploded when reliever Wandy Peralta gave up a grand slam to Rougned Odor.
Over his last six starts, Mahle is 2-2 with a 5.40 ERA. He had the misfortune of having bad luck when he was pitching his best earlier in the season. In his first seven starts, he was 0-5 with a 3.69 ERA. The Reds are 3-10 in his 13 starts this year, but Mahle wished he had a bigger hand in choosing the destiny of the outcomes.
"It's not a good first half by any means, in my opinion. But I think I've gotten yanked out of some games where I'm having a really good game, or just a decent game, and haven't really got the chance to battle through the game, battle through six innings or whatever," Mahle said. "Like tonight, especially after the last game where I got pulled after [73] pitches, and this game I know I had 90-something. In my opinion, I deserved to at least get through five or see where that next batter ends up. I get a pop-up and I'm one ground ball away. Then I get taken out of the game. It's getting pretty ridiculous at this point. I've just got to keep going."
Cincinnati was down, 2-0, in the fifth when Shin-Soo Choo hit a leadoff double and Delino DeShields walked. Mahle got Elvis Andrus to pop out to first base for the first out just before Bell lifted him from the game. Three pitches before he was taken out, Mahle threw his hardest pitch of game, according to Statcast. It was a 94.8 mph four-seam fastball. But it also missed way outside for a ball. Andrus fouled off a curveball before his pop out came swinging at a cutter.
Peralta issued a two-out walk to load the bases and set up Odor, who slugged a grand slam to right field to make it a 6-0 game.
"When things like that happen, it's frustrating and you feel really bad," Peralta said via interpreter Julio Morillo. "But it's part of the game and I did the best I could do and I will work as hard as I can work so it doesn't happen again."
Before Mahle spoke to reporters, Bell noted that his right-hander worked through some tough at-bats. Although Texas went down in order during the top of the third inning, Nomar Mazara worked a 10-pitch sequence that included four foul balls with two strikes before striking out. The next batter, Asdrubal Cabrera, had six two-strike fouls before he grounded out to first base for the third out.
"He kept competing and he kept battling and he was doing his job," Bell said of Mahle. "That team takes good at-bats. He held them to two runs over his work, but the pitch count got up just too high for him to continue."
In his previous start at Philadelphia, a 4-2 loss on June 7, Mahle gave up all three runs he allowed in the bottom of the fifth on three of the four hits against him. He tossed 73 pitches in the game but was pulled for a pinch-hitter in the top of the sixth when Bell wanted more offense.
During a 28-pitch top of the first inning on Friday, Mahle gave up a one-out single to DeShields before hitting Andrus with a pitch. A passed ball by catcher Curt Casali while Nomar Mazara batted moved the runners, and DeShields scored on Mazara's ground out. Cabrera reached on an infield single that put runners on the corners.
"They put some good at-bats together and battled, and I had to do the same thing," Mahle said. "I made some good pitches and they battled. And I made some bad pitches that could've got me out [of an inning] a batter earlier. That definitely ate up a lot of pitches."
On a 1-1 count to Odor, Cabrera took off for second base and drew a throw by Casali. Shortstop Jose Iglesias saw Andrus break from third base to the plate and rushed a throw home. The head-first sliding Andrus was called out by home plate umpire Jerry Meals, but the Rangers challenged the call and it was overturned on replay.
"We didn't want to give up a run there, so we took a shot," Bell said. "With Iglesias at short, we have confidence he can make that play and he almost did."
The six-run deficit equaled Cincinnati's largest loss of 2019, a 6-0 shutout to the Dodgers on May 17.
Mark Sheldon has covered the Reds for MLB.com since 2006, and previously covered the Twins from 2001-05. Follow him on Twitter @m_sheldon and Facebook.