Reds, MLB unveil plans for Frank Robinson Field
Renovated ballpark in St. Bernard will be named after late Hall of Famer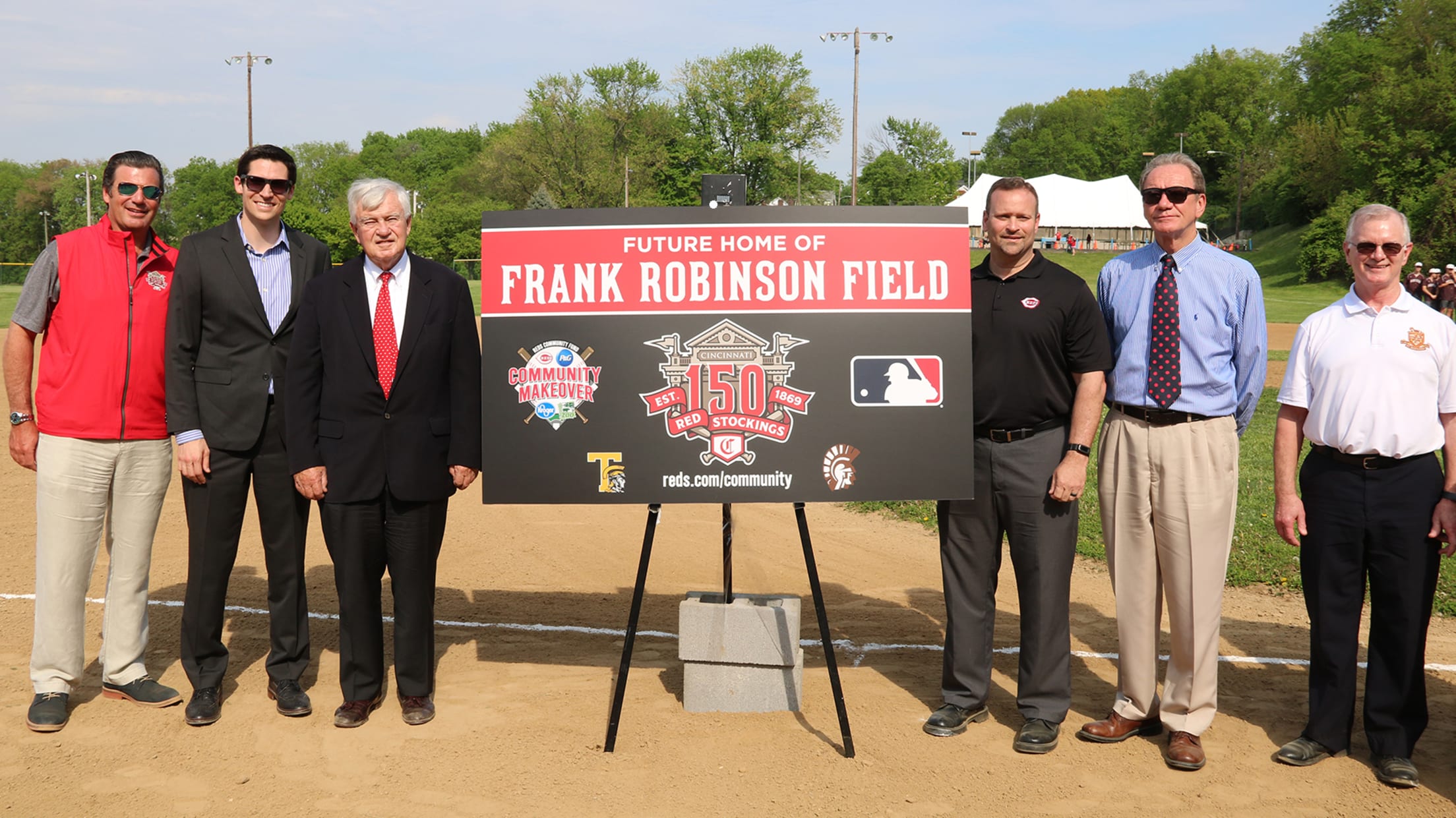 CINCINNATI -- The Reds and Major League Baseball announced that a baseball field being renovated at Ross Park in St. Bernard will be renamed Frank Robinson Field. "We are pleased to join the Reds in celebration of the 150th Anniversary in naming this field in honor of Frank Robinson," said
CINCINNATI -- The Reds and Major League Baseball announced that a baseball field being renovated at Ross Park in St. Bernard will be renamed Frank Robinson Field.
"We are pleased to join the Reds in celebration of the 150th Anniversary in naming this field in honor of Frank Robinson," said Commissioner Rob Manfred. "Frank was passionate about creating opportunities for the next generation to play baseball and softball. He helped complete the process for the Reds to open their beautiful youth academy, and this new field is the next step in elite-level development and education."
The announcement was made as a part of the official groundbreaking ceremony for the project prior to the St. Bernard-Elmwood Place vs. Roger Bacon baseball game. Officials from the Reds, P&G, the Cincinnati Zoo, Pepper Construction, Kroger, Cincinnati Children's Hospital and multiple project partners participated in a shovel ceremony. Reds CEO Bob Castellini, P&G North America brand manager Mike Frey and mayor of St. Bernard John Estep all spoke at the event, which was emceed by Reds community fund executive director Charley Frank.
"Frank Robinson's attributes mirror that of our own, making his legacy a perfect fit for the project," Castellini said. "Adding Frank Robinson's legacy to this project ensures the significance will be magnified. This is an exciting day for the Reds, the Reds Community Fund, and the Village of St. Bernard."
Frey and Estep echoed Castellini's remarks on the importance, significance and excitement for all parties involved in getting a new ballfield in St. Bernard, especially one that bears the late Robinson's name. And besides just a new field, which will include a "Palace of the Fans" facade as a tribute to one of the Reds' most notable ballparks, the location will also be getting a more comprehensive boost that will benefit the entire community.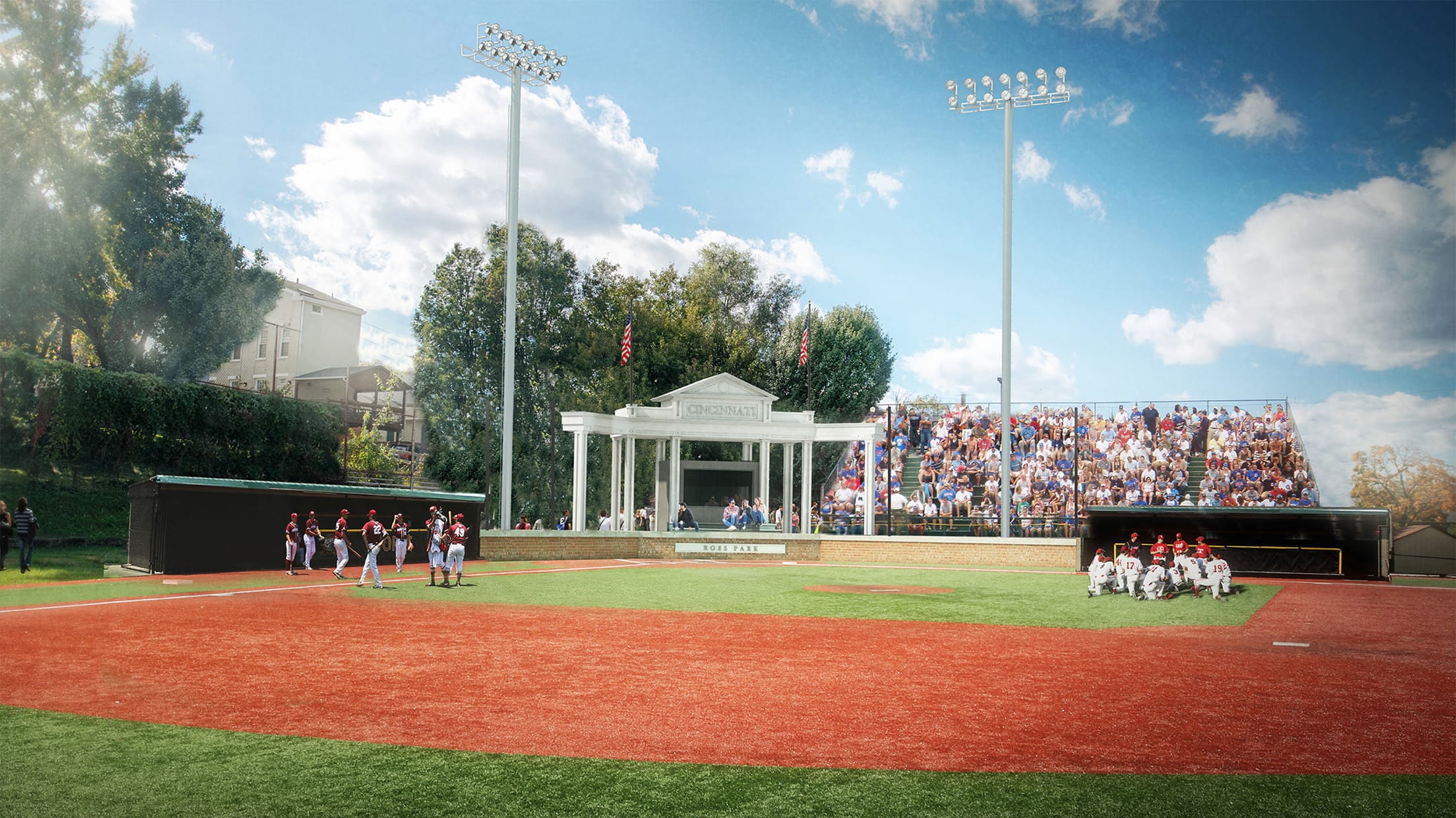 There will be upgrades to the space for youth and families, including renovated bathrooms, a concession stand, picnic area and nursing rooms for mothers. The lower field and upper field will be connected, with a focus on health and wellness, thanks to the creation of a walking trail that will border the park and feature fitness stations. There will also be a partnership with a nearby after-school program to provide an updated space where youth can feel welcome and safe to learn and play.
"We feel Ross Park has potential to be a great community hub for the St. Bernard neighborhood," Frey said.
As part of the Reds' 150th Anniversary Legacy Project, Ross Park was one of two Greater Cincinnati locations selected for a field makeover in 2019. In early April, Bellevue Vets Park hosted a ceremony to officially kick off their construction. The dedication for Frank Robinson Field is scheduled for Thursday, Aug. 1, when over 400 volunteers from P&G and project partners and the community will join the Reds Community Fund staff and board members for the day-long volunteer project.