Reds put their twist on Players' Weekend names
Club will wear all-white uniforms for Aug. 23-25 series against Pirates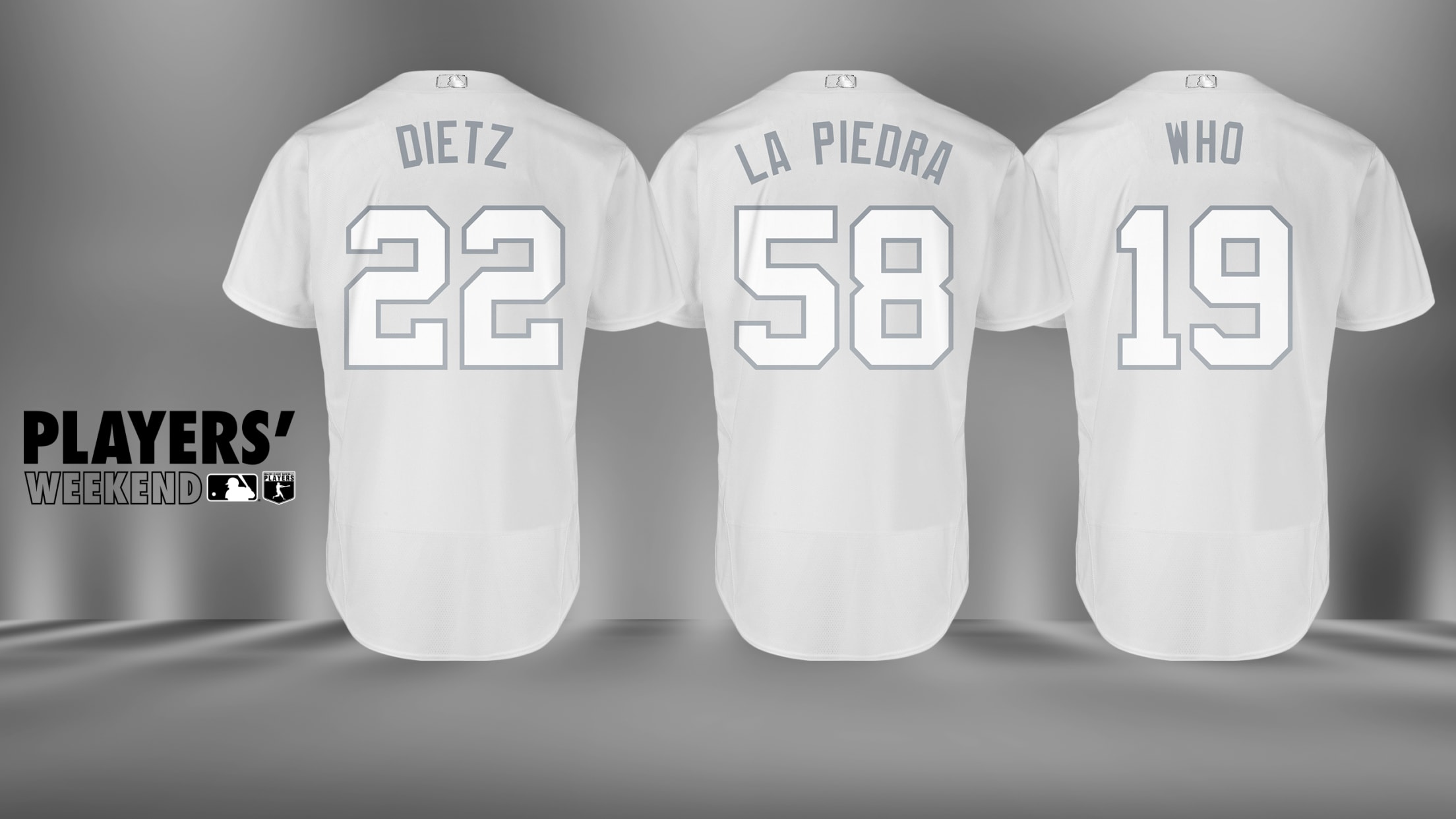 CINCINNATI -- For the third straight year, Major League players get to show some of their personality through their uniforms on Players' Weekend, which will take place Aug. 23-25. The Reds will be playing the Pirates and wearing monochrome white uniforms, while Pittsburgh wears all black. Each player had an
CINCINNATI -- For the third straight year, Major League players get to show some of their personality through their uniforms on Players' Weekend, which will take place Aug. 23-25. The Reds will be playing the Pirates and wearing monochrome white uniforms, while Pittsburgh wears all black.
Each player had an opportunity to personalize the name on the back of their jerseys. Here is the list of names that Cincinnati players will wear on theirs:
Aristides Aquino: "PJ"
The rookie home run sensation, Aquino's childhood nickname is "The Punisher," but he's going with PJ, which stands for "Punisher Junior."
Tucker Barnhart: "TUCK"
Trevor Bauer: "J OCHART"
Bauer lost a bet to Jason Ochart, a hitting instructor at Driveline Baseball, where he works out in the offseason. Ochart is also the Minor League hitting coordinator for the Phillies' organization.
• Every team's Players' Weekend nicknames
Luis Castillo: "LA PIEDRA"
Castillo's nickname translates from Spanish to English as "the rock," because it's like he's throwing stones past hitters.
Anthony DeSclafani: "DISCO"
It's been DeSclafani's nickname since before he arrived to Cincinnati.
Derek Dietrich: "DIETZ"
Phillip Ervin: "MAGIC"
One of the all-time great NBA players is Earvin "Magic" Johnson. Phillip Ervin hopes he has some magic in his game as well.
Kyle Farmer: "FARM DAWG"
Amir Garrett: "COUNT ON AG"
Kevin Gausman: "GAUSY"
Sonny Gray: "GRAY"
Jose Iglesias: "CANDELITA"
Iglesias' father's name is Candelario, which translates in English to candle. Iglesias' nickname is "little candle," and he has T-shirts printed with that name that some teammates wear in the clubhouse.
Raisel Iglesias: "OLIVER"
Michael Lorenzen: "ZEN"
Tyler Mahle: "MAL"
Jose Peraza: "MY LITTLE ONES"
• Shop for Players' Weekend gear
Nick Senzel: "LIL SENZ"
Lucas Sims: "LOOSH"
Robert Stephenson: "BOB"
Eugenio Suarez: "BOLIBOMBA SUAREZ"
Bolibomba is a type of chewing gum that is popular in Suarez's home nation of Venezuela. He is known for blowing gigantic bubbles while on the field for the Reds.
Josh VanMeter: "MEAT SAUCE"
Joey Votto: "WHO"
Perhaps the cleverest of Players' Weekend names. The first baseman channeled Abbott and Costello's classic "Who's on First?" comedy routine. During the weekend, "Who" will actually be on first base. For the kids who've never heard of Abbott and Costello, look up their bit on YouTube.
Jesse Winker: "BIRD"
Winker wears No. 33 and Boston Celtics great and basketball Hall of Famer Larry Bird happens to be his favorite NBA player. But the name on his jersey is actually a tribute to his mother, who is nicknamed "Bird."
Alex Wood: "AWOOD"
Mark Sheldon has covered the Reds for MLB.com since 2006, and previously covered the Twins from 2001-05. Follow him on Twitter @m_sheldon and Facebook.