A true throwback, Ohlendorf finding results
Journeyman discovers comfort zone thanks to old-school windup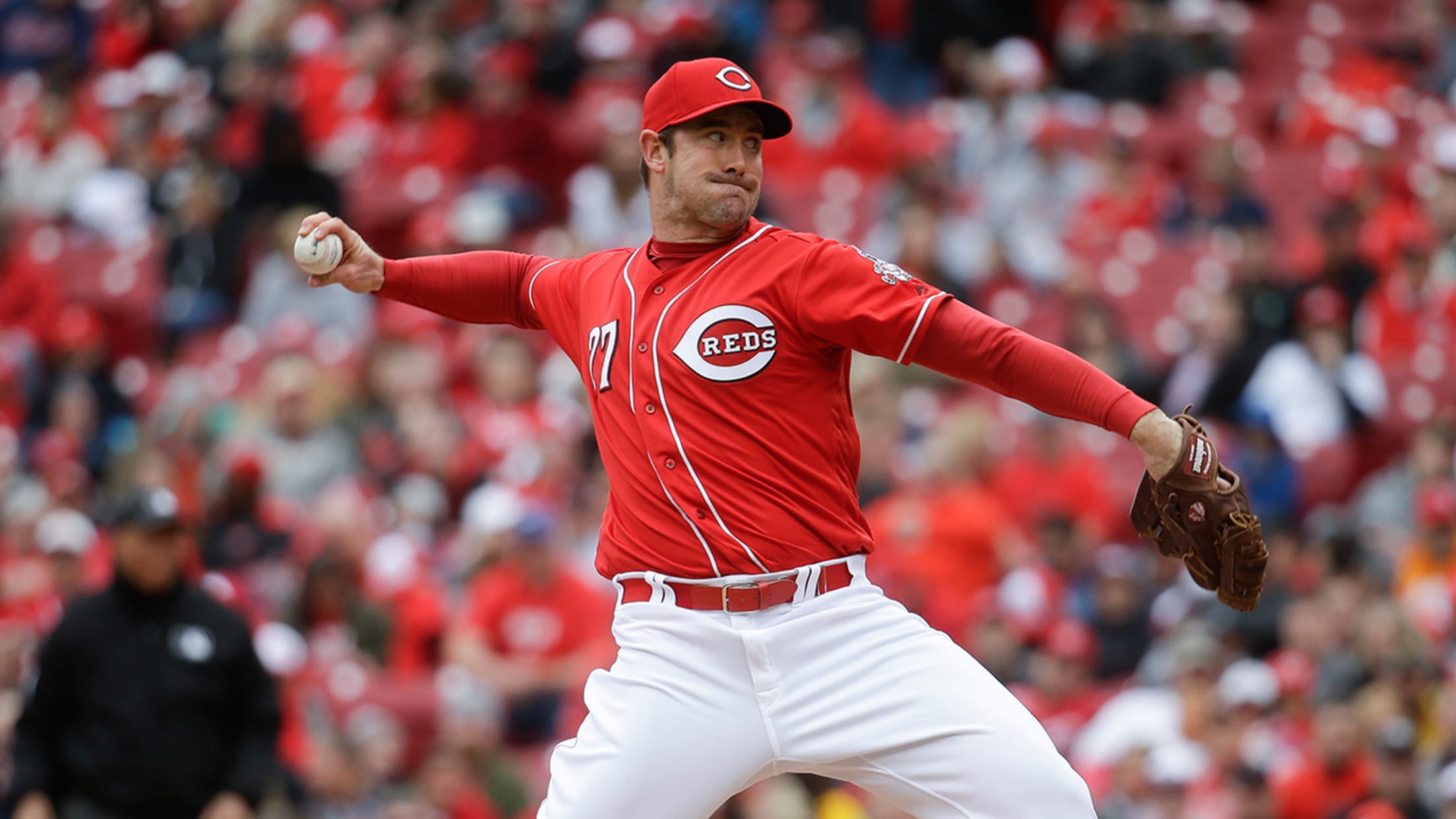 "It felt like the ball was coming out really well, so I just went with it," Ross Ohlendorf said of his new windup. (AP)
CHICAGO -- It may be 2016, but Reds reliever Ross Ohlendorf has an old-school windup that seems to hail from 1916. Each time Ohlendorf has changed teams, a new set of fans takes notice and marvels. For many, the style of pitching evokes comparisons to pitchers of a different era."It
CHICAGO -- It may be 2016, but Reds reliever Ross Ohlendorf has an old-school windup that seems to hail from 1916. Each time Ohlendorf has changed teams, a new set of fans takes notice and marvels. For many, the style of pitching evokes comparisons to pitchers of a different era.
"It might have been 'Three Fingers' Mordecai or whoever it was," said manager Bryan Price about Mordecai Brown, who pitched in the Majors from 1903-16.
"I started in 1979, and there were a few guys in those days who did that," Reds pitching coach Mark Riggins said. "I haven't really seen one since then."
Before delivering a pitch, the right-handed Ohlendorf will take a step back with his left leg and swing both arms back and forth, then over his head, as he gets into his windup.
Gif: Ohlendorf and Feller wind-ups
A side-by-side comparison on video shows Ohlendorf's style to be eerily similar to that of Hall of Famer Bob Feller. Ohlendorf isn't trying to model what he does after anyone from the past, however.
"The primary thing is I pitch well that way," Ohlendorf said. "I got some fan mail when I first started doing it with the Nationals from people who said I reminded them of when they watched baseball growing up. So I think it's neat to get that."
Ohlendorf began his career as a starter in the D-backs' system with a normal style, and he was just a prospect when he was part of the 2007 trade that sent Randy Johnson to the Yankees. Ohlendorf was traded to the Pirates in 2008, and he started to struggle in '09. The seeds of change where planted during that season at the suggestion of Ohlendorf's pitching coach, Joe Kerrigan.
Gif: Ross Ohlendorf's old windup
"He had me go over my head," Ohlendorf said. "I had been deliberate and had the glove over my face. When we played catch, he'd have me swing my arms sometimes. So when I started going over my head in 2009, right after the All-Star break, I did really well the rest of the season."
Indeed, after posting a 4.64 first-half ERA, Ohlendorf fashioned a 2.83 ERA in the second half en route to finishing 11-10 with a 3.92 ERA over 29 starts. Still, he would endure three seasons' worth of struggles before really jumping into the time machine and embracing an old-school windup. Ohlendorf was released by Pittsburgh after going 2-14 with a 5.14 ERA in 30 starts from 2010-11.
In 2012 with the Padres, Ohlendorf had a 7.77 ERA in 13 games. He then signed with the Nationals for '13.
"In 2013, I'd had two tough seasons, and sometime around Spring Training, decided to swing my arms when on the mound," Ohlendorf said. "It felt like the ball was coming out really well, so I just went with it."
What does it do for Ohlendorf?
"The rhythm is good; the ball just comes out well," said Ohlendorf, who signed with the Reds near the end of Spring Training after being cut in Spring Training by the Royals. "I have more life on the ball and better command."
Another signature trait is that Ohlendorf keeps the ball in his glove and doesn't grip it until he's more than midway into his motion.
"I only throw with three grips, so it's easy to do it," Ohlendorf said. "They're simple grips. I think if I kept the ball in my hand, I might tip my pitches. That's why I keep the ball in my glove. A lot of people have asked that -- my teammates, too."
In his past three big league seasons, Ohlendorf has achieved a higher swing-and-miss rate each year -- from 19.6 percent in 2013 to 23.6 percent last year with Texas as a full-time reliever and 25 percent through his first four appearances this season with Cincinnati.
"Once he makes his lift with his leg, it's the common delivery," Riggins said. "He gets to his balance point on his leg lift so it doesn't throw him off. It's just unique. It gives hitters a different look."
Ohlendorf graduated from Princeton University with a Bachelor of Science degree in operations research and financial engineering. In the fall of 2009, he completed an eight-week internship with the U.S. Department of Agriculture in Washington, D.C. Despite his Ivy League background, Ohlendorf didn't emphasize analytics before making the change in his motion. The shift was simply about trying to reinvent himself as a pitcher.
"I just did it because it felt good," Ohlendorf said. "I mainly try to be athletic and let my body do what it needs to and deliver the ball."