Back at home, Reds ready to take on NL's best
Cincy set for homestand with Cubs, Dodgers; Gennett spotted on field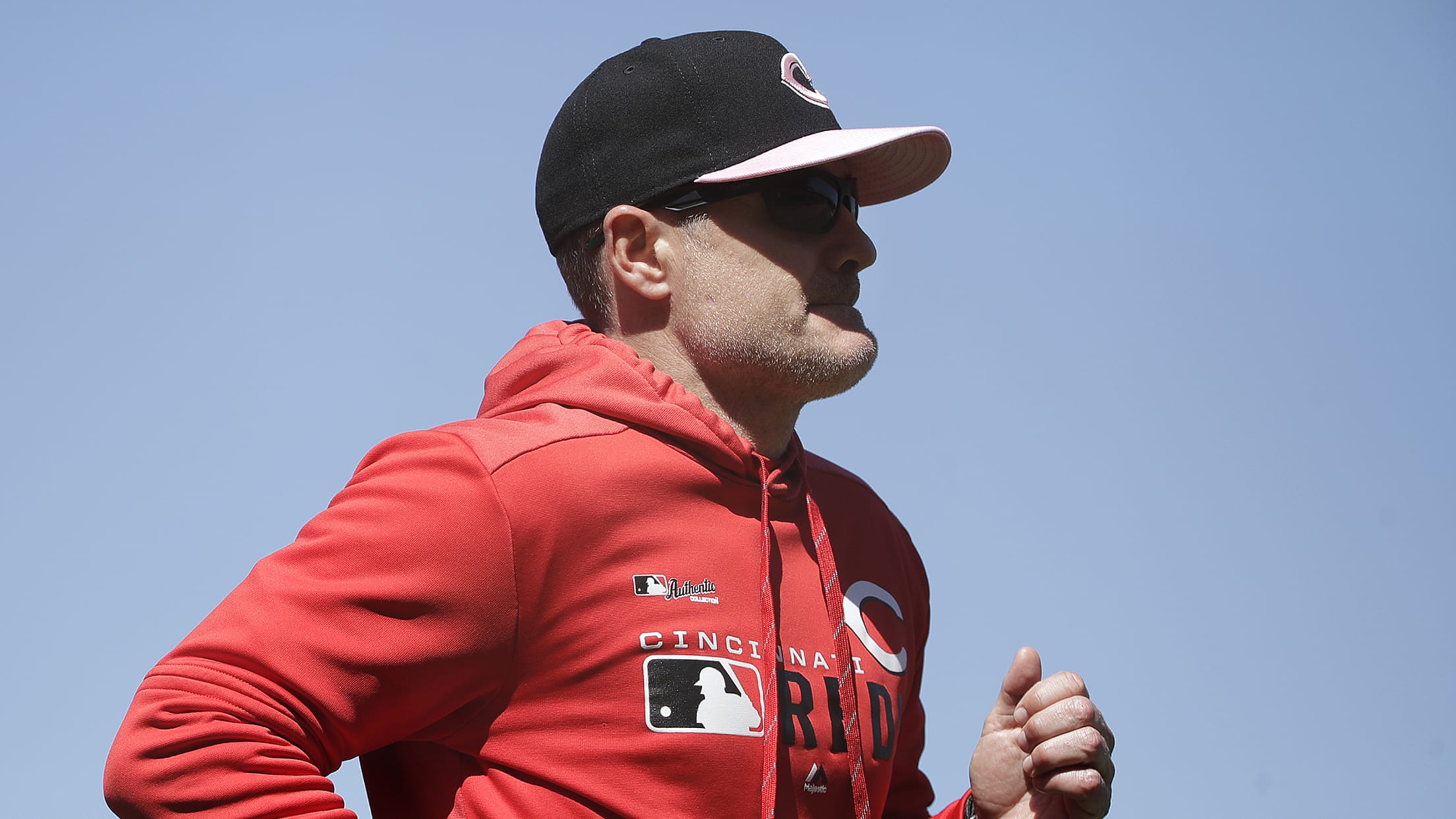 CINCINNATI -- Monday was the Reds' first off-day after playing 20 games in 20 days. On Tuesday, they were presented with the start of an opportunity. For only the second time this season, and the first since the first six games of the season, Cincinnati is playing at home for
CINCINNATI -- Monday was the Reds' first off-day after playing 20 games in 20 days. On Tuesday, they were presented with the start of an opportunity.
For only the second time this season, and the first since the first six games of the season, Cincinnati is playing at home for more than one series. Of its next 17 games, 12 will be played at Great American Ball Park.
"It feels great to be here," Reds manager David Bell said Tuesday. "We're going to play quite a few games here over the next few weeks. We all love playing here. We're looking forward to these series coming up."
They won't be easy games on the homestand, but they are a chance to establish some credibility. First, the Reds have three games against a division rival in the first-place Cubs. Then, there are three more games against the National League West-leading Dodgers.
"It's important," Bell said. "And I think it's a great challenge, based on the fact that it's been a process to get to this date. From my seat, I really like where we are. It will be a good challenge to see how that translates against good competition."
Of the Reds' first 41 games of 2019, 24 were played on the road, in which they had 9-15 record. They showed how slim the difference is between challenging for the top of the NL Central and being in fifth place. Consider this:
• 13 of the Reds' 15 road losses were by two runs or less.
• Four of their five shutout losses occurred on the road.
• Entering Tuesday, Cincinnati was hitting 38 points better at Great American Ball Park as a team (.239 at home, .201 on the road).
• At 18-23 overall, if more than half of the close losses had gone the Reds' way, they'd be over .500, like their four division rivals.
• As of Tuesday morning, the Reds plus-30 run differential was second best in their division and fourth best in the NL, and that is despite being the worst-hitting team overall in the Majors, with a .216 average.
The Reds went 10-10 over their last 20 games, and they came home with a 3-3 record on a trip to Oakland and San Francisco.
"I think guys handled the road stretch well. We're healthy and ready to go," Bell said. "The results haven't been where we want them to be. We're not satisfied in any way. But a lot of good things are happening -- just from a vibe with our team -- the way guys are getting along, playing together, taking care of each other."
As for the day off the team just had, it offered a highly-welcomed chance to recharge for the upcoming two series before their next off-day on May 20.
"When you play 20 games and play all of those games, it makes you feel a little bit tired -- especially when you were on the West Coast playing," Reds third baseman Eugenio Suárez said. "The last road trip was long for us. I feel good right now. My body feels great. I feel healthy. That's important to me."
Gennett update
Reds second baseman Scooter Gennett, who has been on the injured list since he severely strained his right groin on March 22, was on the field Tuesday, but he hasn't been cleared for baseball activity yet. The closest he came was catching balls from infielders while coaches Freddie Benavides and Delino DeShields hit grounders.
"No ground balls or anything like that yet," Bell said of Gennett's limits. "Some of the other things he's doing and his rehabilitation process makes him think he can do that, which is great. That's probably right around the corner."
When he was originally hurt, Gennett was expected to miss two to three months.
"I just spent some time with Scooter," Bell said. "He's moving around really well. He's definitely anxious to get to the next step. Very encouraged by all reports and, more than anything, just talking to him. No new timetable, but that could be tweaked."
Blondes have more fun?
After Yasiel Puig joined Suarez and José Peraza in dying his hair platinum blonde on Sunday, Bell was asked if he would be next -- especially if the Reds broke out into a win streak. He didn't commit to anything, but he likes what his players have been doing.
New hair, who dis? 👀 pic.twitter.com/TUqsBP0uVs

— Cincinnati Reds (@Reds) May 12, 2019
"I'm a supporter of that, as long as we play the game right, compete and they take care of each other," Bell said. "All of that is happening. I think, hopefully, the fans enjoy and can sense that they play well together. You can tell when you're watching a team that competes together. It's hard to put your finger on what that looks like, but you can feel it and sense it. We're starting to feel that a little bit. Hopefully, that comes across."
Mark Sheldon has covered the Reds for MLB.com since 2006, and previously covered the Twins from 2001-05. Follow him on Twitter @m_sheldon and Facebook.