Reds finalize deal with Cuban SS Garcia
Prospect was expected to receive signing bonus close to $5 million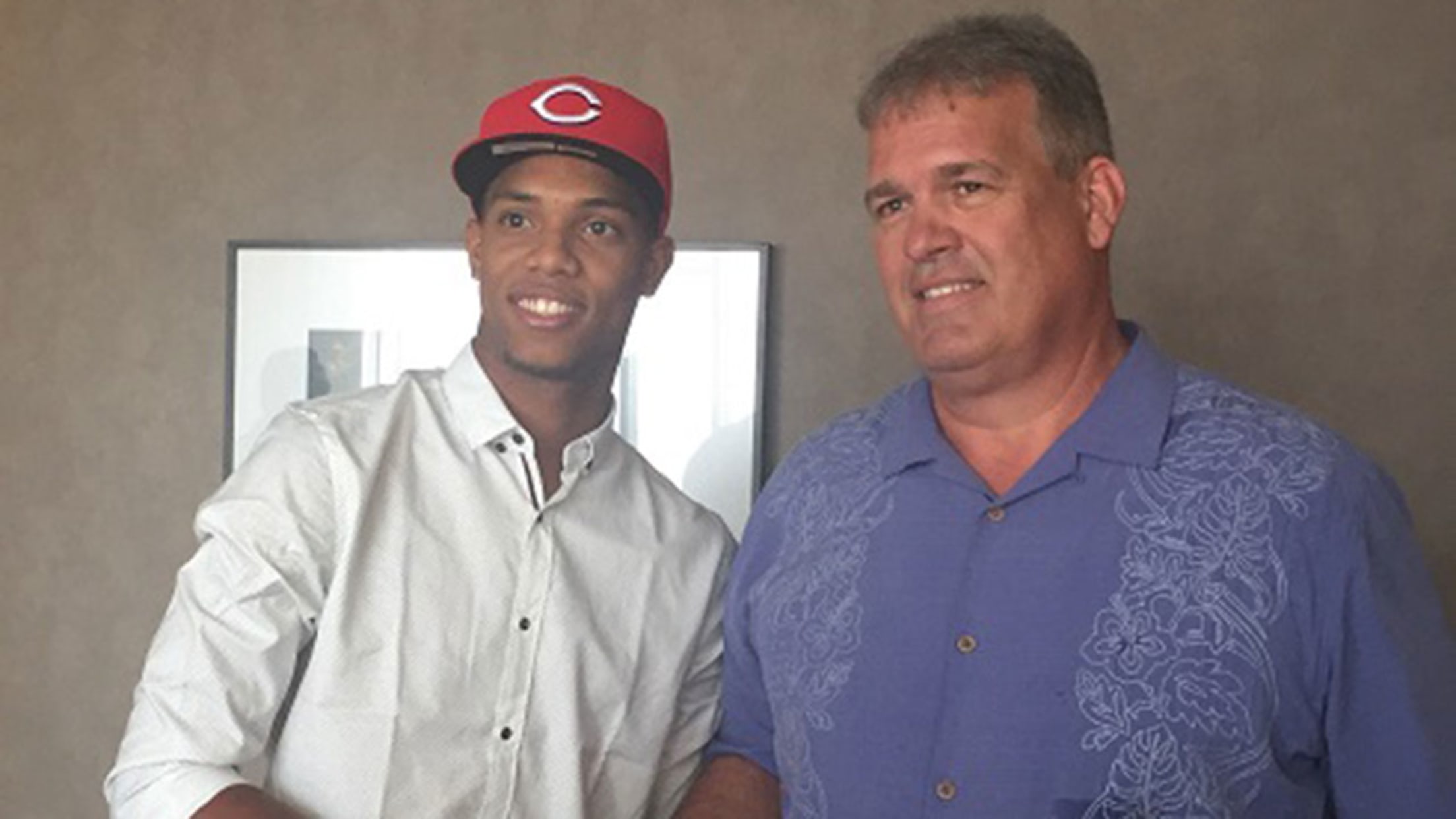 Jose Israel Garcia (left) is "a super-athletic player who hits line drives using the whole field," according to the Reds' Tony Arias (right). (Reds)
The Reds announced Saturday that they have signed highly touted Cuban shortstop Jose Israel Garcia to a Minor League contract.The 19-year old is expected to get a signing bonus close to $5 million, according to MLB.com's Jesse Sanchez. He will report to Cincinnati's Dominican Summer League affiliate."Right away, Jose stood
The Reds announced Saturday that they have signed highly touted Cuban shortstop Jose Israel Garcia to a Minor League contract.
The 19-year old is expected to get a signing bonus close to $5 million, according to MLB.com's Jesse Sanchez. He will report to Cincinnati's Dominican Summer League affiliate.
"Right away, Jose stood out because of his 6-foot, 3-inch live, athletic body," said Reds director of international scouting Tony Arias in a prepared statement. "During the 18U Pan Am gold medal game, I thought this kid would fit right in with the USA team's middle infielders, who were going to be some of the best young kids available for the 2017 Draft."
"He is a super-athletic player who hits line drives using the whole field," Arias continued, "he showed his ability to run and showed great instincts."
Garcia played for Cuba in the 18U World Cup two years ago. He is viewed as a plus runner with a plus arm and quick feet, and he projects as an everyday shortstop in the Majors. Scouts also see him as an athletic talent with line-drive, gap-to-gap power and the potential to hit home runs.
The signing will mark another bold move for the Reds on the international front. In accordance with the Collective Bargaining Agreement that governs the 2016-17 signing period that expires Thursday, each team was allotted a $700,000 base and a bonus pool with four slot values based on the team's record in '15 for the international signing period. Cincinnati's pool total was $5,163,400, and the club passed that threshold and into the maximum penalty by signing Cuban shortstop Alfredo Rodriguez for $7 million in July, and right-handed pitcher Vladimir Gutierrez for $4.75 million in September.
Including the Garcia signing, the Reds will have committed more than $17.5 million to 20 prospects during the current international signing period, and they will be subjected to an additional overage fee close to $12.5 million. Cincinnati, which will have $5.25 million to spend when the next international signing period begins July 2, will not be allowed to sign a player for more than $300,000 for the following two periods as part of the penalty.