Reds provide 'Homebase' for at-risk youth
New community initiative focuses on guidance beyond the ballfield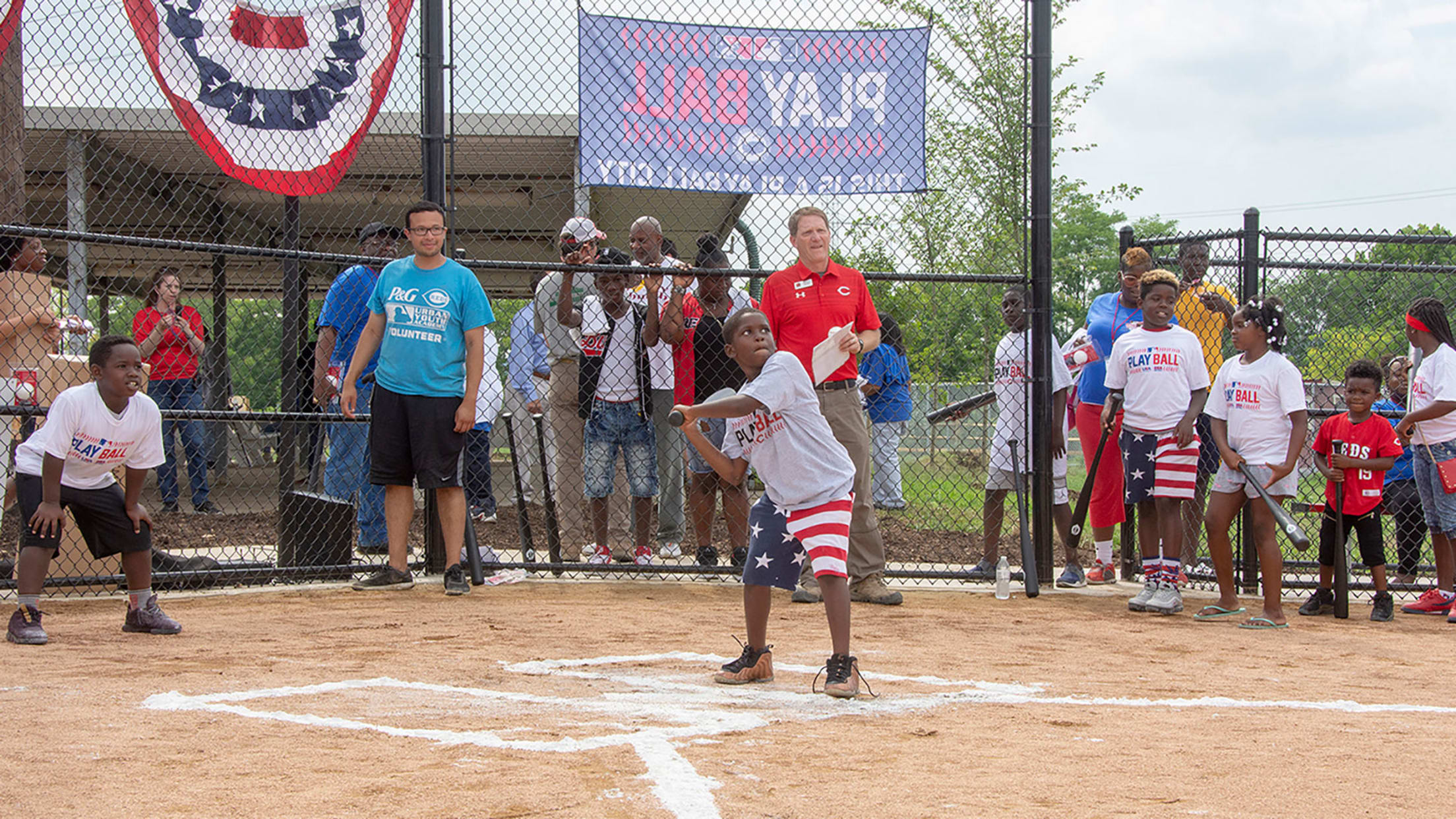 (Courtesy of Reds)
CINCINNATI -- The mission for the Reds Community Fund has long been to create opportunities for at-risk youth via baseball and softball programs. But the charitable arm of the Reds achieved something even more dynamic and ambitious in July that aimed to give a group of kids an experience that
CINCINNATI -- The mission for the Reds Community Fund has long been to create opportunities for at-risk youth via baseball and softball programs. But the charitable arm of the Reds achieved something even more dynamic and ambitious in July that aimed to give a group of kids an experience that can carry it well beyond sports.
In a program called the Homebase Initiative, the RCF partnered with the University of Cincinnati and Cincinnati Public Schools to give 46 incoming high school sophomores, juniors and seniors tools to use in college preparation.
"We've talked for years about taking that next big step from the primary baseball and softball focus to giving them a higher-level education experience that will help them springboard into college," said Charley Frank, executive director of the RCF. "This was by far the most expansive effort along those lines. We had worked for two years with Major League Baseball on the grant proposal."
Given a minimum six-year grant that was underwritten by MLB and the MLB Players Association, Homebase provided an overnight experience on the UC campus as the kids stayed in a dormitory for five days. Each day involved a plethora of activity.
Mornings included yoga and mindfulness and three hours of ACT college test preparation.
"That was, really in a lot of ways, the key to the program and made it unique from anything we've ever done," Frank said.
Afternoon sessions focused on personal and professional development. Each child was assigned a professional adult mentor to spend an hour with each day over three days. After dinner for three hours, the kids split into baseball and softball groups for instruction from former Reds players Dmitri Young and Tom Browning and area high school and college coaches that work with the RCF at the MLB Urban Youth Academy camps.

Other special Homebase programs included meal etiquette and how to prepare for job and college interviews. The final night featured a banquet with several speakers that included Reds CEO Bob Castellini.
"These kids were absolutely worn out on that first day," Frank said. "A lot of them were contemplating maybe walking away. But everyone stuck with it. They caught up to speed by the second day and by the end of the program ... it took us an hour to clear everybody out of there because the kids had developed a bond amongst each other, the staff at UC that worked with them all week, and their parents were so appreciative. This was a free program."
Frank gave credit to assistant dean Kathie Maynard of UC's college of education, criminal justice and human services, and Cincinnati Public Schools athletics manager Josh Hardin for making the week a success. Reds senior outreach manager Colleen Cheek was also indispensable.

Cheek borrowed from a National Football League program to develop Homebase.
"She not only developed it but was the one who worked with all the families to recruit and she was the one to recruit for the 1-to-1 mentor program," Frank said. "She was in the middle of each of the sessions. She conceived it, recruited for it and executed it. I don't know if there are many people in sports on the community side that could have done everything she did. For a first-year program, it was seamless and exceptional. It was one of the most exciting programs I've been involved with during my 15 years."
The year also saw the RCF continue one of its core programs, the Community Makeover. The ninth installment of the program helped reshape 22-acre grounds belonging to the New Prospect Baptist Church in the Roselawn section of Cincinnati.
Hundreds of volunteers from Procter and Gamble, the Cincinnati Zoo and the Reds rebuilt a camp site, created new ballfields and filled in a dangerous Olympic-size pool that had become an eyesore and safety hazard, turning it into green space. Abandoned tennis courts were converted into basketball courts with lights.
The dedication was held on Aug. 2.

"We've been able to attract more partners to it since we've left," Frank said. "So it has much more of a sustainability component than we've ever had. In terms of the amount of work and the scope, it was easily the largest we've ever taken on.
"It was a site the city had wanted to reclaim for years."
Two more community and field renovation projects are already in the works for 2019. As part of the Reds' 150th anniversary celebration, the RCF and its corporate partners will also create two legacy projects at Ross Park in St. Bernard, Ohio, and the Bellevue Vets complex in Northern Kentucky.
Upgrades will include a new synthetic field and renovations of bleachers, concessions stands and park space in St. Bernard. The Bellevue site includes a new synthetic infield, expanded outfield and upgrades to two adjacent fields. Both renovated ballfields will feature seating and a press area designed to look like the original Palace of the Fans ballpark used by the Reds from 1902-11.