Reds honor Rose with statue, ceremony
Hit king joins other legends memorialized at Great American Ball Park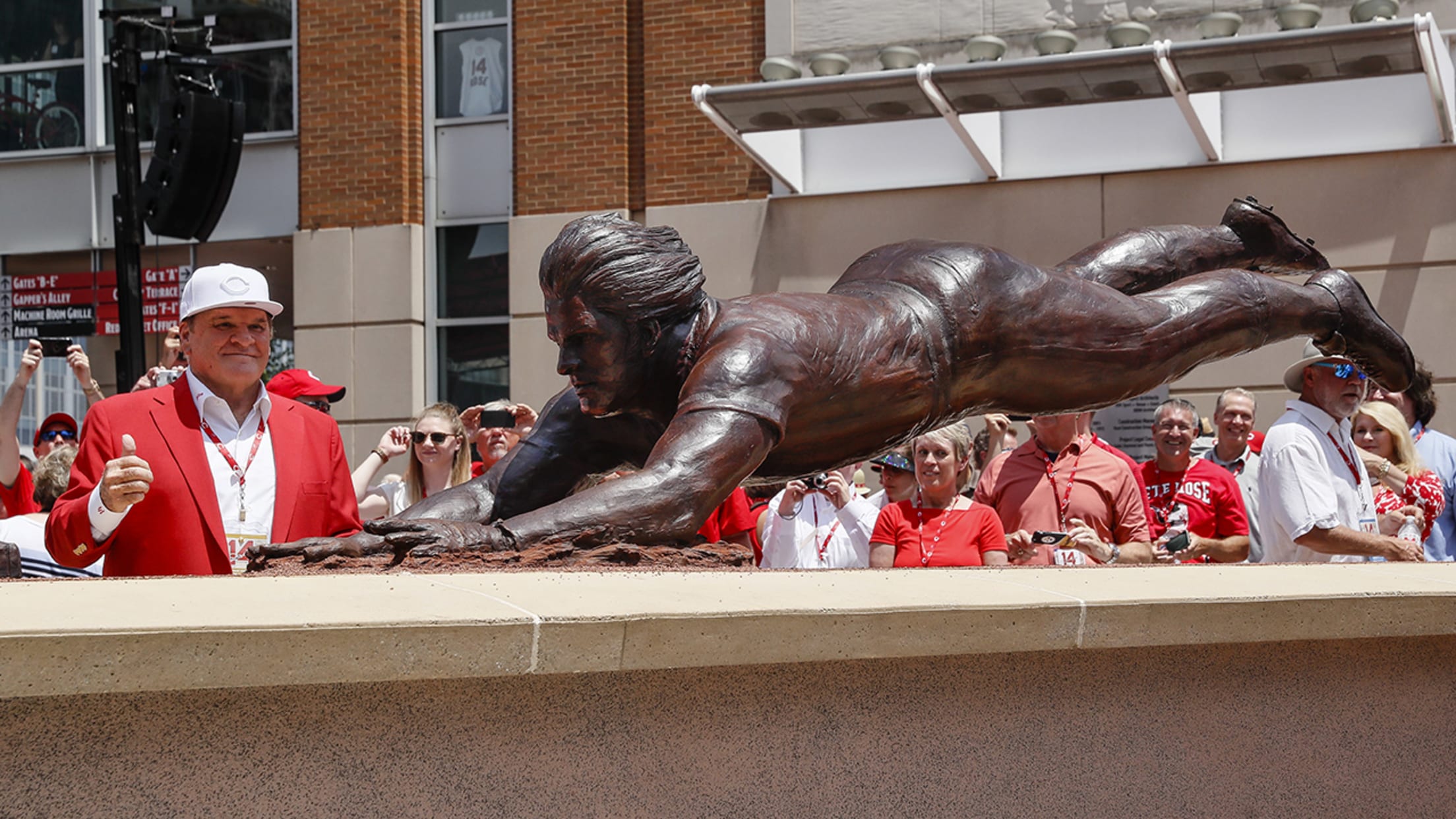 Former Reds player Pete Rose at the dedication of his statue outside Great American Ball Park on Saturday. (AP Photo/John Minchillo) (John Minchillo/AP)
CINCINNATI -- Pete Rose may never be inducted into the National Baseball Hall of Fame. But Saturday, the Reds made sure baseball's hit king was embronzed somewhere.Before the second game of a three-game series between Cincinnati and the Dodgers on Saturday, the Reds dedicated a bronze statue of Rose at
CINCINNATI -- Pete Rose may never be inducted into the National Baseball Hall of Fame. But Saturday, the Reds made sure baseball's hit king was embronzed somewhere.
Before the second game of a three-game series between Cincinnati and the Dodgers on Saturday, the Reds dedicated a bronze statue of Rose at Crosley Terrace. Rose's statue joined those of fellow Reds greats Frank Robinson, Johnny Bench, Joe Morgan and Tony Perez, among others. There was a separate ceremony on the field at Great American Ball Park before the game.
Several of Rose's former teammates appeared at Saturday's ceremonies, including Bench, Morgan and Perez, who had their statues dedicated in 2011, '13 and '15, respectively.
Saturday's festivities come almost a year after Cincinnati inducted Rose into the Reds Hall of Fame and retired his No. 14, which had only been worn by one other person -- Pete Rose Jr. -- since Rose's debut in 1963.
Later this season, the Phillies also plan on honoring Rose by adding him to their Wall of Fame. Rose was a four-time All-Star in five seasons with Philadelphia from 1979-83 and helped the Phillies win the 1980 World Series.
On Thursday, National Baseball Hall of Fame president Jeff Idelson told ESPN that in December the Hall's board of directors upheld its rule that "anyone deemed permanently ineligible by Major League Baseball" would not be considered for election into the Hall.
On Aug. 24, 1989, Rose voluntarily accepted a permanent place on baseball's ineligible list to settle an investigation into allegations that he bet on baseball while manager of the Reds. He has appealed for reinstatement on multiple occasions, the most recent in 2015. Last year, Rose asked the Hall's board of directors directly for reconsideration, an action that prompted the December ruling.
For now, Rose will have to settle for being immortalized in Cincinnati instead of Cooperstown.
Jeremy Vernon is a reporter for MLB.com based in Cincinnati.