Reds to keep rolling with 6-man rotation for now
Riggleman says club will reassess after one more turn; Schebler not throwing yet; OFers to work on cut-off throws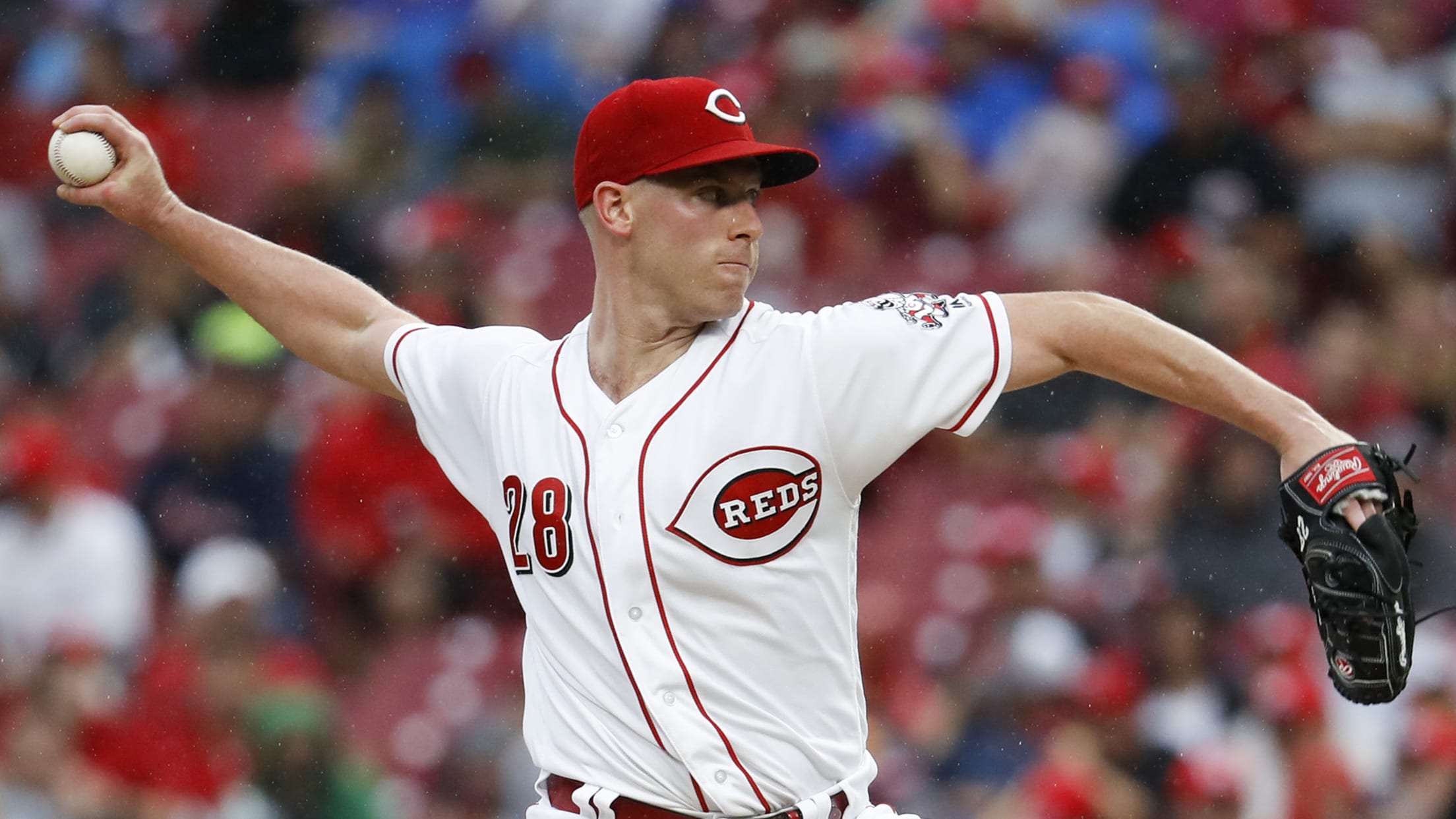 Cincinnati Reds starting pitcher Anthony DeSclafani throws in the first inning of a baseball game against the Pittsburgh Pirates, Saturday, July 21, 2018, in Cincinnati. (AP Photo/John Minchillo) (John Minchillo/AP)
CINCINNATI -- After some deliberation between interim manager Jim Riggleman and the leaders of the baseball-operations department, the Reds have decided to stick with the six-man rotation for at least one more week. The club has used six starters for two weeks already."As of now, we've got six games at
CINCINNATI -- After some deliberation between interim manager Jim Riggleman and the leaders of the baseball-operations department, the Reds have decided to stick with the six-man rotation for at least one more week. The club has used six starters for two weeks already.
"As of now, we've got six games at home, and we're going to run six starters out there for these six games," Riggleman said on Friday.
What happens after the first six games of the nine-game homestand?
"It might be six again," Riggleman replied.
After Anthony DeSclafani pitches on Friday, the club will have Matt Harvey throw Saturday and Luis Castillo on Sunday. The rest of the rotation order isn't set for the next series against the Indians, but it will be some combination of Homer Bailey, Sal Romano and Robert Stephenson, who was just recalled Wednesday from Triple-A Louisville and made his 2018 debut vs. the Mets.
"We're just going to have to see where it's taking us and if it puts too much of a strain on our bullpen, or if there is somebody available down below to come up and help from the bullpen or whatever," Riggleman said. "We're not identifying anybody that we feel like we want to take out of the rotation, is the issue.
"These guys are starters and Stephenson just got here. We want to give him a few chances to start and see what he's got. We hate to do anything there with him. That's just where it is right now."
Schebler not throwing yet
After his rehab assignment at Louisville was shut down on Aug. 3 after just seven games, injured outfielder Scott Schebler has yet to resume throwing. Schebler has been out since spraining the AC joint in his right shoulder on July 14 during a crash into a fence at St. Louis.
Schebler's first six games for Louisville were as the designated hitter before he tried to play left field in the seventh game on Aug. 1.
"I think I just rushed it," Schebler said on Friday. "I had one competitive throw that game and it did not go very well. I had problems sleeping on it that night. I came in the next day and was like, 'Hey, I think it's best to shut it down.' It felt like I was making progress, then I'd take a step back."
Schebler has been simulating throwing motions lately while holding a towel instead of a baseball. He's hoping to resume throwing by Sunday or Monday and have another rehab assignment so he can be activated soon.
"I feel like once I get back to 100 percent, with all the at-bats I got down there, I don't need to go down for a long DL stint as far as rehabbing," Schebler said. "Once I start throwing again, I'm hoping it's just a couple of days. I'm shooting for next week around Thursday, Friday. That's my goal. Whether they go for that or not, that's not really up to me."
Cut-off throwing practice needed
With much of the original outfield rotation missing because of injuries or trades, the Reds have played sloppy defense lately. During the last road trip especially, Phillip Ervin and other outfielders missed the cut-off man several times.
"That's something that's easily correctable," Riggleman said. "No matter who we put out there, it seems like lately we've been doing that, giving up an extra 90 feet too often."
Riggleman plans to have the outfielders taking early work on Saturday to go over cut-off throws.
"We'll be out there tomorrow with them doing it and just pounding into them the importance of it," he said. "[It's about] keeping the double play in order by hitting the cut-off man and giving the cut-off man a chance to throw somebody out at home, if that's what he feels he has a chance to do. That one has bit us. In Detroit it got us. It wasn't just Phil. A couple of other guys did the same thing. It got us the whole road trip. We've got to clean that up."