Reds dedicate field at Bellevue Vets complex
Renovations at Northern Kentucky park honor two local families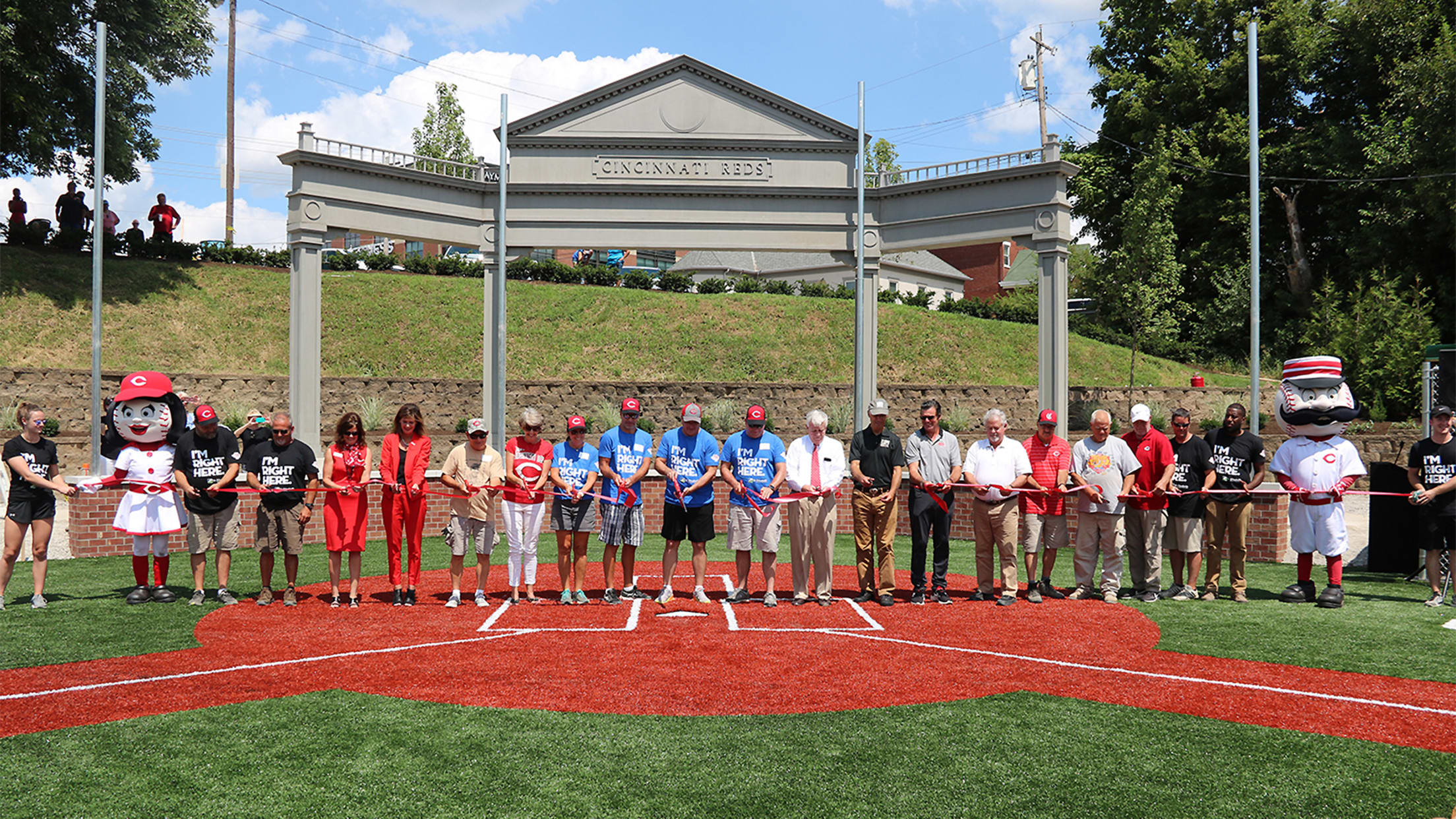 CINCINNATI -- The Cincinnati Reds and a handful of partners unveiled the newly renovated St. Elizabeth Healthcare Field in Bellevue, Ky., on Thursday. Features of the new site include a synthetic infield, new press box, a new playground and a "Palace of the Fans" backstop facade as a tribute to
CINCINNATI -- The Cincinnati Reds and a handful of partners unveiled the newly renovated St. Elizabeth Healthcare Field in Bellevue, Ky., on Thursday.
Features of the new site include a synthetic infield, new press box, a new playground and a "Palace of the Fans" backstop facade as a tribute to the historic Reds ballpark. In addition, upgrades have been made to the two adjacent fields.
The dedication ceremony was held amid a day-long service project involving more than 250 volunteers at the Bellevue Vets complex. Reds dignitaries on hand for the ceremony and official ribbon cutting included chief executive officer Bob Castellini, president and chief operating officer Phil Castellini and Reds Hall of Famer and Northern Kentucky resident Tom Browning. Project partners included St. Elizabeth Healthcare, Duke Energy, the Cincinnati Zoo and Pepper Construction. The Bellevue Vets leadership team and Bellevue residents also came out for the event.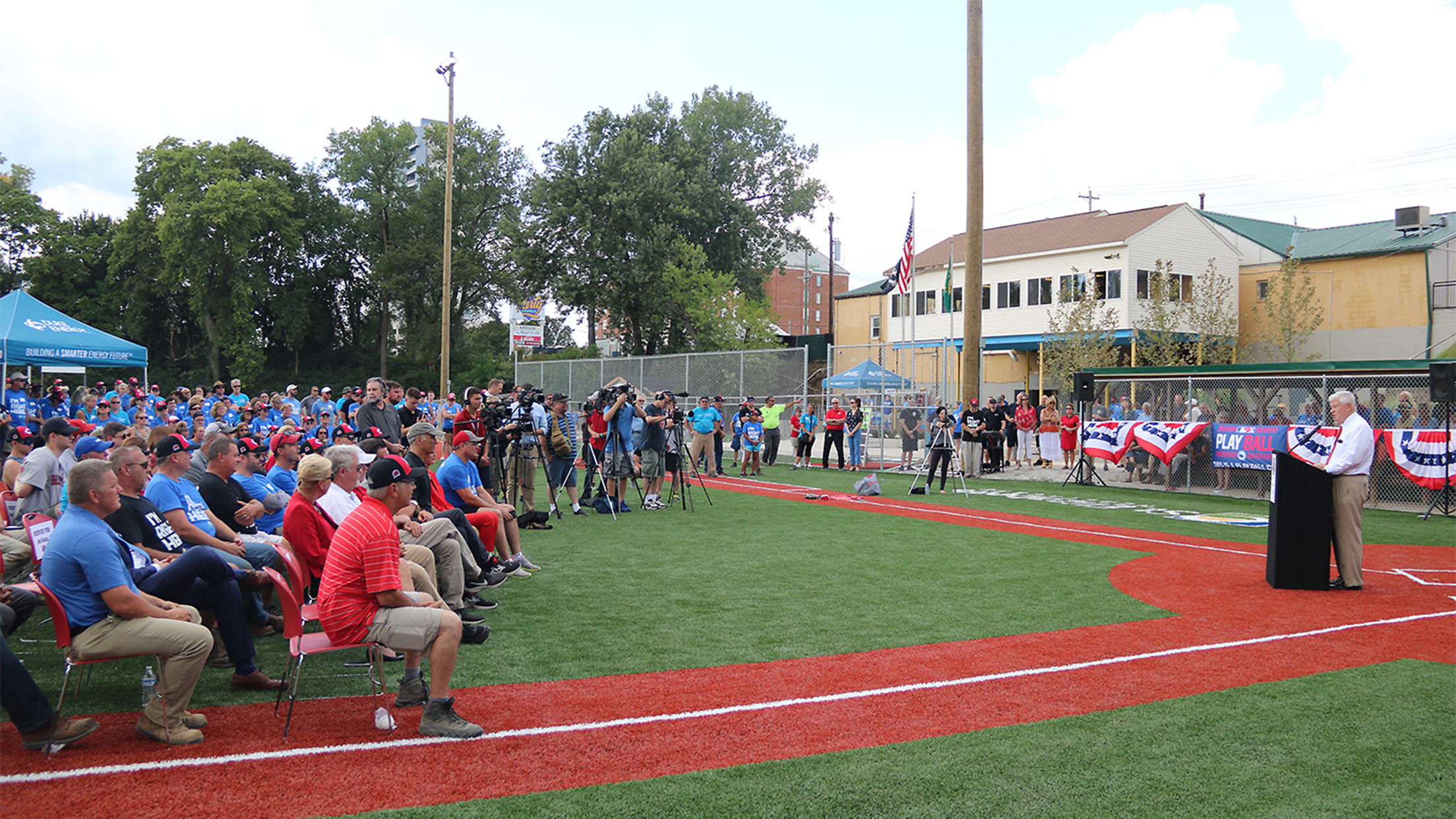 "Two weeks ago, we celebrated the completion of Frank Robinson Field in St. Bernard, and today we're marveling at the new St. Elizabeth Healthcare Field at the home of the Bellevue Vets," Bob Castellini said. "These projects stand as twin tributes to the significance communities like Bellevue have played in Reds history and as testimony of the Reds' commitment to always remain part of our beloved community's future. We have very few partners as dedicated to youth baseball and softball and to their community as these tremendous folks in Bellevue. On behalf of the Reds and our partners, it's our pleasure and privilege to be here today."
Castellini also commended Major League Baseball and Commissioner Rob Manfred for throwing their full support behind both field makeover efforts, and he credited Phil Castellini for spearheading two legacy projects and deciding on Bellevue as one of them.
This project has extra significance in its special connection to two Bellevue families. The site's press box, officially named Groeschen Press Box, was dedicated in honor of Leo and Tom Groeschen. Leo was one of the top athletes in Northern Kentucky history while also being drafted by the Boston Red Sox, and his son Tom was a longtime Greater Cincinnati sports reporter.
The renovated T-ball field was dedicated in honor of army specialist Russell Madden, who lost his life while serving in Afghanistan in 2010.
Linda Yager, daughter of Leo and sister of Tom, and Russell's father Marty were in attendance along with their families. The two were recognized by Reds public address announcer and event emcee Joe Zerhusen before being asked to join in on the official ribbon cutting.
"As you know, the memories and the spirit of your families will be here at Bellevue Vets forever," said Zerhusen, who was the nephew of Leo Groeschen and cousin of his son Tom. "I know that is an honor for those who have put it together to work with you and be a part of this as well."
The dedication officially marked the conclusion of the Reds' 150th Anniversary Legacy Project in 2019, one of the many ongoing initiatives tied into this historic season for baseball's oldest professional franchise.
"The Reds 150th anniversary belongs to all the communities within Reds Country," Bob Castellini said. "But perhaps none more intimately, none more deservedly, than these towns along the banks of the mighty Ohio. Their prosperity put this region on the map, and their loyalty helped launch the Red Stockings as baseball's first professional team in 1869, thereby distinguishing these banks as the birthplace of our nation's pastime."