Riggleman plans on shorter outings for starters
Peraza scratched with illness, Trahan fills in at shortstop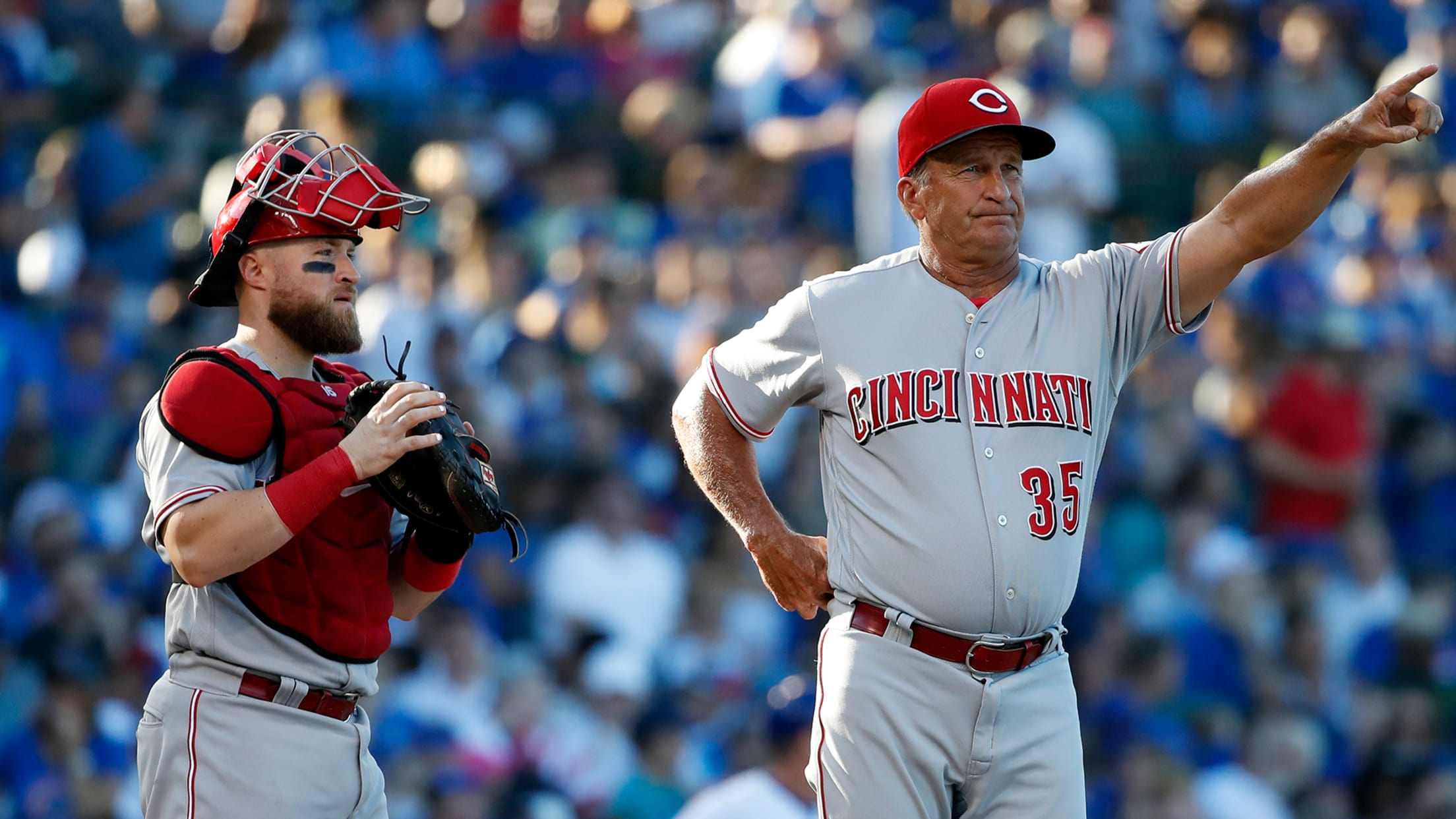 MIAMI -- There's no question that starting pitchers are throwing fewer and fewer innings. It's a trend in baseball that Reds interim manager Jim Riggleman isn't necessarily opposed to.Gone are the starters throwing 300-plus innings in a season. Steve Carlton was the last of that dying breed, tossing 304 innings
MIAMI -- There's no question that starting pitchers are throwing fewer and fewer innings. It's a trend in baseball that Reds interim manager Jim Riggleman isn't necessarily opposed to.
Gone are the starters throwing 300-plus innings in a season. Steve Carlton was the last of that dying breed, tossing 304 innings back in 1980 for the Phillies. In the 2017 season, San Francisco's Jeff Samardzija led the National League with 207 2/3 innings pitched, barely surpassing the 200-inning mark. Only once in NL history has a starting pitcher led the league with fewer than 200 innings. That was the Dodgers' Fernando Valenzuela -- 192 1/3 innings in the strike-interrupted 1981.
Is that such a bad thing? That's up for debate. But the trend is to err on the side of caution with starting pitchers. Riggleman provided a good example of it on Thursday when he pulled starter Cody Reed after six innings and just 71 pitches of a scoreless outing.
"His pitch count was really low; I probably would have left him in, in the past," Riggleman said. "However, there was a little bit of a feeling that we wanted him to go home [Friday] night really feeling good about the outing."
Riggleman said he had serious thoughts about taking out Reed in the sixth inning after the left-hander gave up back-to-back singles to open the inning. But he stuck with Reed, who induced a double-play ball to get out of the jam.
"You could make a case that I could've taken him out then," said Riggleman, who also indicated that he intended to pull Reed before facing Marlins outfielder Lewis Brinson a third time through the lineup. "I don't know that the guy is going to hit into a double play. That's the difference from what we would do in the past."
Riggleman brought up another example showcasing the opposite result when he allowed Matt Harvey to remain in Wednesday's game too long.
"I did not have a quick hook, Harvey gave up seven runs," Riggleman said. "I find most of the time, when I have gone further [with the starter], it hasn't gone well. When I've pulled them out, I've irritated some guys, but we're winning those games.
"It's a great point our front office makes. Couple guys in our front office bring it up that we've got to convince our pitchers that this is about the Cincinnati Reds winning this game. It's not about [the starter] going [a certain] amount of innings."
And that's totally contrary to the way these pitchers were brought up, Riggleman noted.
"Back in the day, when you talk about managing any of those good pitchers, [the attitude] was, 'This is my game,'" Riggleman said. "And you know what? It's not your game. It's the Cincinnati Reds' game.
"I really think we're in a transition period. We're just taking them out earlier. It comes off as we're showing less confidence in their ability, but what we're really doing is we're looking at all the data and it's telling us this."
Riggleman certainly isn't alone on an island in this approach.
"It's what the opposition is doing; it's what we're doing," Riggleman said. "[Brewers manager Craig Counsell] is doing a great job of it at Milwaukee. [Dodgers manager] David Roberts really utilizes it. Those are playoff teams.
"You've got to ask guys to be selfless and give us the best innings you have. If it's 3 2/3 or 6 1/3, whatever it is, it's about trying to win the game."
Peraza scratched with ilness
Reds shortstop Jose Peraza fell ill just prior to Friday's game with Miami at Marlins Park and was scratched from the lineup by Riggleman, who made a last-minute shuffle of the batting order.
Peraza was originally scheduled to hit in the No. 2 slot behind leadoff hitter Billy Hamilton. Instead, Riggleman moved up left fielder Dilson Herrera to that spot, with Blake Trahan inserted into the lineup at shortstop, batting in the No. 8 hole vacated by Herrera.
** Glenn Sattell ** is a contributor for MLB.com based in Miami.