Bettis on relieving: 'A breath of fresh air'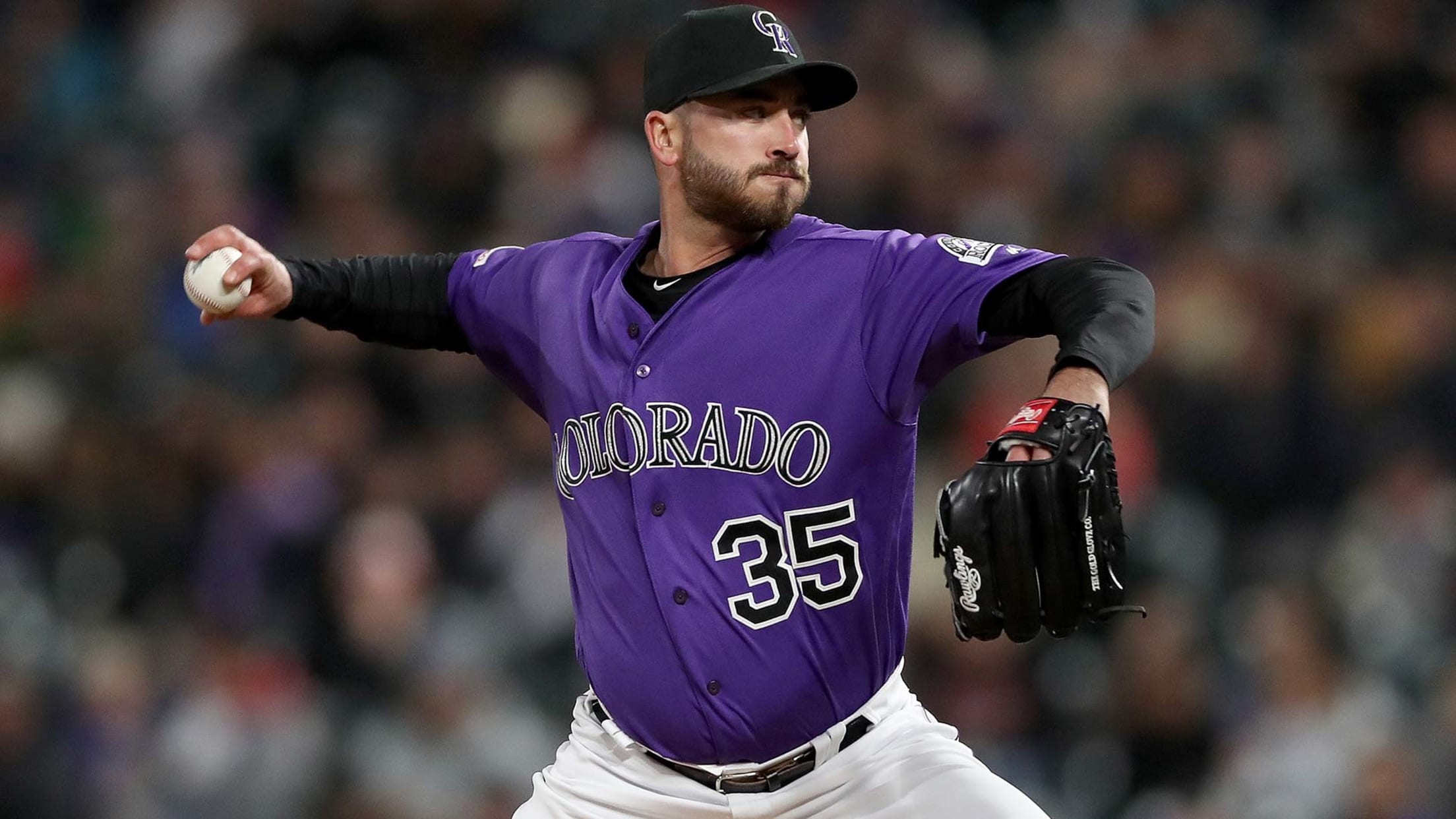 DENVER -- It isn't just that Rockies right-hander Chad Bettis has gained velocity since going to the bullpen. It's that he likes the pitcher he is becoming. "Learning what I've learned now, or at least in the last 15 days, has been a breath of fresh air," said Bettis, who
DENVER -- It isn't just that Rockies right-hander Chad Bettis has gained velocity since going to the bullpen. It's that he likes the pitcher he is becoming.
"Learning what I've learned now, or at least in the last 15 days, has been a breath of fresh air," said Bettis, who has given up two hits and one run in four innings over two appearances -- including three spotless innings in Monday night's 7-5 victory over the Nationals.
After trying to pitch with a fastball that averaged 89.9 mph in his three starts, he's up to 93.6 mph as a reliever, and the added steam is setting up his changeup and cutter. Here is a look inside the techniques and mental approach that Bettis is using to unlock power and potential for production:
Working from the ground up: Bettis said, "The kinetic chain for me was off." So he solicited power relievers Wade Davis and Scott Oberg, who discussed ways to be "connected to the ground, and transition that power the right way through my target."
In the past, Bettis' motion was a controlled fall.
"So my theory was to slide my hips forward, moving my upper body over the front of my toe of my land leg, and creating this long window to throw the ideal strike," he said. "Now I don't fall as much. But it's more about almost gripping the ground and pushing into it. When I start to go it's a little of falling, but when I go, I want my back leg to push backward while my front leg goes forward."
Accelerating the mind game: The mechanical issue was just part of the reason Bettis lost power. He also knew he had to manage a lineup multiple times through. He used a three-step process. Relieving cuts that to one-and-a-half steps.
"I find myself more in the transition from the mid-to-end game -- as opposed to opening different ways, and then advancing the mid-game and then the end," said Bettis, who smiled and said his whole way of thinking has sped up -- and he likes it.
Know your changing self: This is the same guy who struggled as a reliever for parts of two seasons before a revealing heart-to-heart with then-manager Walt Weiss.
"I had a talk with him, personally, and I felt like I was doing myself an injustice by relieving because I didn't think that was the best thing for me to help our team," said Bettis, who when healthy (a bout with testicular cancer in 2017 and chronic right-middle-finger blisters last year derailed him), gave the Rockies solid work.
But he finished last season with encouraging effort in the bullpen. Even this spring, Bettis said he was willing to go to the bullpen if it helped the club win. Recognizing that he is more powerful in short bursts, he's embracing it.
"Moving to the bullpen allows me to be a little bit more creative," he said. "That's just how my mind is working right now. It's hard to go out there and do that from 87-90 [mph] and try to really get creative.
"I love the newness of it, the ability to learn so much more and really trying to dig back in to where I left off last year, when I was in the bullpen."
In other news
• Manager Bud Black told MLB Network Radio on SiriusXM ration on Tuesday that after three games on an injury rehab assignment for a left index finger injury, first baseman Daniel Murphy will be evaluated but will "probably not" be activated for Tuesday's game.
Bud Black: Daniel Murphy is close to a return to the Rockies lineup, ahead of schedule, but it won't be tonight.@Rockies | #Rockies pic.twitter.com/Zt3SW0INGe

— MLB Network Radio on SiriusXM (@MLBNetworkRadio) April 23, 2019
• Catcher Chris Iannetta, on the injured list with a strained right lat muscle, did some throwing at Coors Field on Tuesday afternoon. For several days, he has been throwing, lifting and hitting, but there is no timetable on his return.