Relievers the Braves should target for 2019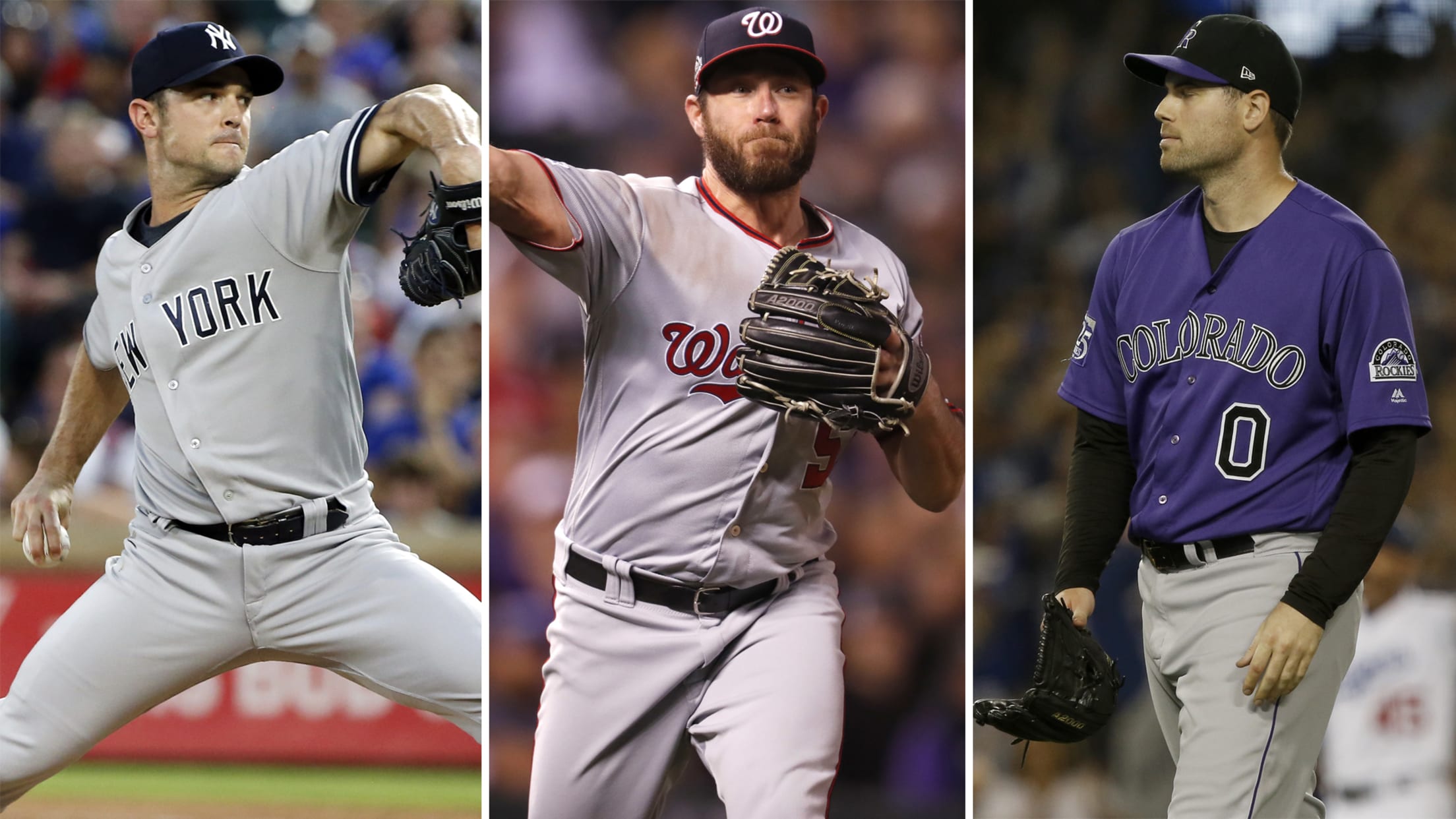 ATLANTA -- Craig Kimbrel would likely welcome a return to Atlanta, and the Braves are in the market for a closer. But unless Kimbrel's expected asking price drops significantly, there is not any reason to anticipate a reunion.Kimbrel is a little more than a season away from becoming the seventh
ATLANTA -- Craig Kimbrel would likely welcome a return to Atlanta, and the Braves are in the market for a closer. But unless Kimbrel's expected asking price drops significantly, there is not any reason to anticipate a reunion.
Kimbrel is a little more than a season away from becoming the seventh pitcher to reach the 400-saves milestone, and his 90.7 save percentage ranks first among any closer who has tallied at least 200 saves. So he has earned the right to seek a deal that rivals or surpasses the three-year, $52 million deal Wade Davis signed with the Rockies last December.
But at this time, the Braves are not comfortable making this kind of financial commitment. Instead of committing upwards of $16 million worth of next year's payroll toward a closer, they are focused on addressing their bullpen needs by possibly signing at least two proven relievers, one of which could possibly handle the closing duties at a cheaper rate.
Before looking at some of the other relievers the Braves might target, let's remember the Braves have approximately $60 million available to spend this offseason. General manager Alex Anthopoulos has indicated he may reserve a portion of these funds to be used leading up to next year's Trade Deadline. Regardless, with $50 million to $60 million to spend, there's enviable flexibility to address the club's needs (an outfielder and a catcher) and wants (a starting pitcher, at least one reliever and depth on the bench).
The outfield and catcher are regarded as definitive needs because the Braves must account for the fact Nick Markakis and Kurt Suzuki are free agents. But though enough bodies are already present within the system, there's good reason to regard the bullpen as an area of need.
Here is a look at the Braves' bullpen picture.
Internal assets
The Braves' National League Division Series roster did not include four of the five relievers who made at least 50 regular-season appearances this past season. Three of the four exclusions -- Dan Winkler, Shane Carle and Jesse Biddle -- were deemed fatigued at the end of their rookie seasons. The other exclusion was Sam Freeman, whose late-season improvement wasn't enough to gain a roster spot.
Even though their health history will influence the decision, Winkler and Jonny Venters seem likely be tendered contracts. There's a chance the Braves could non-tender Freeman, who like Winkler and Venters is projected by MLB Trade Rumors to make approximately $1.5 million via arbitration in 2019. But Anthopoulos has proven he places a significant value on depth. So there's a chance each of these three relievers will return.
Arodys Vizcaino is projected to serve as the closer in 2019, but there are legitimate concerns about the durability of his shoulder. A.J. Minter's late-season back issues marred his first full Major League season. Though they both have limited experience, Minter and Chad Sobotka have the potential to be late-inning assets.
The Braves will gain a experienced presence via the return of Darren O'Day, who underwent season-ending right hamstring surgery before Atlanta acquired him from the Orioles in July.
If Vizcaino, Venters, O'Day and Minter prove to be healthy, if Winkler, Carle and Biddle prove to be more effectively durable in their second seasons and if Sobotka can build upon his September emergence, the Braves already have the makings of a solid bullpen. But as a wise scribe once said, "If you enter a season with too many ifs, you're bound to find too many problems during a season." So it makes sense to look at a few free agents who could satisfy the Braves' desire to upgrade their bullpen with a potential closer.
Adam Ottavino
MLB.com's Michael Clair recently wrote why he considers Ottavino to be a better free-agent target than Kimbrel.
Ottavino bounced back from an ugly 2017 season (5.06 ERA) to post a 2.43 ERA and allow a .158 batting average over 77 2/3 innings in '18. The 33-year-old right-hander actually limited opponents to a .124 BA and a .418 OPS at Coors Field. His walk rate of 4.7 walks per nine innings was a little high, but his strikeout rate (13.0) ranked 12th among qualified relievers.
Greg Holland
The former Royals and Rockies closer struggled as he produced a 7.92 ERA over 25 innings for the Cardinals this past season. But after moving to the Nationals in early August, the 33-year-old right-hander posted a 0.84 ERA and limited opponents to a .130 batting average in 21 1/3 innings. With 189 career saves under his belt, he might prove to the affordable option the Braves need to strengthen the back end of their bullpen.
Player Page for David Robertson
Robertson notched three consecutive 30-save seasons across time with the Yankees and White Sox from 2014-16, and he is less of a health risk than Jeurys Familia. The 33-year-old veteran struggled down the stretch, allowing six earned runs over his final 7 2/3 innings of this past season. But the Birmingham native still produced a respectable 3.23 ERA over 69 2/3 innings. If he chooses to play closer to home, there may be a fit with the Braves.
Mark Bowman has covered the Braves for MLB.com since 2001.