Notes: Hill, Bailey pitch; Twins debut camp shirts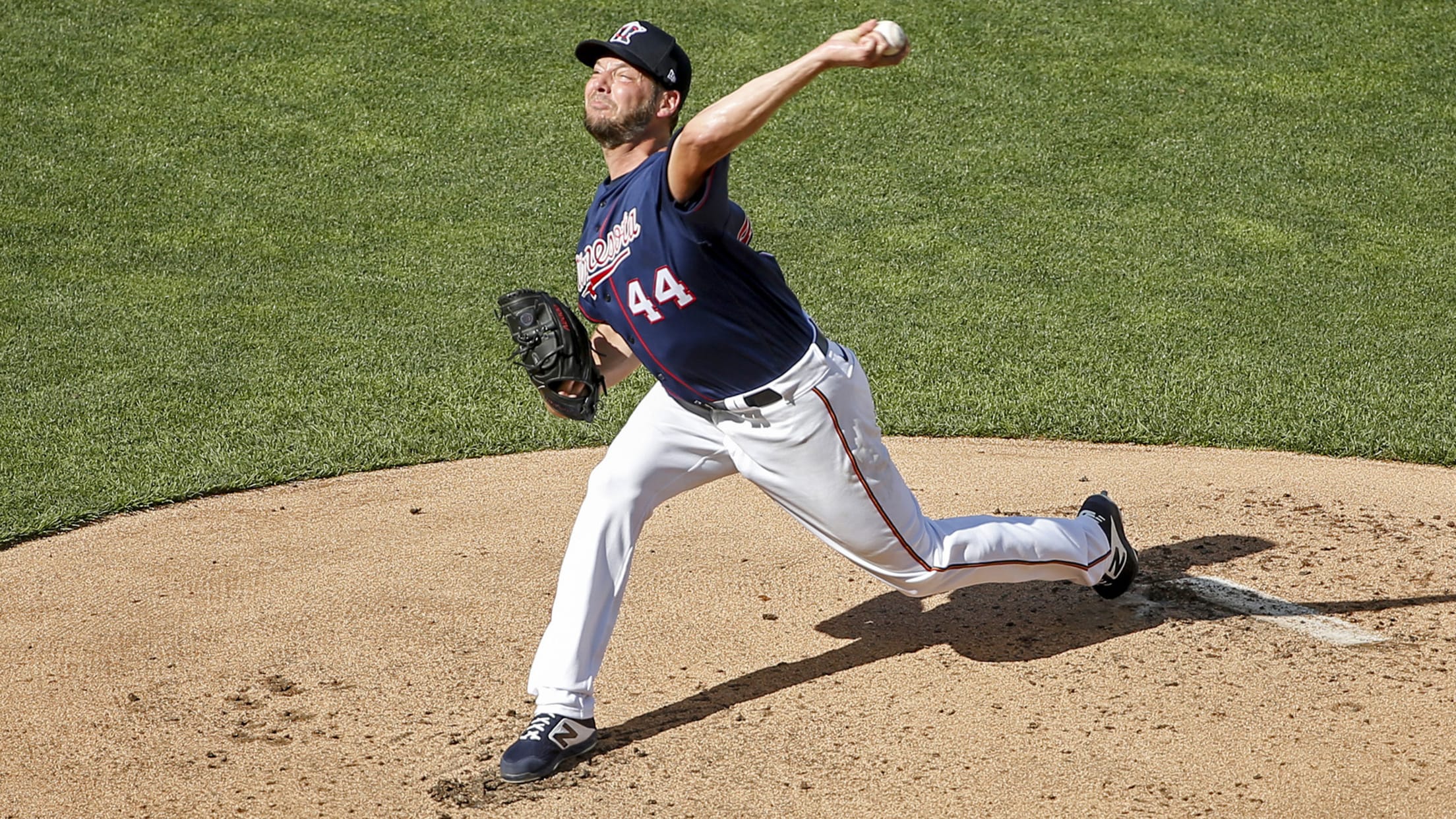 MINNEAPOLIS -- The Twins' news cycle was dominated this past offseason by the signing of Josh Donaldson and the slugger's impact on an already potent offense -- and rightly so. But early in Summer Camp, the pitching staff has stolen the show. This is to be expected at this juncture
MINNEAPOLIS -- The Twins' news cycle was dominated this past offseason by the signing of Josh Donaldson and the slugger's impact on an already potent offense -- and rightly so. But early in Summer Camp, the pitching staff has stolen the show.
This is to be expected at this juncture of camp, because pitchers had a chance to stay fresh and throw throughout the hiatus, while it was tougher for hitters to face live pitching -- particularly big league-caliber pitching. That's been reflected on the field for now, as the Twins' offense has only scored three runs through three intrasquad contests.
"You just don't see very many innings where the ball's just being sprayed and whacked all around the ballpark and guys are running around the bases," manager Rocco Baldelli said. "The pitchers go out there with a plan; they know the hitters pretty well. If you're a hitter and you're not totally, totally locked in, as you would be in a game, it's really difficult to go out there and hit Major League pitching."
That's not necessarily a bad indicator for the hitters, either. Because these games don't count and the regular season looms in less than two weeks, they have to find ways to acclimate to live pitching as quickly as possible.
"I like the fact that the pitchers are going to be ahead of the hitters," outfielder Jake Cave said. "I like it because we really have no choice but to get out there and get ready."
That doesn't mean the pitchers' dominance should be discounted. Baldelli was effusive in his praise of both Rich Hill and Homer Bailey, who completed scoreless outings in Saturday's intrasquad game. The competitive Hill was so efficient that he had pitches to spare after completing his scheduled four innings. He faced the equivalent of 5 1/3 innings on only 60 pitches and allowed a pair of weak singles.
"We actually had to extend his outing a little bit out there because he was so efficient," Baldelli said. "Again, misses a lot of bats. Again, we saw the competitiveness out there. He's not out there just trying to get a little work in. He goes out there to try to make great pitches and get people out, whether it's his teammates or not."
Bailey was less efficient, needing 70 pitches to navigate the equivalent of 3 2/3 innings, but Baldelli still said the veteran right-hander "couldn't look any better" to the eye and remains on the positive track the Twins felt he was on during Spring Training. Bailey is shaping up to be a stabilizing factor at the back of the rotation.
"He was really locked in throwing the ball exactly the way you would want to throw the ball down in Fort Myers, [Fla.], and he's shown up here throwing the ball the exact same way," Baldelli said. "The stuff has been really good. He's locating his fastball just the way he would want. His split has been really good."
"He's throwing balls that look like they're about 6 mph faster than they actually are," Cave said.
Rosario still working to improve OPS
It's well-established that Eddie Rosario has been a free swinger throughout his Major League career, but the slugger and fan favorite reiterated on Saturday his desire to be more patient at the plate in 2020, instead of continuing to attack bad pitches. Rosario has been working with hitting coach Edgar Varela to improve his .309 career on-base percentage while maintaining his ability to damage hittable pitches.
"The main focus is to swing and be more selective to good pitches," Rosario said. "When I swing at good pitches, my numbers are there. So I'm just going to concentrate on that and try to keep getting better -- just concentrate on that facet of my at-bats."
It might be a riskier proposition than usual for a hitter to make such changes to his approach ahead of a 60-game regular season, considering the heightened importance of each plate appearance and each game, but Rosario remains confident in his preparation and adjustments.
"A couple of years ago, I had a shortened season and the numbers were there," Rosario said. "I'm not worried about the short season. I'm just going to keep preparing as I usually do."
Twins debut new camp shirts
Baldelli and the Twins are taking Summer Camp to heart, even going as far as making matching T-shirts for the team and staff members, which they debuted during Saturday's workouts.
The shirt features a woodchuck carrying a Twins-branded bat surrounded by the words "Twin Cities Summer Camp 2020," which was all drawn by hand by Baldelli's fiancée, Allie. Baldelli said that the shirts were inspired by a family of the creatures that he and Allie see on their walks through a local park every other day.
The #MNTwins have some fantastic new matching shirts in camp today, designed by Rocco's girlfriend, Allie. The animal pictured is a woodchuck.

Rocco: "If we're going to call it summer camp, we might as well have an old-school summer camp shirt." pic.twitter.com/AzYggU15c6

— Do-Hyoung Park (@dohyoungpark) July 12, 2020
Clubhouse manager Rod McCormick got the shirts made in two colors: red for players and blue for coaches and staff, also featuring "STAFF" emblazoned on the back, as would be the case in any normal camp.
"It's kind of old school," Baldelli said. "If we're going to call it Summer Camp, we might as well have an old-school Summer Camp shirt."
Twins tidbits
• The Twins had a healthy Spring Training, and that stroke of good fortune has carried through to Summer Camp so far, as Baldelli said Saturday that the Twins have no significant injuries to report from the past week. Jorge Polanco, Max Kepler and Marwin González all returned from minor injuries during Spring Training, and both Byron Buxton and Hill have been fully healthy additions to Summer Camp.
"We haven't really experienced anything player-wise that I would consider more than a very minor soreness or someone who needs an extra day here or there," Baldelli said. "Just very, very regular day-to-day stuff that we would deal with."
• Donaldson and his partner, Briana Miller, announced Saturday on social media that they are expecting a daughter.