Ashburn unmatched in Phils' outfield history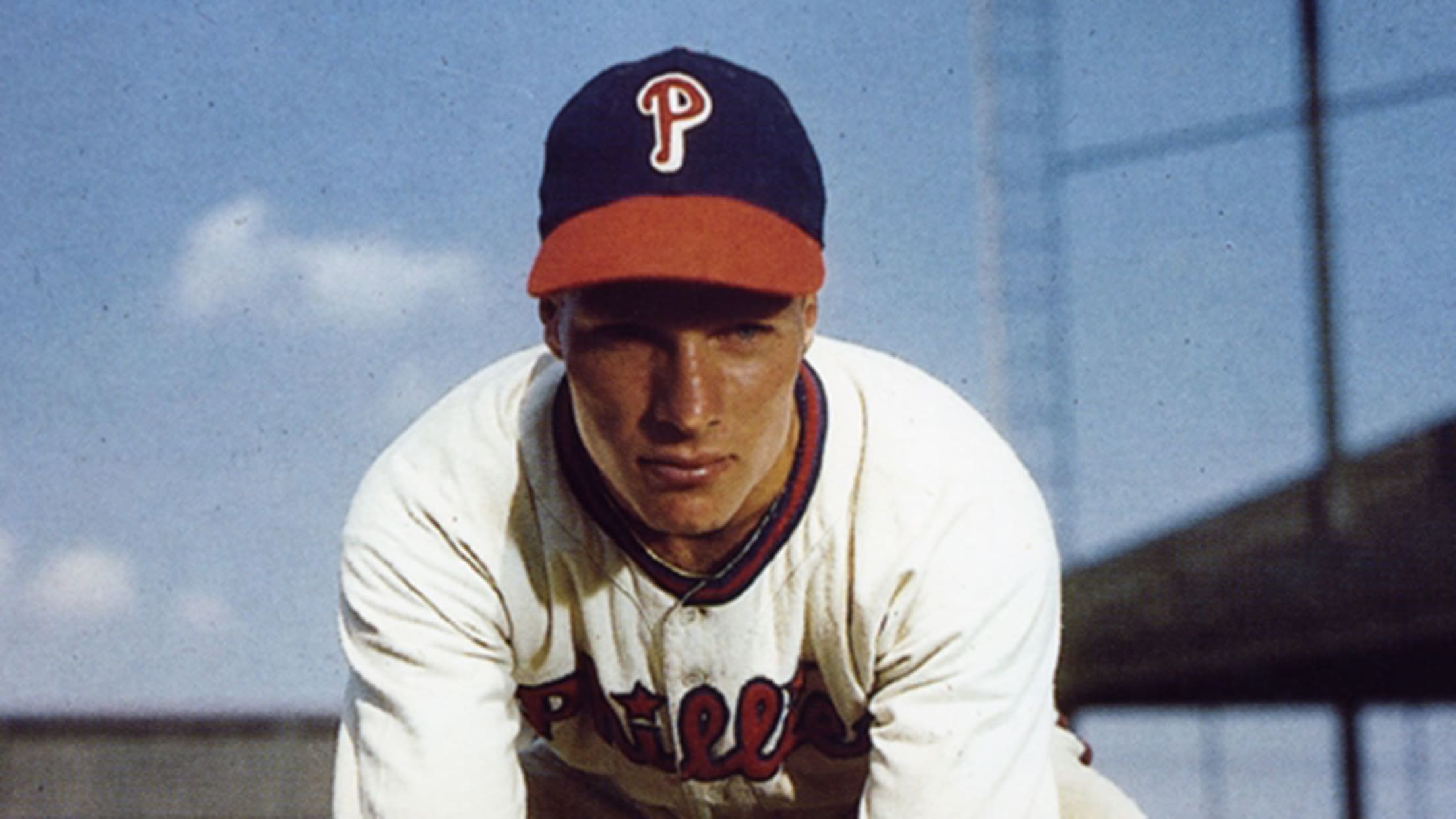 This is the last in a series of most career games by position in Phillies history. Today we look at the top six outfielders:• Richie Ashburn (1948-1959), 1,785 games • Del Ennis (1946-1956), 1,601 • Sherry Magee (1904-1914), 1,415 • Johnny Callison (1960-1969), 1,379 • Bobby Abreu (1998-2006), 1,331 •
This is the last in a series of most career games by position in Phillies history. Today we look at the top six outfielders:
• Richie Ashburn (1948-1959), 1,785 games
• Del Ennis (1946-1956), 1,601
• Sherry Magee (1904-1914), 1,415
• Johnny Callison (1960-1969), 1,379
• Bobby Abreu (1998-2006), 1,331
• Cy Williams (1918-1930), 1,324
Richie Ashburn wore #1 throughout his Phillies career. When it comes to the most games played among Phillies outfielders since 1883, Ashburn is #1. As you can see from the list, only one outfielder in the last 47 years has cracked the top six, Bobby Abreu.
Don Richie Ashburn grew up in the small town of Tilden, NE and was signed by the Phillies in 1945 as a catcher. Because of blinding speed, he was moved to centerfield that season in Utica, NY. Made his major league debut on opening day in 1948, the first big league game he saw. Also played for the Cubs and Mets; finished with a .308 average. Four-time All-Star. Holds major league record for years (four) with 500 putouts. Shares Major League record for leading league in putouts most years (nine). Inducted into the Phillies Wall of Fame (1979), uniform number retired (1979) and enshrined in the Hall of Fame in 1995.
• Phillies alumni
Delmer (Del) Ennis is regarded as the greatest Philadelphia native to wear a Phillies uniform. He as a star in baseball and football at Olney High School. The Phillies signed him in 1943. He spent three years in the Navy during World War II. Discharged on April 5, 1946, he made his major league debut 23 days later. Went on to become the NL Rookie of the Year when he hit .313. Hit 25 or more home runs seven times and drove in 100 or more runs six times with the Phillies (1946-56). Also played for the Cardinals, Reds and White Sox. Three-time All-Star. Inducted into the Phillies Wall of Fame (1982).
Sherwood (Sherry) Robert Magee was signed by the Phillies on June 27, 1904. The 19-year-old outfielder made his major league debut two days later. He was considered a five-tool player, hit, run, throw, field and hit with power. Played for the Phillies from 1904-14, a .299 career hitter. Team's first batting champion of the 20th century, .331 in 1910. The hot-tempered Magee flattened a National League umpire with one punch on July 10, 1911. He was fined and suspended for the rest of the season. Ironically, he became an NL umpire after his playing days were over. Posthumously inducted into the Phillies Wall of Fame in 2003.
John Wesley Callison came to the Phillies in a trade for 3B Gene Freese after the 1959 season. He broke in with the White Sox the year before at age 19. Phillies right-fielder from 1960-69. Three-time All-Star. Won 1964 ASG with dramatic three-run, walk-off HR, only Phillies player to be the MVP of the game. First Phillie to hit three home runs in a game, twice. Runner-up for 1964 NL MVP, 31 home runs, 104 RBI. Also played for the Cubs and Yankees. Inducted into the Phillies Wall of Fame (1997).
Bob (Bobby) Kelly Abreu was acquired from Tampa Bay for shortstop Kevin Stocker in the 1997 expansion draft. Right-fielder from 1998-2006. Phillies all-time list: on-base percentage (.416, third); slugging percentage (.513, fifth); average (.303, tie, ninth). Drew 100 or more: walks, seven times; runs, six times and RBI, four times. 50 doubles in 2002, most for the Phillies in 70 years. Two-time All-Star. Also played for Yankees, Dodgers, Angels, Mets
Frederick (Cy) Williams was acquired by the Phillies in December 1917 after six years with the Cubs. Played center-field for the Phillies, 1918-1930, and compiled a .306 career average with 217 home runs. Led NL in homers (41) and RBI (114) in 1923, the most for any Phillies centerfielder. Hit 120thh home run that season to break the NL record held by former Phillie Gavvy Cravath. He was the first National League player to reach 200 home runs. Posthumously inducted into the Phillies Wall of Fame in 1986.
Larry Shenk is editor/writer of this alumni page.