Longtime Mariners trainer Griffin has new role
After 35 seasons, he's scaling back as 'Athletic Trainer Emeritus'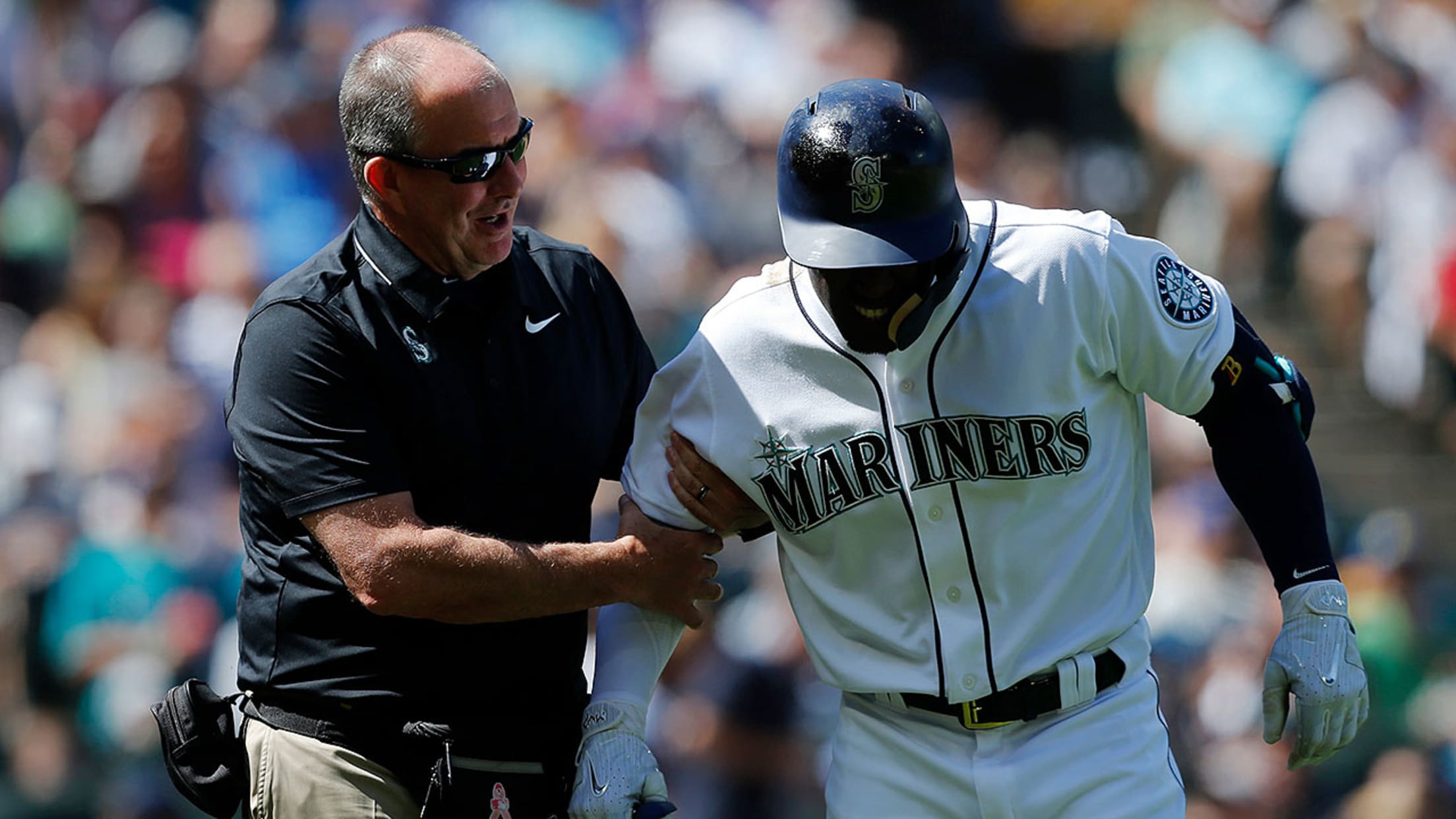 Rick Griffin, tending to Guillermo Heredia, is looking forward to more time with his wife and three daughters. (Mariners/Ben Van Houten)
SEATTLE -- He's a familiar figure to Mariners fans, the man who has tended to injured players on the field for most of the franchise's history. But after 35 seasons as the team's head athletic trainer, Rick Griffin announced Friday he's scaling back his day-to-day duties and transitioning to a
SEATTLE -- He's a familiar figure to Mariners fans, the man who has tended to injured players on the field for most of the franchise's history. But after 35 seasons as the team's head athletic trainer, Rick Griffin announced Friday he's scaling back his day-to-day duties and transitioning to a new role as the club's "Athletic Trainer Emeritus."
In his new position, Griffin will continue to advise and maintain some administrative duties, but will no longer travel with the team or be involved in the round-the-clock needs of the head training position.
Griffin, 61, had been pondering retirement over the past year, but said general manager Jerry Dipoto talked him into taking the "emeritus" title and remaining active in a more limited way.
"I had a friend who said all that means is you're old," he said of the new title. "But I'm thankful and honored that not only Jerry, but [CEO] John Stanton and [team president] Kevin Mather and the ownership group want me around and to be here and help. That makes me feel good.
"I've basically given my life to the Mariners and been here a long time. It's like a family. Not just the players here now, but players from before and all the staff and people I've met in this game. It's a special fraternity and something I'd miss, so I'm thankful I'll still be around to enjoy being part of that."

Griffin, who remarried a year ago, says he's looking forward to getting more time with his wife and their three daughters, as well as a little more fishing and golf. But he will still attend Spring Training to set up physical exams as well as come to Safeco Field during the season at times and help with special projects.
He'll also help Dr. Lorena Martin, who was hired last week as the new director of high performance to oversee all mental and physical training aspects of the club.
"That's one of the things I'm most excited about," Griffin said. "She's got a lot of ideas and is very intelligent. She's bringing some new ideas into baseball and I'd like to help her do anything she can to be successful."
Griffin is only the second head athletic trainer in Mariners history and worked 5,543 regular-season games in that capacity as well as 34 postseason contests. Dipoto said Griffin's presence on the franchise has been profound.
"He has truly touched every team and every player of the past 35 seasons and his impact will continue to be felt for years to come," Dipoto said. "We're thankful that he has agreed to continue as Athletic Trainer Emeritus, giving all of us the benefit of his expertise, even as he takes a step back from the day-to-day grind."

Griffin acknowledged this past season was frustrating due to the number of injuries, including some unusual ones, that hindered the team's performance. But he'll continue to recall the positive experiences of helping players return as quickly as possible from setbacks.
Among his favorite memories are Ken Griffey Jr.'s timely comeback from a broken wrist to lead the 1995 postseason push and Jay Buhner's quick recovery from Tommy John surgery that had him ready at the start of the '99 season after working together every day of the offseason except Thanksgiving and Christmas.
"Seeing Junior come back diving and hitting home runs. And Jay throwing a guy out at third after coming back from Tommy John and coming into the dugout and kissing me on the head," Griffin said. "Things like that are magical for a trainer."
Griffin worked as an athletic trainer for the American League All-Star team four times -- in 1987, '95, 2001 and '10 -- and was inducted into the Washington State Athletic Trainers Association Hall of Fame in 2016.
"There are times it doesn't go as well, either, but those are the ones you remember," he said. "It's really been a magical ride. Not too many people can go to work every day and say they love their job and the people they're with every day. I've had the pleasure of being able to say that my whole life."