Henderson provides instruction at A's camp
Hall of Fame speedster will be with Oakland for eight days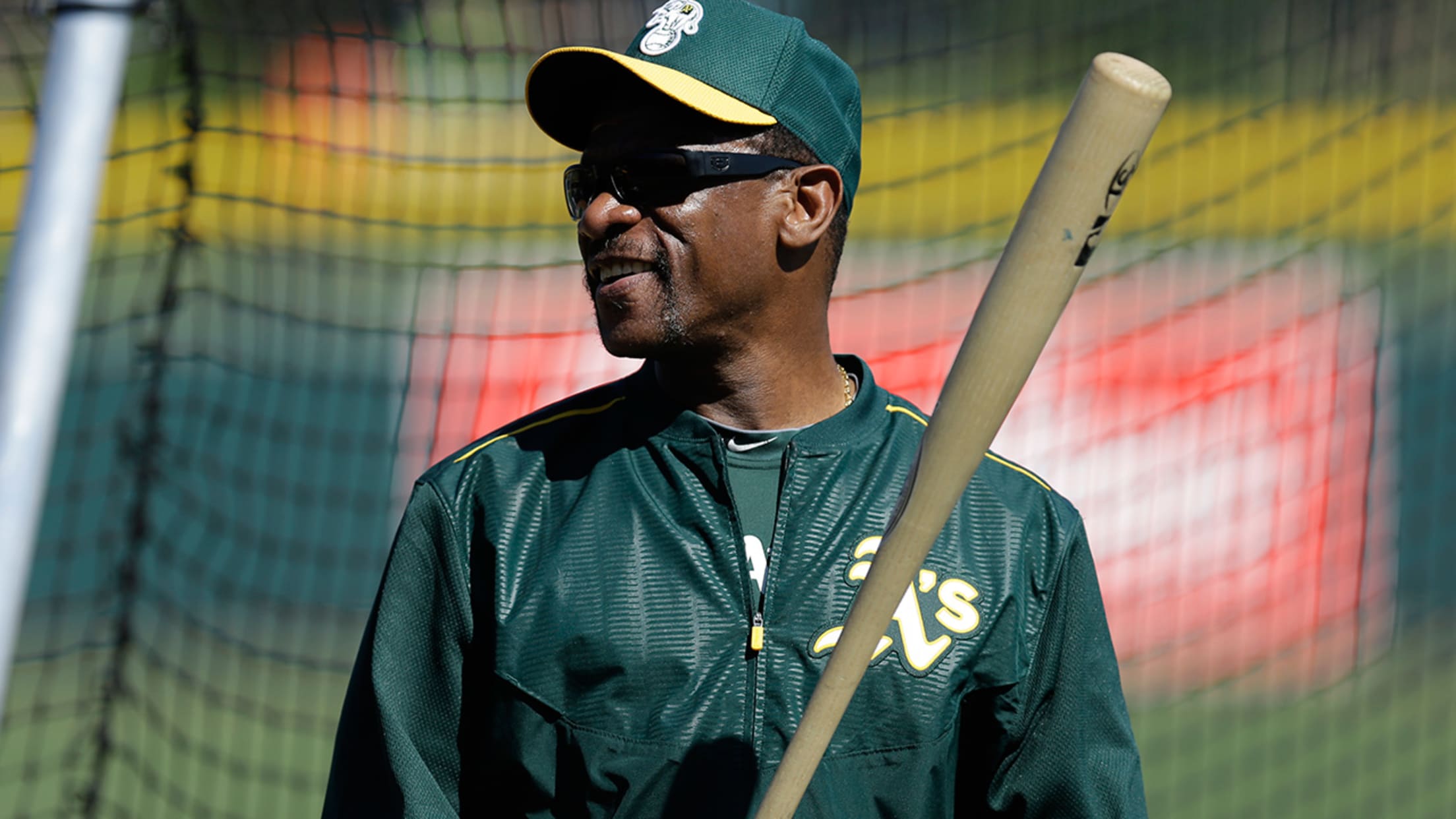 Hall of Famer and former A's OF Rickey Henderson was in camp as a special instructor. (Ben Margot/AP) (Ben Margot/AP)
MESA, Ariz. -- Rickey signed autographs. Rickey posed for pictures. Rickey talked about the current state of the Oakland A's.Rickey talked about Rickey, too.It was a rollicking first day of Spring Training for Hall of Famer, Oakland icon and A's special instructor Rickey Henderson, whose presence in the clubhouse and
MESA, Ariz. -- Rickey signed autographs. Rickey posed for pictures. Rickey talked about the current state of the Oakland A's.
Rickey talked about Rickey, too.
It was a rollicking first day of Spring Training for Hall of Famer, Oakland icon and A's special instructor Rickey Henderson, whose presence in the clubhouse and on the field Sunday morning at Hohokam Stadium seemed to brighten up everyone around him.
"It's always a good feeling because you love the game, and you come around and see the guys and what they go through," said Henderson, 57, who will be in camp for eight days. "They're having fun and excited about the game of baseball. I have a good time around the kids.
"A lot of them talk your ear off, or you've been knowing them for some years, and they come by and say hello, and you reminisce about the things you've talked about or have fun, have a few laughs and learn about their families and stuff like that, how they're doing. That's a good thing."
• A's Spring Training information
A's manager Bob Melvin said it's always a treat to have Henderson around, but the presence of Major League Baseball's all-time leader in runs scored and stolen bases does a lot more than entertain people.
"He brings a lot," Melvin said. "[He's] one of the great players of all time and certainly the best baserunner of all time, so we get as much bang for our buck out of him as we can while he's here. And not necessarily the baserunners or the outfielders. He can benefit anybody.
"He had a great approach at the plate -- you saw how many times he walked. He had power, and there's just so much you can get from him. He's just a great resource to have here. So whenever I have a chance to get him in camp, I ask for him for as long as I can possibly get him."
Henderson was asked for his thoughts on emerging A's leadoff hitter and outfielder Billy Burns, and he said he has watched a lot of him lately and has pointers for him when it comes to stealing bags.
"I see a little bit of improvement, but I still think he should be able to get better," Henderson said. "I'm just a little concerned about his takeoff. The rest of it, he's good at. He's got the speed to make up for that little mistake in his takeoff, but I want him to improve in his takeoff. And then I think he'd be untouchable on the basepaths if he learns the techniques of his takeoff.
"But he excited me. He won the job, done the job, done a good job as a leadoff hitter, and you've got to build off that. You can't just say, "OK, I did it,' because next year they're going to do something different to you."
Melvin, a former big league catcher who played during Henderson's playing days, was asked if he was ever tasked with attempting to keep Henderson from stealing a base.
"I got him once in Detroit because he overslid the base," Melvin said, while conceding that the playing surface might have hindered the Hall of Fame speedster. "I always remember that. I threw Rickey Henderson out."
Hahn battles back
Sunday didn't begin well for starter Jesse Hahn, who gave up two runs in the first inning of his team's 3-3 tie against the Cubs, as a result of a double, a home run and two wild pitches. <p. 50="" 70="" after="" aim="" and="" but="" effective="" eight="" for="" hahn="" he="" his="" hitters="" in="" innings.="" next="" of="" one="" p="" pitches="" rest="" retiring="" scattering="" seven="" single="" start.="" the="" three="" threw="" throughout="" was="" will=""> </p.>
<p. 50="" 70="" after="" aim="" and="" but="" effective="" eight="" for="" hahn="" he="" his="" hitters="" in="" innings.="" next="" of="" one="" p="" pitches="" rest="" retiring="" scattering="" seven="" single="" start.="" the="" three="" threw="" throughout="" was="" will="">"His curveball was probably as good as we've seen it today," Melvin said. "He was able to throw it in some off-counts, drop it in there for a strike. ... He's coming along nicely." </p.>
A's add Triggs
Oakland claimed right-handed pitcher Andrew Triggs off waivers from the Orioles, the club announced Sunday. To clear a spot on the 40-man roster, the A's placed right-hander Jarrod Parker on the 60-day disabled list with a fractured right medial epicondyle.
Triggs, who had a 13.50 ERA with Baltimore in three appearances this spring, was released on Thursday. The 26-year-old spent all of 2015 on the Orioles' Double-A team in Bowie, where he went 0-2 with a 1.03 ERA and a .196 opponents' batting average in 43 relief appearances. He had 70 strikeouts and 11 walks in 61 innings and was 17-for-17 in save opportunities.
Worth noting
• Catcher Stephen Vogt, who has been limited to designated hitter duties this spring while he recovers from offseason elbow surgery, will be behind the plate for the first time all spring in the A's Monday night home game against the Giants. He'll catch starter Sonny Gray.
"I can't wait," Vogt said. "It's been a while. I'm ready and I'm excited. It should be fun under the lights, and I'm excited that I've been cleared to catch."
• The A's optioned infielders Renato Nuñez and Rangel Ravelo to Triple-A Nashville and right-handed pitcher Raul Alcantara to Double-A Midland. They also reassigned left-handed pitcher Daniel Coulombe, catcher Beau Taylor and infielders Richie Martin and Josh Rodriguez to Minor League camp.
• The A's reassigned four non-roster invitees to Minor League camp: left-hander Dillon Overton and righties Ryan Doolittle, Chris Smith and Taylor Thompson. Oakland now has 51 active players in camp. That includes 37 players on the 40-man roster, which is full, and 14 non-roster invitees.