Nelson nearing long-awaited return to Majors
Injured in Sept. '17, righty is 'coming back a lot better'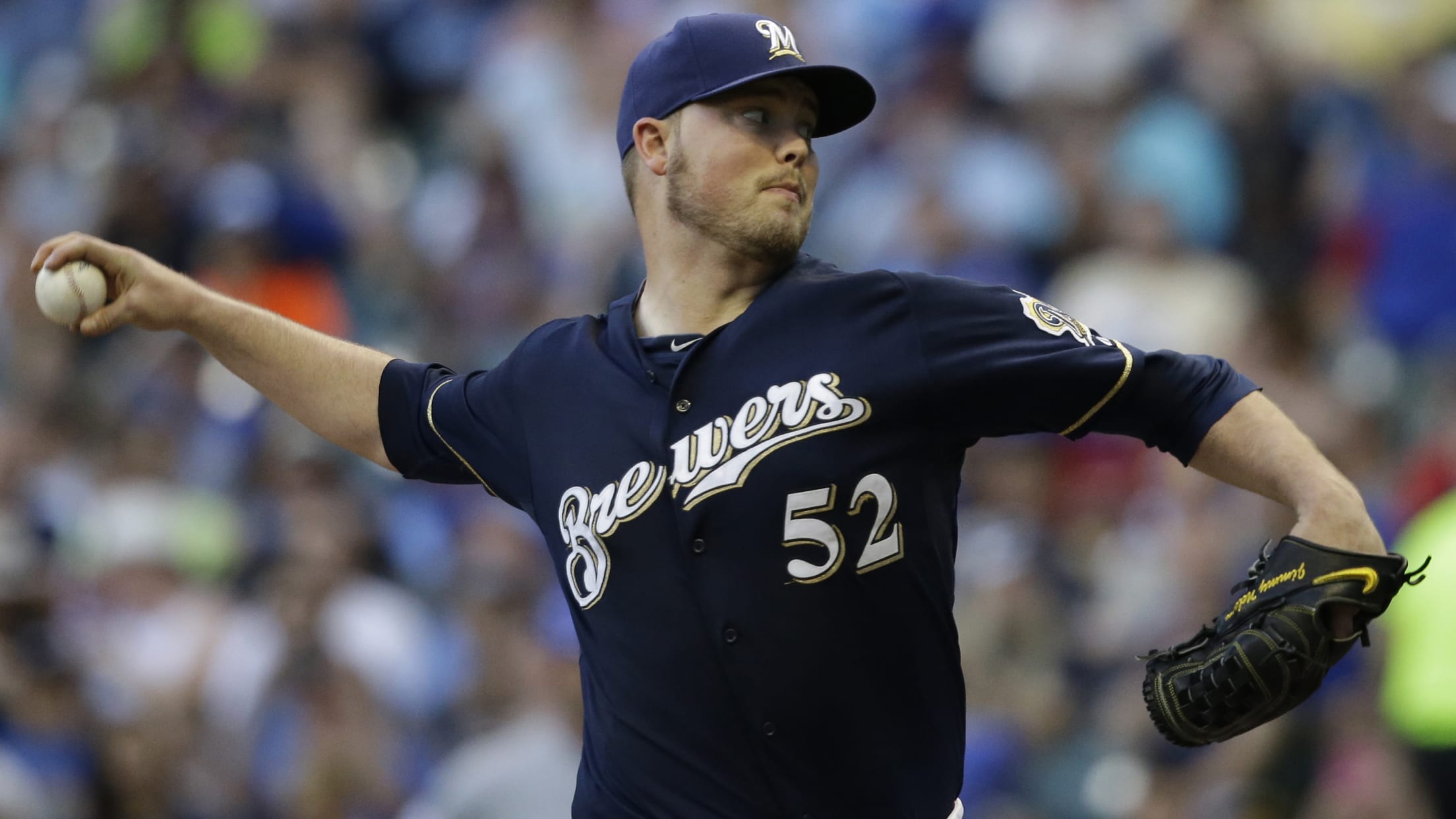 ATLANTA -- One more Triple-A start and it will be decision time on rehabbing right-hander Jimmy Nelson, said Brewers manager Craig Counsell after Nelson's latest promising performance. Nelson, who hasn't pitched in the Majors since he injured his right shoulder on September 8, 2017, against the Cubs, struck out eight
ATLANTA -- One more Triple-A start and it will be decision time on rehabbing right-hander Jimmy Nelson, said Brewers manager Craig Counsell after Nelson's latest promising performance.
Nelson, who hasn't pitched in the Majors since he injured his right shoulder on September 8, 2017, against the Cubs, struck out eight while scattering three hits and a walk in 5 2/3 scoreless innings for Triple-A San Antonio in a Friday night win over the Cardinals' top affiliate. It was Nelson's third start on a rehab assignment scheduled to continue Thursday on the road at Round Rock, Tex.
"The news of this outing is he threw the ball well and did what he wanted with all of his pitches," said Counsell. "He's going to make another start Thursday, and at that point we have to make a decision on him. It's just time. At that point, it's four Triple-A starts, about 20 innings there, close to 30 innings in extended [spring camp]. He should just be ready and healthy for us to make a decision. Healthy is the big thing."
Nelson confirmed as much in a telephone conversation during his drive from San Antonio to Houston, where he will spend the next few days at home with wife Melissa and their newborn twin girls, who remain in the neonatal intensive care unit after being born a few weeks early.
The babies are doing "great," Nelson said, which has helped ease his mind while he simultaneously focuses on family and baseball.
"There's been a lot that's gone into this process over the last year and a half, on every side: the physical, the emotional, the mental," Nelson said. "I'm just fortunate and grateful to be pitching in meaningful games, and whenever they call, I'll be prepared."
Nelson reluctantly handed the baseball to Missions manager Rick Sweet with two outs in the sixth inning after 86 pitches. His fastball registered 92-93 mph, and Nelson was pleased with the way he placed that pitch at the top of the zone. Nelson expects a bump in velocity from adrenaline when he makes it back to the big leagues. He also threw 5-7 changeups, a fourth pitch that he says is markedly improved from 2017.
Does he feel close to being back?
"Oh, yeah," Nelson said. "I'm a better pitcher now than I was in '17. That was one of the goals all along. I never wanted to come back just like I was in 2017. I felt like I was able to address a lot of different aspects of pitching and even things off the field, and I feel like I'm coming back a lot better. I'm a much smarter pitcher, more well-rounded. That's helping me now, being able to sequence stuff, read swings. It's all stuff you learn as you get experience in the game, you know?"
Nelson said he's been keeping tabs on the Brewers.
"I've been watching all the games," he said. "Even in the NICU when I'm holding the girls, I'll have my iPad out with the game on. So they're getting a little taste of some Brewers baseball early on."
Nottingham gets his baseball
Rookie catcher Jacob Nottingham thought his eighth-inning fly ball in Friday's series opener against the Braves might slice foul. When it stayed fair for his first Major League home run, it set into motion a search for the baseball that culminated with Nottingham securing a memento he plans to give to his father, Greg.
The Brewers enlisted the help of Braves security to locate the fan who wound up with the baseball. The person was a local, so the Braves were kind enough to trade a signed Chipper Jones ball for Nottingham's home run ball, which was presented to the player by Brewers equipment manager Jason Shawger.
"The whole experience was unbelievable," Nottingham said. "Once it went over the wall, I just enjoyed the whole moment. It was so cool. It was unreal."
At the same time, Nottingham's brothers, Billy and Michael, were watching the Brewers-Braves game with friends at a favorite watering hole in Redlands, Calif. Someone happened to be shooting cell phone video of the at-bat as it aired on a television above the bar, and it shows both brothers breaking into tears as Jacob circled the bases.
The two-run shot gave Nottingham his first career RBIs, and when he singled home two more runs in the ninth, it made Nottingham the first Brewers player since Tim Unroe in 1997 to produce his first four career RBIs in the same game.
"Last year, I didn't get many at-bats, and I didn't produce," said Nottingham, who appeared in only nine games over three stints in the Majors in 2018. "It was good to show I could drive some runs in."
Roster move
When the Brewers activated Chase Anderson from the 10-day injured list to start Saturday's game against the Braves, they optioned right-hander Jacob Barnes back to Triple-A San Antonio.