Manfred addresses reported MLBPA dispute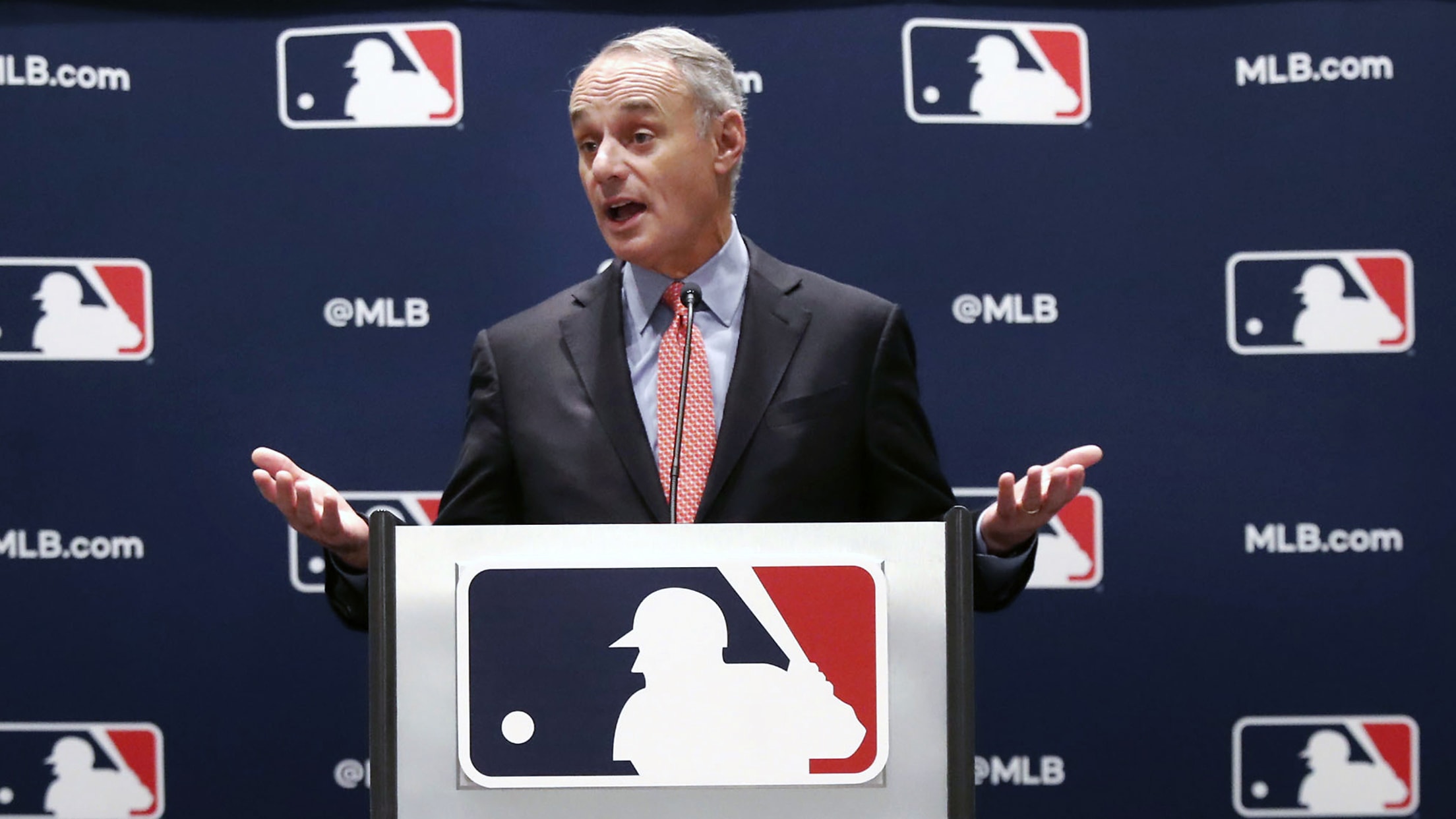 ARLINGTON -- Speaking at the final day of the Owners Meetings on Thursday, Commissioner Rob Manfred said that he approached the leaders of the Major League Baseball Players Association this past summer to solicit any suggestions they might have about midterm modifications to the Basic Agreement. Manfred's comments came in
ARLINGTON -- Speaking at the final day of the Owners Meetings on Thursday, Commissioner Rob Manfred said that he approached the leaders of the Major League Baseball Players Association this past summer to solicit any suggestions they might have about midterm modifications to the Basic Agreement.
Manfred's comments came in response to a report on the Hardball Talk website that said he is preparing to take a hard line against granting economic concessions for the sake of labor peace. According to Manfred, the meeting also included MLB Chief Legal Officer Dan Halem, MLBPA executive director Tony Clark and senior director Bruce Meyer.
"There were four people in the room the day of the conversation -- Dan Halem, Tony Clark and Bruce Meyer," Manfred said. "I think it is pretty safe to assume it was not Dan Halem and not me that was the source of that story.
"In the meeting, Mr. Meyer suggested a series of changes that would turn the Basic Agreement back 50 years. Essentially give back to the union everything we have achieved over the past few decades. I asked, in response to his suggestion, what was in that deal for the clubs. He said, 'Labor peace.'"
Manfred made it clear to the union representatives that's not the way negotiations go when it comes to the Basic Agreement.
"The way the conversation actually went, I said to him, 'Labor peace is a mutual benefit,'" Manfred said. "It is not something you trade economics against. It is a mutual benefit. It keeps the players working and getting paid, and it keeps our business going forward. That is how the conversation went."
The current five-year agreement is scheduled to end on Dec. 1, 2021. Baseball has not had a work stoppage since the 1994-95 players strike that resulted in cancellation of the 1994 World Series.