Stephenson sharp to remain in rotation battle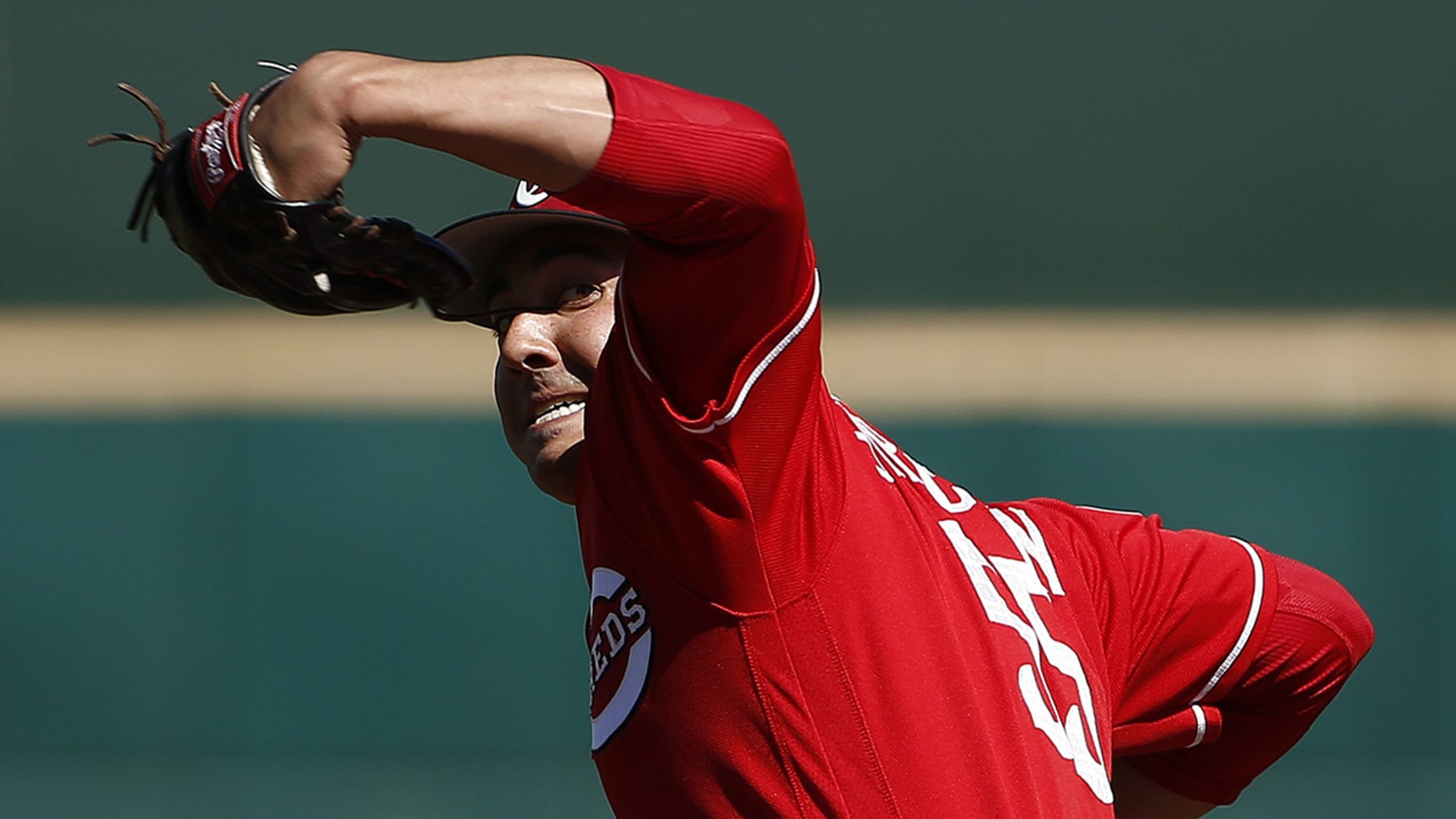 Cincinnati Reds pitcher Robert Stephenson warms up prior to a spring training baseball game against the Arizona Diamondbacks Monday, Feb. 26, 2018, in Goodyear, Ariz. (AP Photo/Ross D. Franklin) (Ross D. Franklin/AP)
SCOTTSDALE, Ariz. --- Following two poor outings, Robert Stephenson likely needed a good one to have an optimistic chance to remain in the battle for a Reds rotation spot. Stephenson came through during Cincinnati's 3-2 walk-off loss to the Rockies on Thursday at Salt River Fields at Talking Stick.Taking over
SCOTTSDALE, Ariz. --- Following two poor outings, Robert Stephenson likely needed a good one to have an optimistic chance to remain in the battle for a Reds rotation spot. Stephenson came through during Cincinnati's 3-2 walk-off loss to the Rockies on Thursday at Salt River Fields at Talking Stick.
Taking over in the sixth, Stephenson allowed one hit with no walks and three strikeouts over three scoreless innings.
"He was really good, especially because he threw a lot more fastballs," Reds manager Bryan Price said. "He was more acute with the location of his fastball. That was a good thing to see. He had a good slider and split [fingered fastball], but his fastball command did a good job."
Stephenson, who is competing against the likes of Sal Romano, Tyler Mahle and Michael Lorenzen, came into the game with five earned runs on seven hits and four walks over three innings spanning two games.
:: Spring Training coverage presented by Camping World ::
Castillo pleased with his pitches
Luis Castillo made his third start of the spring and pitched 3 2/3 innings against the Rockies, giving up two earned runs on five hits with two walks and four strikeouts. He threw 66 pitches (44 strikes).
"He was good," Price said. "I thought he was pretty sharp. He didn't have his great sinker, but all in all, it was a pretty good mix of pitches."
Colorado was held scoreless until the fourth inning, when Castillo walked Tom Murphy on four pitches with one out. Noel Cuevas followed with an RBI double lined to center field and scored on a lined RBI single to center by Brendan Rodgers.
"My command was really good today with every pitch -- the slider, changeup and two-seamer as well," Castillo said through an interpreter. "At the end, it was very good for me."
The two-seam fastball was a pitch Castillo didn't unveil until July of last season, but he plans on using it as part of his four-pitch mix this year.
"I really believe in this pitch," said Castillo, who has a 3.24 ERA this spring. "When you believe in a pitch, you can throw it at any time in any count."
Votto putting in extra effort
Wednesday's 14-12 loss to the White Sox was a three-hour, 36-minute game with lots of long innings. But Joey Votto lasted longer than most of the regulars, playing through the seventh. He went 1-for-4 with a walk, notching his first hit of the spring.
"He wanted to play seven full innings," Price said on Thursday morning. "After about four, I said '[It felt like] you've already played seven.' He's got a great outlook. He said this is preparing mentally for the games like this. You're going to have those games that are going to have either a delay or are just painfully slow. It's battle of attrition to stay in it. He did a terrific job. He could have begged out, but he didn't. He didn't even consider it. I was going to pinch-run for him in his last at-bat, but he really wanted to go out there and defend."
Votto, who finished second to Giancarlo Stanton for the National League MVP Award by a mere two points, tasked himself in the offseason to be a better baserunner. Price has noticed the extra effort.
"He's really getting after it," Price said. "You look at the detail stuff. If you look at how he's coming out of the box, you look at his secondary leads, his first-to-third, his aggression on the bases, he's setting an example through the way he plays. He's the right guy to be setting the tone for this camp and this team."
Up next
The Reds will play their first night game of then spring when they host the Rangers at 8:05 p.m. ET on Friday (listen live on Gameday Audio). Anthony DeSclafani will make his third start, and Mahle is also scheduled to pitch. Votto is slated to be in the starting lineup.