Here are the Rockies' 2019 Top 30 Prospects
The Rockies will be trying to make it three postseason trips in a row in 2019 and, as always, will be relying on a strong nucleus of homegrown players. Trevor Story, Nolan Arenado and Charlie Blackmon lead the way on offense and the rotation is made up nearly entirely of
The Rockies will be trying to make it three postseason trips in a row in 2019 and, as always, will be relying on a strong nucleus of homegrown players. Trevor Story, Nolan Arenado and Charlie Blackmon lead the way on offense and the rotation is made up nearly entirely of players signed, developed and promoted from within. But if the organization wants to sustain this run and perhaps get past the Wild Card Game, it will need more help from down on the farm.
Luckily, there is more ready to contribute, starting with the slew of homegrown players who are competing for that second base job. Ryan McMahon graduated from prospect lists last year, but Garrett Hampson, who made his big league debut in 2018, and No. 1 prospect Brendan Rodgers, are still on this year's Top 30.
Top 30 Prospects lists
| | |
| --- | --- |
| AL East | BAL, BOS, NYY, TB, TOR |
| NL East | ATL, MIA, NYM, PHI, WSH |
| AL Central | CLE, CWS, DET, KC, MIN |
| NL Central | CHC, CIN, MIL, PIT, STL |
| AL West | HOU, LAA, OAK, SEA, TEX |
| NL West | ARI, COL, LAD, SD, SF |
| Division | Team |
Those are two who have the chance to be real impact players in 2019, but there are several others who could get the chance to contribute, with the Rockies seeming to have found a formula of how to develop their own pitching to succeed in Coors Field.
Most of this talent has come via the Draft. The Rockies have 24 players on this Top 30 taken in previous Drafts, including all but one of the top 14 on this year's list.
Here's a look at the Rockies' top prospects:
1) Brendan Rodgers, INF
2) Colton Welker, 3B
3) Garrett Hampson, 2B/SS
4) Peter Lambert, RHP
5) Grant Lavigne, 1B
Biggest jump/fall
Here are the players whose ranks changed the most from the 2018 preseason list to the 2019 preseason list.
Jump: Josh Fuentes, 3B (2018: NR | 2019: 11) -- Arenado's cousin hit his way across two levels, up to Triple-A and is now knocking on the door.
Fall: Will Gaddis, RHP (2018: 16 | 2019: NR) -- The 2017 third-rounder struggled in his first full season with a 5.04 ERA and.288 batting average against.
Best tools
Players are graded on a 20-80 scouting scale for future tools -- 20-30 is well below average, 40 is below average, 50 is average, 60 is above average and 70-80 is well above average. Players in parentheses have the same grade.
Hit: 60 -- Colton Welker (Brendan Rodgers, Garrett Hampson)
Power: 55 -- Roberto Ramos (Brendan Rodgers, Grant Lavigne, Ryan Vilade, Sam Hilliard)
Run: 65 -- Garrett Hampson
Arm: 70 -- Yonathan Daza
Defense: 65 -- Yonathan Daza
Fastball: 75 -- Riley Pint (Robert Tyler)
Curveball: 60 -- Riley Pint (Peter Lambert, Ryan Rolison)
Slider: 55 -- Ryan Castellani (Riley Pint)
Changeup: 60 -- Peter Lambert (Robert Tyler)
Control: 60 -- Peter Lambert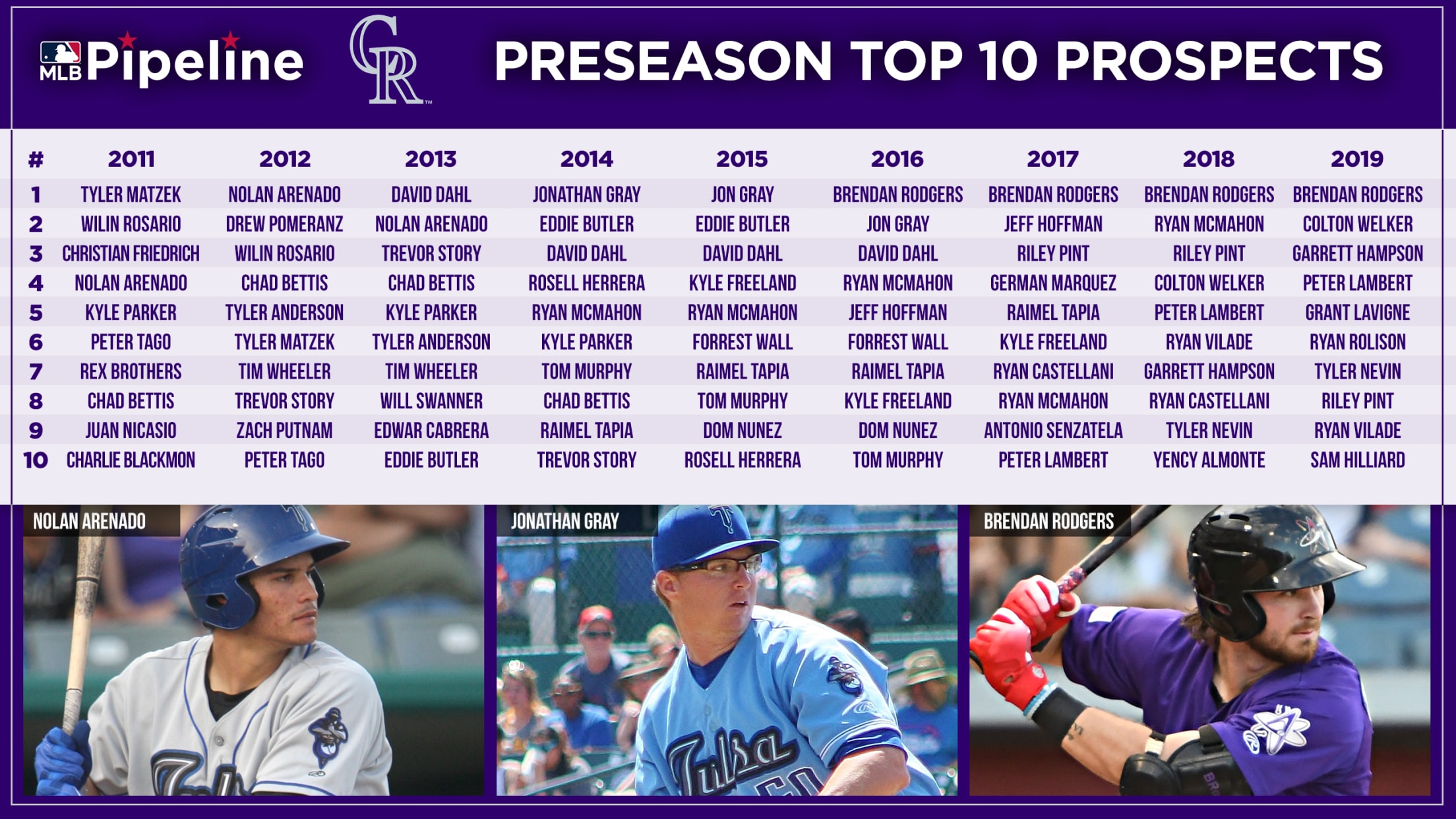 .
How they were built
Draft: 24 | International: 4 | Trade: 1 | Free Agent: 1
Breakdown by ETA
2019: 10 | 2020: 9 | 2021: 8 | 2022: 3
Breakdown by position
C: 1 | 1B: 4 | 2B: 2 | 3B: 2 | SS: 3 | OF: 5 | RHP: 10 | LHP: 3