A big 'fail' for Anderson on Players Weekend
Desmond honors stepdad with his jersey nickname Friday-Sunday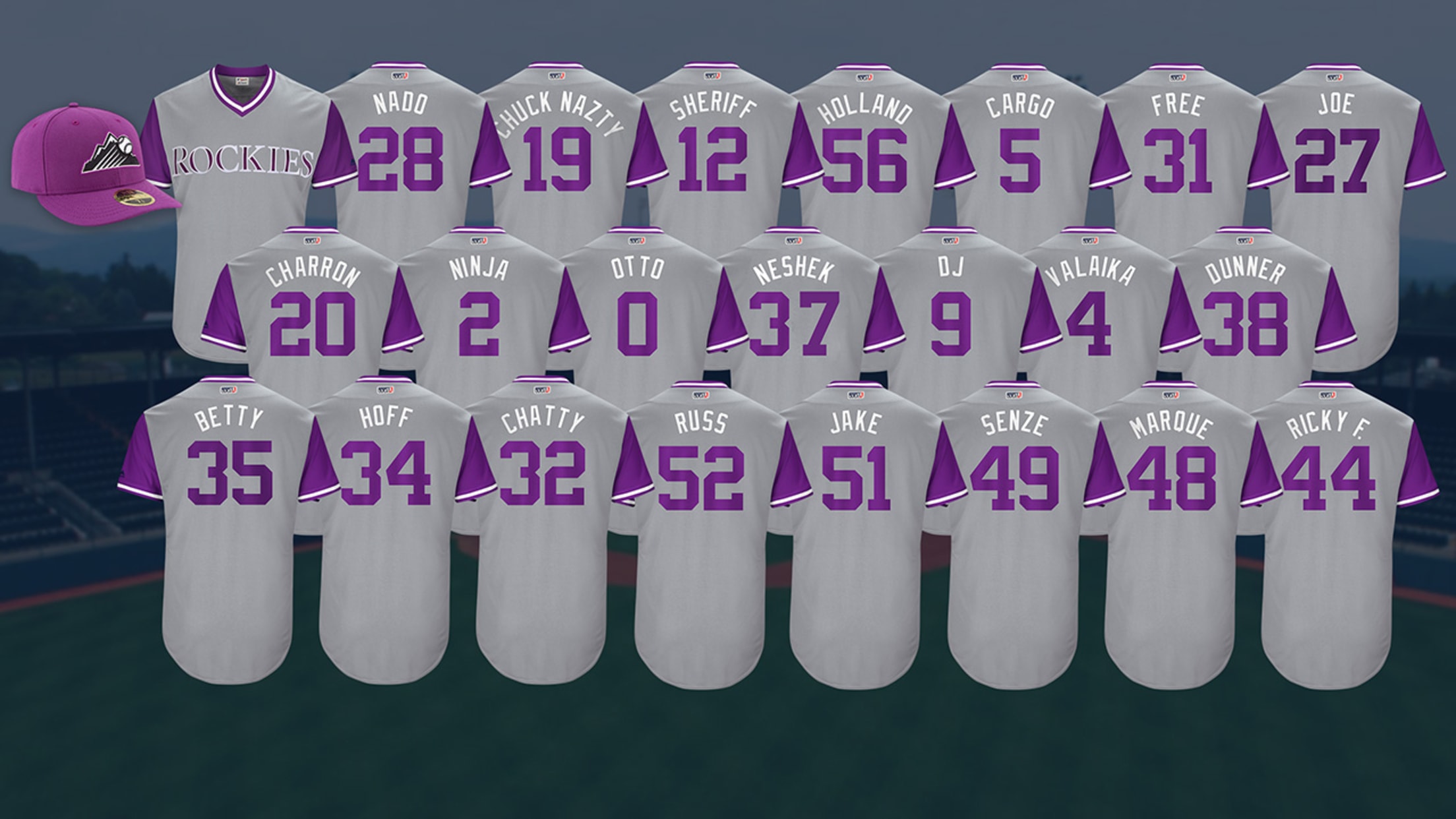 MIAMI -- Many of the Rockies' nicknames for MLB's Players Weekend are dead giveaways. "Cargo" and "Nado" aren't exactly head-scratchers. (Hint: It's Carlos Gonzalez and Nolan Arenado.)But two monikers that will be worn Friday through Sunday on the jerseys of pitcher Tyler Anderson and infielder Ian Desmond are slightly more
MIAMI -- Many of the Rockies' nicknames for MLB's Players Weekend are dead giveaways. "Cargo" and "Nado" aren't exactly head-scratchers. (Hint: It's Carlos Gonzalez and Nolan Arenado.)
But two monikers that will be worn Friday through Sunday on the jerseys of pitcher Tyler Anderson and infielder Ian Desmond are slightly more complex.
• Buy Players Weekend gear at MLBShop.com
MLB and the MLB Players Association are introducing the inaugural Players Weekend this Friday though Sunday, when players will have the opportunity to have a nickname placed on the back of the jerseys made by Majestic Athletic, as well as to wear and use uniquely colored and designed spikes, batting gloves, wristbands, compression sleeves, catcher's masks and bats.
Players also will wear specially designed caps by New Era, and unique socks from Stance. During pregame workouts and postgame interviews, they will wear T-shirts highlighting a charity or cause of their choice.
Anderson's nickname, "Ricky F.," is more of a joke than anything and bears no relation to pro golfer Rickie Fowler. Anderson actually got the nickname last year while he was running the bases against the Cubs on Aug. 19.
Following a single to reach base, Anderson was picked off first by Willson Contreras. Afterward, his teammates jokingly said he'd been running the bases like Hall-of-Famer Rickey Henderson.
"So it was like Rickey -- but Fail," he said. "Rickey Fail."
• Players Weekend: Nicknames of the game
The name has stuck ever since. Anderson said teammates still call him Ricky F., and it's a reminder of the base-running blunder.
"Well, I haven't been picked off since," Anderson said. "It's a good learning lesson."
Desmond's nickname, "Charron," utilizes Players Weekend in a more touching fashion.
Desmond's mother married his stepfather when Desmond was 5 years old. "Charron" is his stepfather, Chris Charron. For Desmond, the weekend is an opportunity to honor the man he calls his dad, not just his stepdad.
"I'm able to kind of honor that time of my life and honor my stepdad's family and all of the people that supported me on his side of the family, but don't ever get to see the Charron name on the back of my jersey," Desmond said.
Desmond also said throughout his years playing Little League baseball, he wore "Charron" on his jersey. This is a chance to throw it back to those days.
"There's really no other time where I can use that name on the back of my jersey," Desmond said. "So the first time they said, 'Hey, you can put something else besides Desmond on the back of there,' this has been it."
Also, each player will wear a special patch on his sleeve showing the progression of a child evolving into a Major Leaguer. Under that logo is white space, and every player will mark a name of a person whom they are grateful to for helping them advance their careers, such as family or a coach.
Game-worn, Players Weekend jerseys will be auctioned at MLB.com/auctions with 100 percent of net proceeds donated to the MLB-MLBPA Youth Development Foundation, a joint effort established in July 2015 by MLB and the MLBPA with an initial commitment of $30 million focused on improving the caliber, effectiveness and availability of amateur baseball and softball programs across the United States and Canada.
Patrick Pinak is a reporter for MLB.com based in Miami.