Rockies' annual golf tourney a rousing success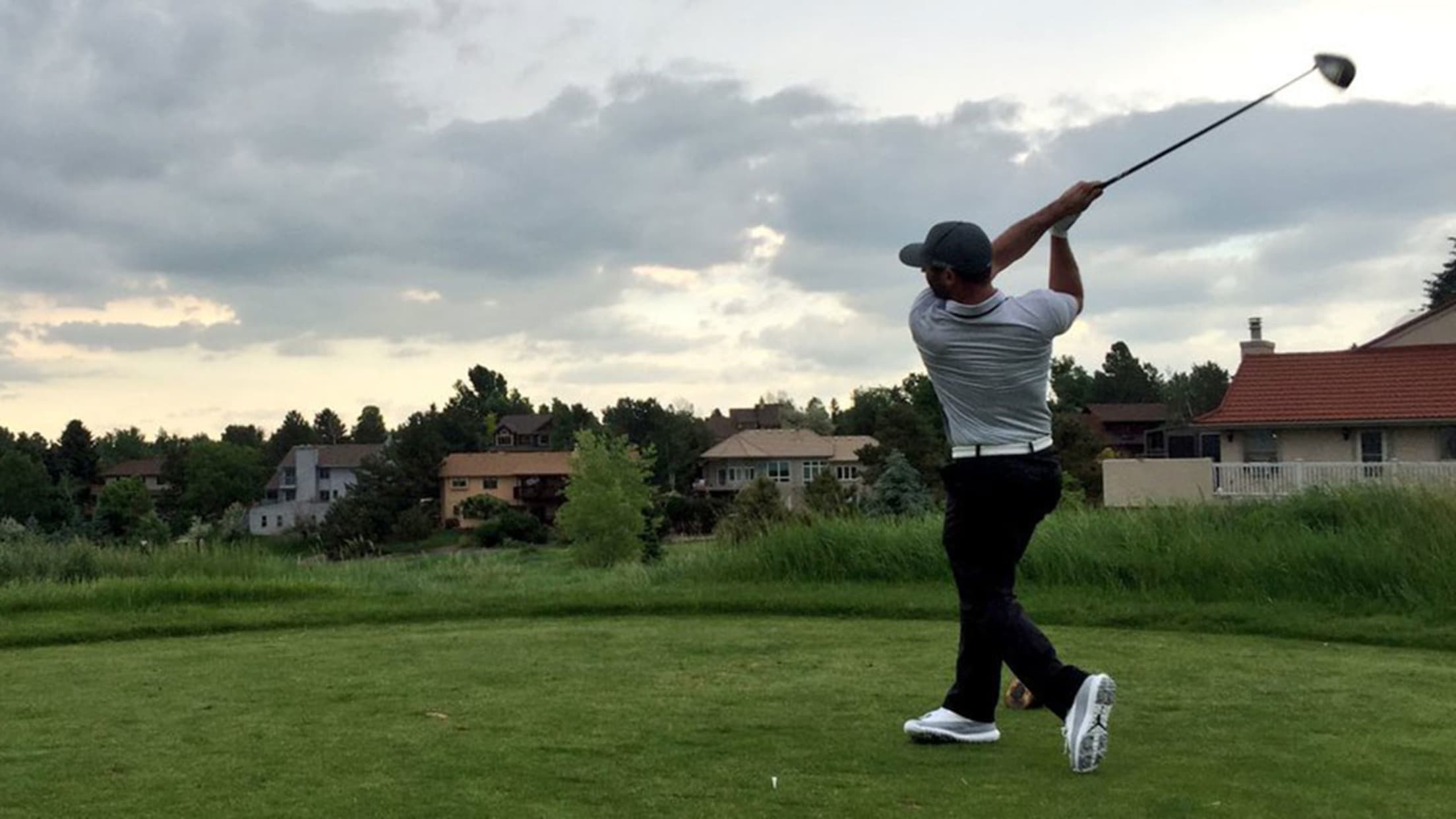 Daniel Descalo unleashes a perfect golf swing on Monday. (Rockies)
PARKER, Colo. -- The Rockies held their annual Charity Golf Classic at Pinery Country Club on Monday, bringing together 16 former and current players, along with several coaches.The tournament, which began in the team's founding season in 1993, is the largest charity event. Over the course of the year, the
PARKER, Colo. -- The Rockies held their annual Charity Golf Classic at Pinery Country Club on Monday, bringing together 16 former and current players, along with several coaches.
The tournament, which began in the team's founding season in 1993, is the largest charity event. Over the course of the year, the Rockies hope to raise $1 million for the community. To date, the organization has given back more than $25 million.
• Rockies in the community
Proceeds from the tournament benefit the Colorado Rockies Charities, which focus on areas of health and wellness. Included are the Reviving Baseball in Inner Cities Program, Children's Hospital of Colorado and Special Olympics Colorado.
"Now that we are finally old enough to have some alumni players that are done playing, we're starting to bring some name players back into the fold for our fan photo day yesterday, so our fans could see them again," vice president of community and retail operations Jim Kellogg said. "And then just to engage them back within the organization to talk to our players. There's so much experience that a veteran player can pass along to a younger player. It's nice to make them a part of the Rockies family and let them participate and be a part of it."
As the tournament has expanded in the past three years, the Rockies have been able to fly in players from other parts of the country, including outfielder Larry Walker and pitcher Josh Fogg from Florida, and pitcher Brian Fuentes from California.
"I remember coming here as a player," said Ryan Spilborghs, who played for the Rockies from 2005-11 and now covers the team for ROOT Sports. "Any time you're doing a charity event for the Rockies -- and I love Colorado's community, so anything that gives back -- I think all the guys are up for it."
Golf is an easy draw for players to come back and participate. Golf clubs are even a common gift if a newly acquired veteran player wants to buy a uniform number from a younger player.
For players, it also represents a chance to meet up with fans and sponsors and spend time playing a game they enjoy.
"It's fun to get away from it a little bit and still be able to have fun and have a little competition," said pitcher Tyler Chatwood, who underwent Tommy John surgery in 2014. "I was a putter-only in one of them. This is the first time I've actually gotten to play, which is pretty fun. You have fun with your group, and it's good."
Ben Weinrib is a reporter for MLB.com based in Denver.