Rockies comfortable with youthful options at 2nd
Hampson, McMahon, Rodgers may challenge for starting job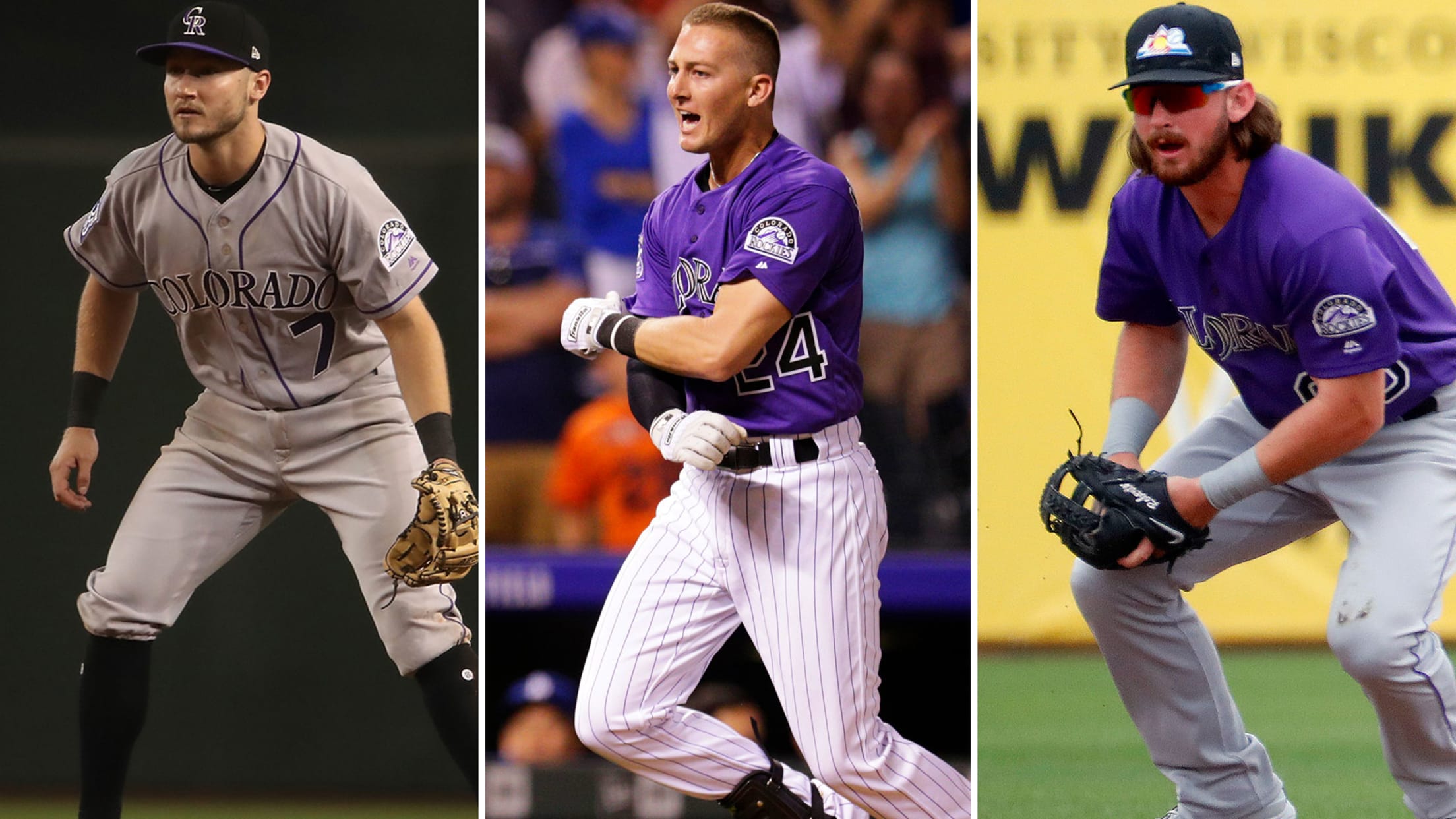 DENVER -- The Rockies moved closer to turning second base over to young, homegrown players on Thursday when they backed away from veteran James Dozier -- whom sources say will sign a one-year, $9 million contract with the Nationals.With the Rockies' payroll growing because young players are hitting their arbitration
DENVER -- The Rockies moved closer to turning second base over to young, homegrown players on Thursday when they backed away from veteran James Dozier -- whom sources say will sign a one-year, $9 million contract with the Nationals.
With the Rockies' payroll growing because young players are hitting their arbitration seasons, Colorado may be set to consider letting Ryan McMahon (.232, 5 HR, 19 RBIs in 91 games as a rookie in 2018), Garrett Hampson (.275 in 40 at-bats of his debut) and Brendan Rodgers (the team's No. 1 prospect and the Majors' No. 9 prospect, according to MLB Pipeline) compete for playing time at second -- a position manned primarily by DJ LeMahieu (now a free agent) since '13.
This past weekend, MLB.com learned that the Rockies were weighing pursuing Dozier on a short-term contract. Before then, the market for Dozier, LeMahieu and several other accomplished second basemen had been slow. In doing its due diligence, Colorado considered Dozier because of his history of power and his right-handed bat. Also, after two straight National League Wild Card Game showings and an appearance in the NL Division Series last season, the idea of going with a proven player appealed to the Rox.
But after the Rockies were revealed as a Dozier suitor, other teams (notably the Nationals and the Mets) were publicly identified in their pursuit of the veteran, a one-time All-Star who struggled to a .215 average last season with the Twins and Dodgers, while playing through a severe bone bruise on his right knee for most of the year.
While many Rockies fans are hoping LeMahieu -- a two-time All-Star and three-time NL Gold Glove Award winner -- can find his way back to Denver, his market is reportedly heating up, too. MLB Network insider Ken Rosenthal reported Thursday that the Giants were a possibility for LeMahieu, although that may be contingent upon San Francisco trading its incumbent at second, Joe Panik. An MLB exec told MLB.com's Jon Paul Morosi that the Brewers and Dodgers are best positioned to land LeMahieu now that Dozier has agreed to a deal with the Nationals.
As for the Rockies, their offseason plan has been to avoid lengthy and expensive contracts, and that has colored some of their strategy at second base.
Third baseman Nolan Arenado is in his final year of arbitration, and his 2019 salary is projected to eclipse MLB's single-season arbitration record -- $23 million for Josh Donaldson -- set last year. The Rockies also hope to sign Arenado to a multi-year deal, so they felt they could not get tied up in long-term contracts. Colorado's one big signing -- Daniel Murphy, to play first base -- was a $24 million, two-year contract that includes a buyout with deferred money.
That said, the Rockies like their younger options.
McMahon, 24, was one of the game's top prospects going into 2018. He played mostly first base this past season and excelled in his brief time at second and third when injuries hit LeMahieu and Arenado.
Hampson, 24, was a third-round Draft pick in 2016 and impressed the Rockies in his first big league camp last spring. He burned through Double-A and Triple-A before earning his shot in the Majors in '18.
Both players appeared in the postseason in 2018.
Rodgers, 22, a first-round pick in 2015, made it to Triple-A last season and put himself in Major League consideration before hamstring and shoulder injuries toward the end of the year pushed him off the field and cost him participation in the Arizona Fall League. But Rodgers is healthy, has been taking batting practice, and will soon be at the Rockies' training center in Scottsdale, Ariz., for workouts.
During this past month's Winter Meetings, general manager Jeff Bridich said the Rockies would miss LeMahieu if he didn't somehow swing their way or if another move isn't made, but Colorado believes the talents of its younger players will be sufficient.
"It's difficult to say right now because none of those guys have a ton of experience at the Major League level, [but] they're athletically all able to do it, and do it well," Bridich said. "They're all different than the incumbent [LeMahieu], and the incumbent is different than most typical second basemen. He does things that fit him because of his big body and his natural instincts.
"Maybe we have to position differently or we're going to have to figure out what these guys are going to do well defensively if they are the people that are going to be manning the position. We'll have to learn how to best do that."