2007 Rox: Indomitable, magical, unforgettable
DENVER -- The 2007 Rockies performed magic, going 14-1 to end the regular season before sweeping through the National League playoffs. So maybe part of the explanation for the sweep at the hands of the Red Sox in the World Series was that the pixie dust wore off during an
DENVER -- The 2007 Rockies performed magic, going 14-1 to end the regular season before sweeping through the National League playoffs. So maybe part of the explanation for the sweep at the hands of the Red Sox in the World Series was that the pixie dust wore off during an eight-day layoff after the NL Championship Series.
But this golden moment in Rockies history had real-world, flesh-and-blood roots. There was the soul of an old pro, the heartbeat of a young nucleus, the fire of a transformational shortstop and the savvy of pitchers experienced and novice.
The wild year produced memorable backstories.
Unforgettable images
Unless, or until, the Rockies win a World Series, the sweetest images in franchise history are of star first baseman Todd Helton -- his unbridled joy after his walk-off homer off the Dodgers' Takashi Saito on Sept. 18 made the Rockies and their fans believe, and his extending both hands to the heavens after clutching the final out of the NLCS, with the D-backs' Eric Byrnes sliding futilely behind.
"Todd Helton was the staple of the franchise, that rock that everybody could lean on," said outfielder Matt Holliday, who was nosed out by the Phillies' Jimmy Rollins for the '07 NL Most Valuable Player Award -- a vote that rankles folks in Colorado. "We really felt pride in being the team that got Todd to the postseason."
Helton actually being there for the 11th of his 17 seasons wasn't assured. That January, the Rockies and Red Sox worked a trade that would have sent Mike Lowell to the Rockies. But Helton had a no-trade clause, and the deal fell apart. Helton had stuck out lean years with a young team that was just about ready to mature, and teammates noticed.
"One of the things I never wanted to do on the field was disappoint him -- because of the friendship, because of the respect I had for him and because of the way he carried himself," outfielder Brad Hawpe said. "Every little detail meant so much to him.
"Us realizing at that moment that he had never been in that situation before, we all understood this is a big deal. This is special."
A different kind of energy
Veteran relief pitcher LaTroy Hawkins liked the young core when he joined the Rockies as a free agent that year. But it wasn't like he arrived in Tucson, Ariz., for Spring Training believing he had stepped into a championship club.
But one guy made an impression.
"It was just pitchers and catchers, and I remember sitting with [reliever] Brian Fuentes," Hawkins said. "And I remember Troy Tulowitzki walking into the locker room. I had no clue who he was, had never heard of him.
"I asked 'Tito' [Fuentes], 'Who is that dude?' He said, 'That's Troy Tulowitzki. He might be our starting shortstop.' I remember looking at him saying, 'He will be our starting shortstop. Not many people walk into a room and I want to know who they are. He got all my attention.'"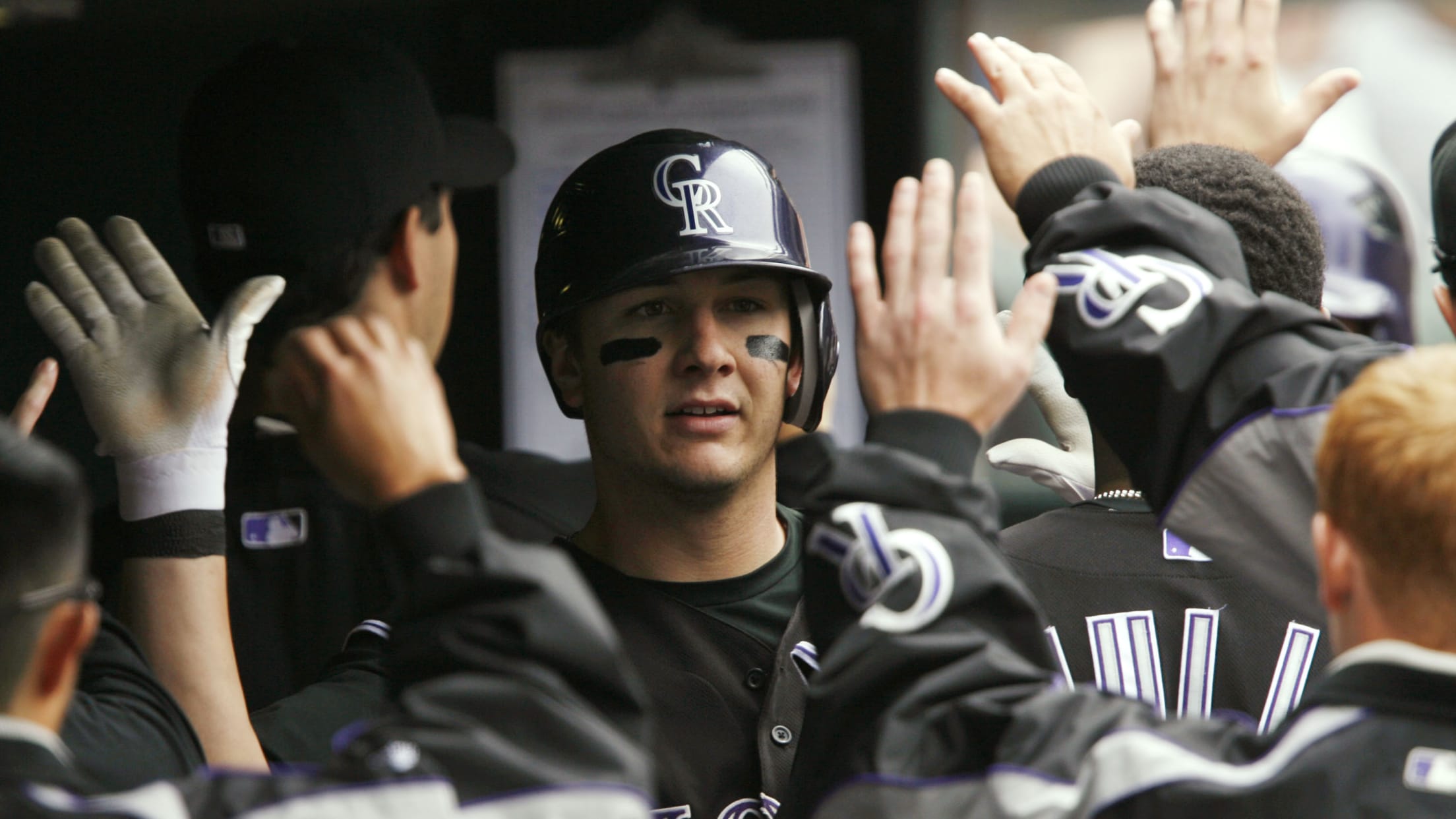 Tulowitzki, also nosed out for the NL Rookie of the Year Award that season by the Brewers' Ryan Braun -- in another decision that didn't sit well in the Mountain Time Zone -- got his teammates' attention again in May. After a loss at Arizona, Tulowitzki, a brash first-round Draft pick two years earlier, entered the clubhouse and shouted to the effect that he hadn't lost before and wasn't about to start.
It was a movie moment that grew to legend, kind of a young-guy-shaking-up-losers type of deal. Well, the Rockies teetered near .500 for much of the year, so it wasn't truly a spark of lightning.
But make no mistake. It was appreciated.
"We weren't all that much older than Tulo," Hawpe said. "Me, Holliday, Garrett Atkins, Ryan Spilborghs … we were all silly and goofy and young, too, and weren't too far from the college, 'Rah-rah, we're going to win every game' attitude. He had it, and it helped. He was excited to be around each one of us."
Take the keys
Manager Clint Hurdle can't help that his booming voice could reverberate through a stadium. His voice was ever-present through the young roster's difficult seasons, usually teaching necessary lessons but sometimes ringing in players' heads.
"When I first got to the big leagues in '04," Hawpe said, "I remember I took a pitch and I stepped out of the box, and before I was getting ready to focus on my next pitch and what I was trying to do, I honestly thought, 'I wonder if Clint liked that?' Then the next pitch went through, then I got to the dugout and was like, 'Why on earth would that ever cross my mind? Brad, you will never be a big league player if that's what you're thinking.'
"And that's not what he wanted me thinking. I felt that was what I needed to be doing."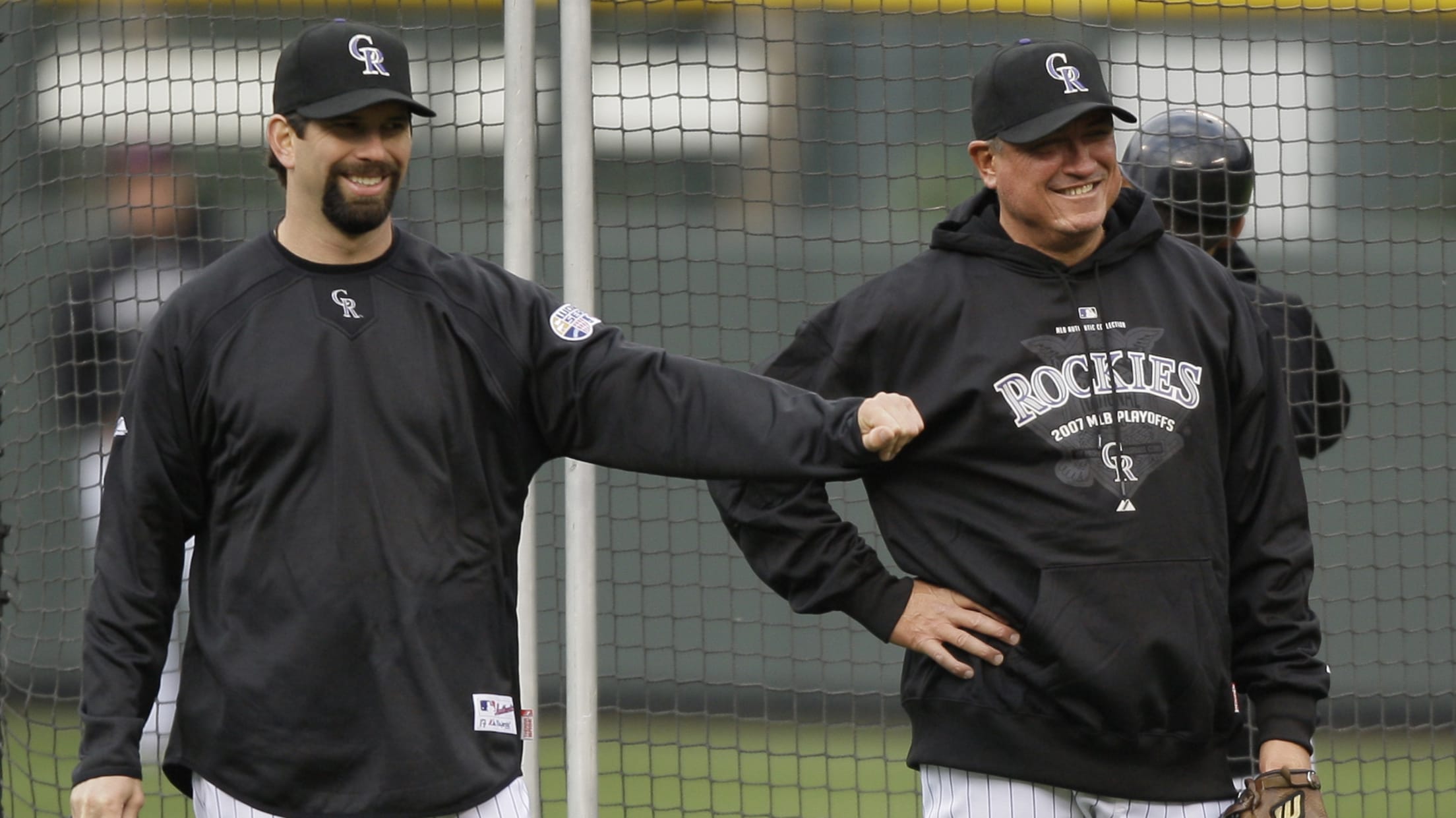 But by '07, Hurdle recognized his players' growth and realized he could say it best by not saying it at all.
"I needed to get to the point where I threw them the keys and I got out of the way," Hurdle said in November as keynote speaker at the Rocky Mountain SABR banquet. "They had been together, they'd won some things together and they were figuring some things out."
Hawpe said, "As a young player grows, it's like, 'I got this. I like winning. I wanna win. It's a lot more fun.' With us having that confidence, it took pressure off Clint and gave him confidence."
Red Sox, Yankees -- and success
A June 12 loss at Fenway Park dropped the Rockies to 31-33, but they bested Curt Schilling for nine hits and six runs over five innings in a 12-2 win the next day. Then Jeff Francis faced Josh Beckett, pitched five scoreless, and turned it over to a solid bullpen. Holliday and Atkins went deep in a 7-1 win.
Two series later, the Yankees came to Coors -- and the Rockies swept the three-game set.
"That was kind of an eye-opener," Francis said. "I remember personally pitching a game in that series and pitching really well. These were the Yankees of the 2000s -- A-Rod, Jorge Posada, Derek Jeter, and Bobby Abreu was there that year."
Immediately thereafter, however, the Rockies were walked off four times during a 1-9 road trip.
"It felt like we couldn't win a game to save our lives, but series like those against New York and Boston kept our confidence, knowing we could do it."
The magic of 64
On Aug. 23, the Rockies dropped their fourth in five games, 5-1 to the Pirates at Coors Field.
Unbeknownst to most everyone, Hurdle had been offering inspiration and support to Kyle Blakeman, a 15-year-old high school sophomore who was battling cancer that would take his life. After the loss to the Pirates, Hurdle received a call from Blakeman's family saying he might not make it through the night. Hurdle visited the hospital, then made a request that he felt he should not have.
"I said, 'You know what, Kyle? We're not doing real well. The manager is struggling a little bit, not gaining traction. Can you give me a lucky number?'" Hurdle said. "He goes, 'Yeah, I got a number, my favorite number: 64. It's my football number. When I play football, I feel special.'"
So Hurdle scrawled a small "64" on the lineup card for the game against the Nationals the next night, and watched his team enter the bottom of the ninth trailing, 5-1. But Holliday launched a two-run homer, Yorvit Torrealba added a two-run single, and a two-out error on a Kazuo Matsui grounder let the winning run score.
And "64" graced every lineup card from then on. Kyle passed away before the run was over, but his sister threw out the first pitch before Game 4 of the NLCS.
"I take Franklin Morales out of the game in the fourth inning; he's thrown 64 pitches," Hurdle said. "I had no idea. We pinch-hit Seth Smith for the 12th time or whatever it was -- he gets a hit every time. We score six runs in the fourth inning. We win the game, 6-4.
"You can believe whatever you want."
In front of the TV
As you may know, things went crazy in September. Hawpe swatted a decisive 14th-inning homer, and Atkins, not the fastest of runners, had an inside-the-park home run in a sweep at San Diego. A three-game sweep at Los Angeles featured dazzling defense.
But Francis was outpitched by the D-backs' Brandon Webb at Coors on Sept. 28 to clinch the division for the D-backs.
"There was a time in September in Philadelphia that I had a horrible game," Francis said. "I remember thinking, 'We had a chance, and I blew it.' Then we climbed back in, swept the games in San Diego, swept the games in L.A.
"Then I came back home that Friday night against the Diamondbacks. I think I'd pitched all right, but we lost -- it was Brandon Webb, a Cy Young guy. I remember thinking, 'Darn it, I had another chance. I blew it again.'"
The next day, the Rockies gathered around the TV and watched their season flicker. A Padres win would have ended their hopes.
Hawkins admitted he stayed away from the TV sets.
"I cut the TV off, but when I went back, somebody else had it on," Hawkins said. "I didn't want to make a big stink about it, so I kind of gave in. But I didn't want to wish bad on anybody else."
Francis recalled watching, "expecting the inevitable … Hoffman came in to close."
But when Padres closer Trevor Hoffman blew a save -- with Tony Gwynn Jr., son of the Padres' legend, getting the game-turning triple for the Brewers -- the Rockies had new life.
"Everybody just left the TV, kind of like, OK," Francis said. "By the time we started winning all those games in September, it was a feeling of invincibility. It was like if we lost, well, we're supposed to lose, but we don't really think we're going to lose. And it didn't happen for, like, four weeks."
The kid was all right
In the 162nd and final regular-season game, the Rockies needed a win over the D-backs and a Padres loss to force the classic Game 163.
And it was fitting that Ubaldo Jiménez started with the season on the line.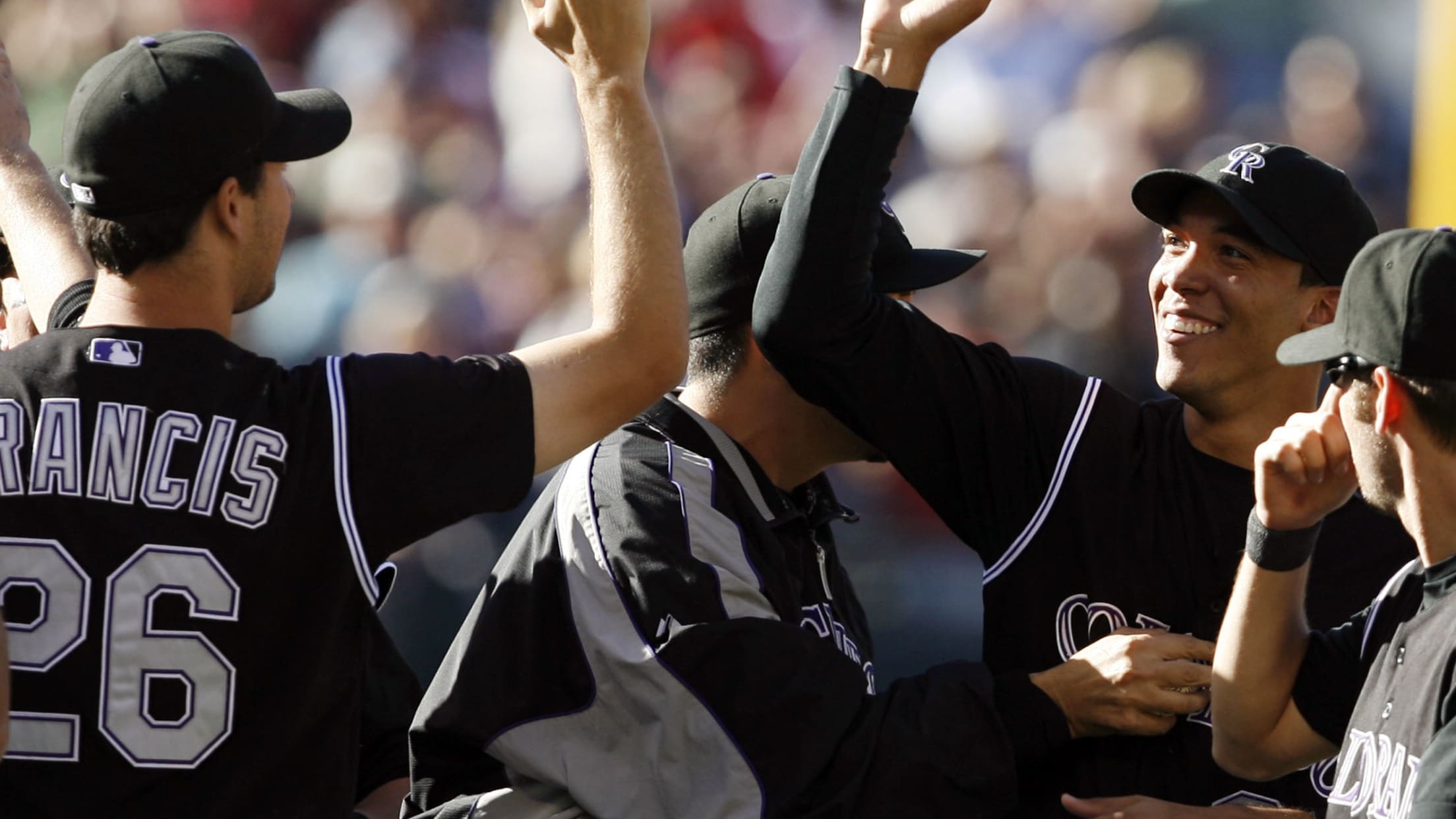 By late August, three key starters -- Aaron Cook, Rodrigo Lopez and Jason Hirsh -- were lost for the regular season with injuries. The only one who returned was Cook, who started Game 4 of the World Series (six innings, three runs and six hits allowed in a solid performance). Morales and Jiménez upheld their end, and the Rockies got just enough from pickups Mark Redman and Ramon Ortiz to hold water.
In fact, there were unsung contributions all over the field.
"I remember that road trip to San Diego and L.A., having close to the whole 40-man roster," said Holliday, who missed a couple games during the final road trip with an oblique injury. "There were guys we never played with -- out-of-nowhere characters -- helping us win games."
The key, though, was the combination of the rotation Hurdle pieced together and an outstanding bullpen that allowed the Rockies to lead the NL with a 3.86 ERA after the All-Star break.
So Jiménez, 23-year-old rookie who was a gem signing from the Dominican Republic, took the mound with the season on his shoulders. He fanned 10 and gave up one run in 6 1/3 innings of the eventual 4-3 win.
"Everyone in the stadium was aware that every pitch mattered, so the crowd was extremely loud and energetic," Jiménez said. "It was difficult for me not to reach back in every delivery to try to hit 100 mph. Consequently, this led me to walk a few [four] batters and deal with traffic on the bases.
"On the other hand, the same cheers motivated me to get my strikeouts and key outs."
And after the Padres went on to lose the last game of the season, Colorado's subsequent 13-inning, 9-8 win over San Diego at Coors to clinch the NL Wild Card never gets old.
Still, do people believe it?
The Rockies crashed the heck out of the NL postseason party. But waiting for the Red Sox to overcome a 3-1 deficit and beat the Indians in the American League Championship Series wore on them. Intrasquad games just didn't cut it.
"I remember facing Matt Herges, who was one of my good friends and was hilarious," Holliday said. "It was hard to look at his face without smiling and laughing. And the pitchers aren't going to pitch inside, but if one slips … it hurt more than it helped."
Would the Rockies have beaten the Red Sox on equal rest? Fuentes, who relinquished the closer role to set up Manny Corpas late in the year, struggled with the answer.
"I've thought about that question," Fuentes said. "The momentum we had sort of fizzled, but I also know that was a good Boston team. We were, on paper, the underdog, but the momentum we had might have given us an advantage.
"I think about the run we went on more and don't dwell on the negative. After I was removed from the game, I realized there are so many bigger things in life. If I had a World Series ring sitting next to my NLCS ring, would it have made a difference who I was as a person? So I choose to be proud of a very good experience."
But this group met at a Rockies Fantasy Camp a few years ago, and they bonded as if they were going to ignore the pains of age and challenge the Red Sox to a rematch.
"Cory Sullivan, Ryan Spilborghs, Josh Fogg, Jeff Francis, Brian Fuentes, Garrett Atkins … it felt like a small portion of the '07 team," Hawpe said. "We had a dinner to remember that night."
And imagine the bond the '07 team will feel if the Rockies ever get another World Series shot.
"I don't think '07 will ever be forgotten -- I know I will never let it be forgotten," said Francis, now a pitching coach in Canada's junior national program. "But I would kill to see the Rockies in the World Series again. I would be on the first plane.
"I would love it for the city of Denver. As well as we did it, and as special as it was, I think there's unfinished business."