Oberg finds success in getting back to basics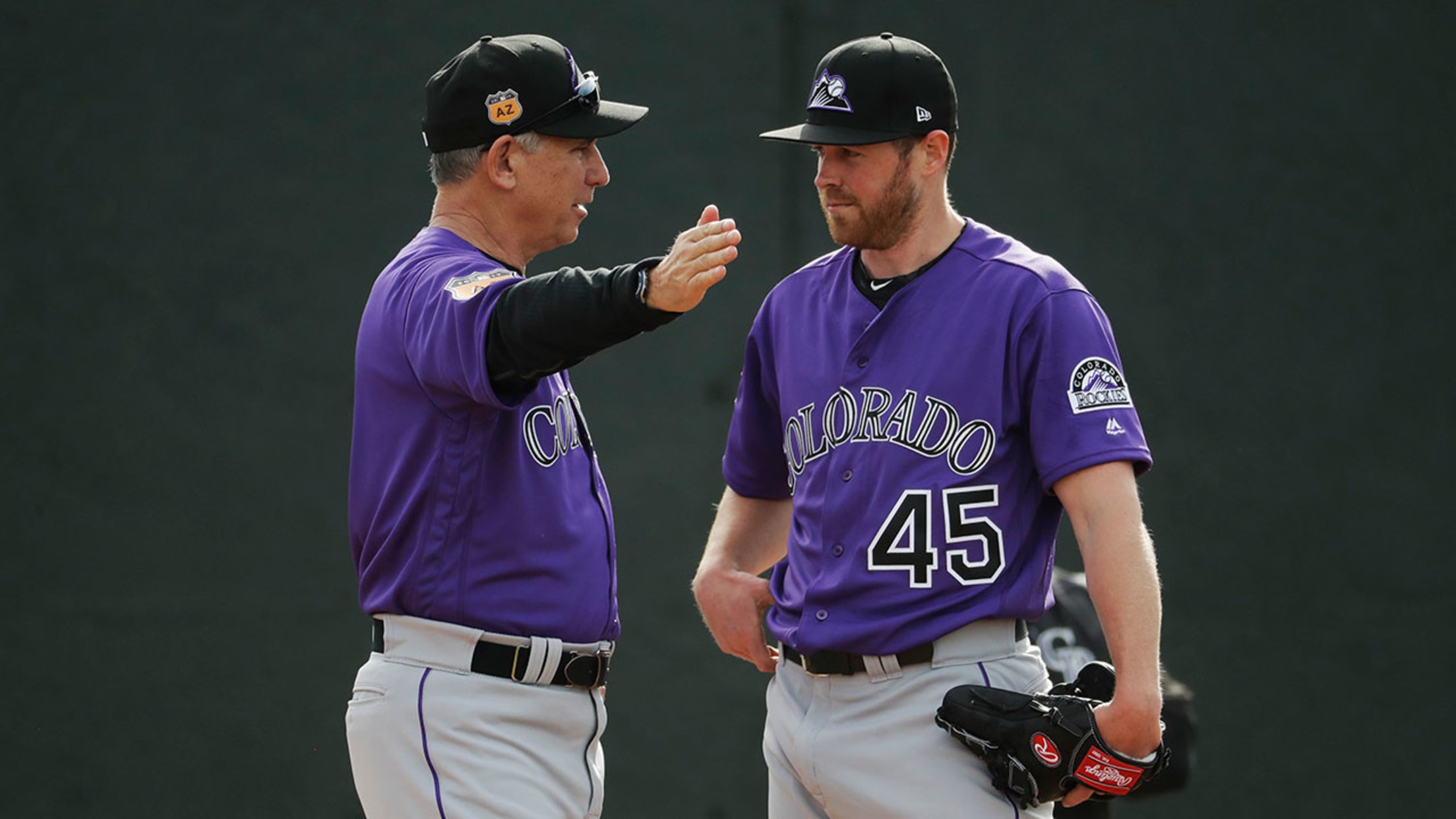 Scott Oberg needed just 11 pitches to throw a perfect fifth inning in an 8-7 loss to the Angels. (AP)
SCOTTSDALE, Ariz. -- By simplifying his pitch mix, Rockies right-hander Scott Oberg is pushing into contention for a bullpen job.Oberg, 27, whose 2016 season was cut short by blood clots in his right forearm, faced the heart of the Angels' lineup with a one-run lead in the fifth inning of
SCOTTSDALE, Ariz. -- By simplifying his pitch mix, Rockies right-hander Scott Oberg is pushing into contention for a bullpen job.
Oberg, 27, whose 2016 season was cut short by blood clots in his right forearm, faced the heart of the Angels' lineup with a one-run lead in the fifth inning of Thursday's 8-7 loss. On 11 pitches, Oberg had a perfect inning with a strikeout.
While bouncing between the Rockies and Triple-A Albuquerque in 2015 and 2016 (4-5, 5.12 ERA in 88 Major League games), Oberg used a fastball, slider, curve and changeup.
New Rockies manager Bud Black asked him to narrow his mix. On Thursday, he threw fastballs for all but two pitches. One earned him a swinging strikeout of C.J. Cron to end an eight-pitch at-bat with the count full.
Before that, he worked Michael Trout into a grounder on two fastballs. His first pitch, 95.8 mph fastball, resulted in an Jose Pujols fly to center.
"We talked about making some slight adjustments to his pitch selection, and I think he's running with that and throwing the ball with a lot of confidence," Black said.
Oberg, a 2012 15th-round Draft pick from the University of Connecticut, said he recovered from the August surgery in time for a normal offseason, so his velocity recovered in time to compete in camp. Doctors moved an artery away from the humeral head of the shoulder in order to avoid the trauma that was causing the blood clot. Oberg's mechanics didn't change.
He also has snapped back into the consistency of delivery that started to show last year -- when he was 1-0 with a 2.43 ERA and nine saves with Triple-A Albuquerque.
The Rockies have a group of veteran relievers, plus there's hard-throwing Carlos Estevez, and Black has thought of carrying a young starter in the 'pen. But with the specter of injuries -- already lefty Chris Rusin (oblique) and righty Chad Qualls (right forearm tightness) are out of Cactus League action -- and simply the merit of his performance, by no means is he being counted out.
Oberg, who has had three trips to the Majors during each of the past two years and still has a Minor League option this year, also will look to establish himself as a solid bullpen member.
"You have to give credit because they are Major League hitters, but at the same time I have to take the same approach I did in Triple-A and apply the same mentality," Oberg said.
Worth noting
• Righty reliever Adam Ottavino gave up a run on a hit and two walks in his second consecutive rocky outing, after dominant work prior. Also, the Angels' Eric Young and Nolan Fontana -- speedy guys -- each stole with him on the mound. Black said Ottavino is aware of the running game and is working on some adjustments heading into the regular season.