Rockies break routine, take infield practice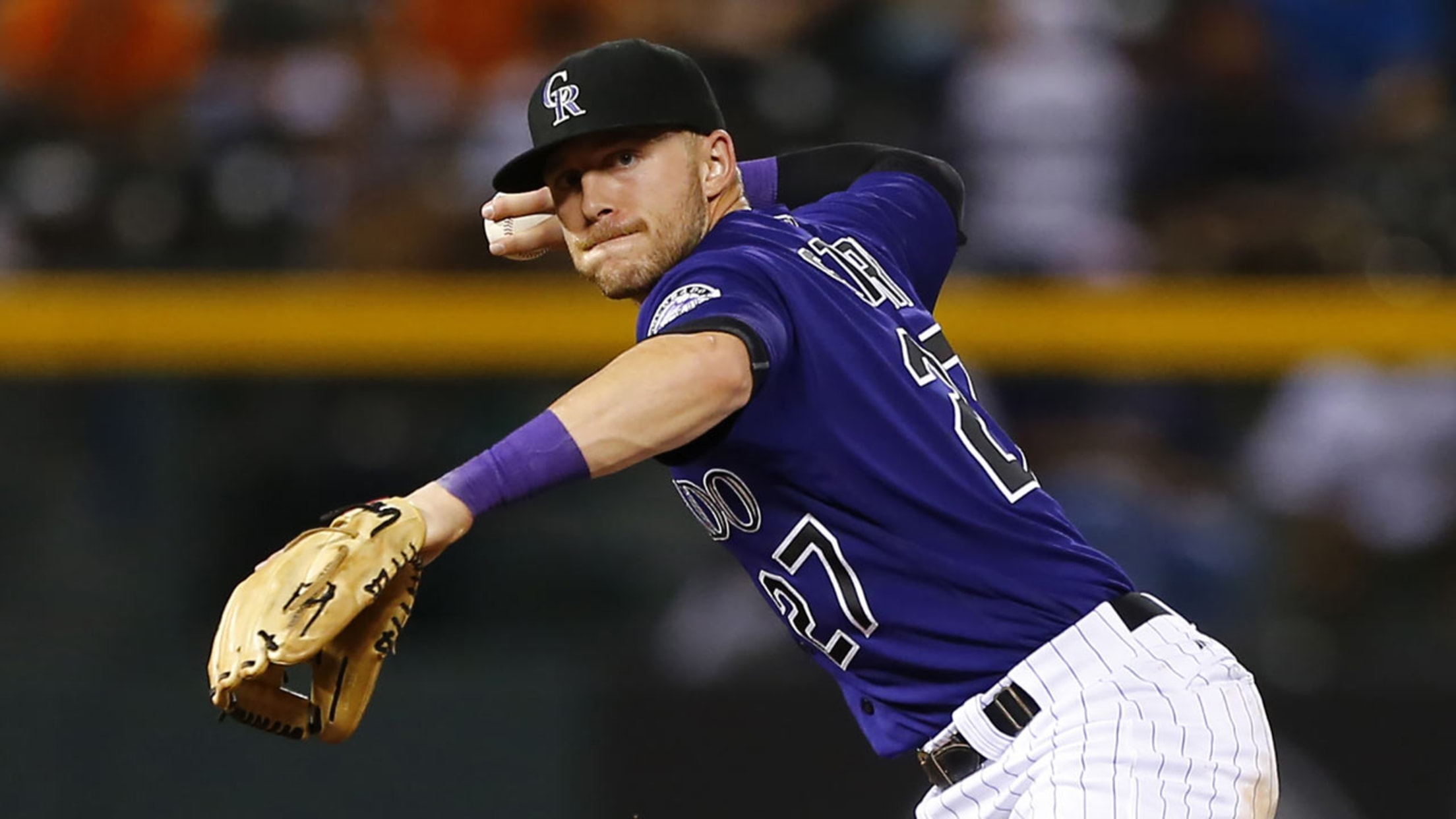 Shortstop Trevor Story and Co. worked on defense rather than taking BP before Friday night's game. (AP)
DENVER -- Instead of taking batting practice before Friday night's game against the Braves, Rockies manager Walt Weiss had the team work on defensive fundamentals.With the team normally taking BP before games, there's relatively little time to work on pickoff plays and pitcher defense. At the Major League level, it's
DENVER -- Instead of taking batting practice before Friday night's game against the Braves, Rockies manager Walt Weiss had the team work on defensive fundamentals.
With the team normally taking BP before games, there's relatively little time to work on pickoff plays and pitcher defense. At the Major League level, it's certainly a rare sight.
Taking infield can often been seen as a punishment, but that is not the case here. The Rockies have played excellent defense since the All-Star break, with one error in seven games.
"Sometimes it's used [as punishment], and all of a sudden you change up the routine because you have a bad game," Weiss said. "I try to get out in front of that, and we do this time to time, and it's not punishment, it's a refresher because we don't get to do these things after Spring Training."
Players were fairly lighthearted during the workout, but they took the drills in stride, seeing their importance.
"Just to stay sharp on the fundamentals," shortstop Trevor Story said. "Doing the easy things right. We do it once in a while just to stay sharp, probably once a month."
Worth noting
• Left-hander Chris Rusin is scheduled to pitch for Triple-A Albuquerque Sunday before rejoining the team for their road trip to Baltimore on Monday, where they will re-evaluate him. In two rehab starts for his left shoulder strain, Rusin has held his opponents to three runs on nine hits over 5 2/3 innings with two walks and six strikeouts.
"It's gone well," Weiss said of Rusin's rehab. "The biggest thing with Rusin -- like most pitchers on rehab -- is just to get built back up again. So far, so good."
• Right-hander Eddie Butler has struggled in his three starts since he was sent down to Triple-A. He has a 7.02 ERA over 16 2/3 innings, and in his start on Thursday, he threw five scoreless innings before allowing six runs and not being able to finish the sixth.
"Eddie's in the process of just becoming a more consistent pitcher," Weiss said. "Command of his fastball and secondary pitches. He's trying to create variation in velocity, and those are things he's working on."
Ben Weinrib is a reporter for MLB.com based in Denver.