Kittle 'speechless' after receiving '05 Series ring
Reinsdorf presents longtime White Sox icon with overdue gift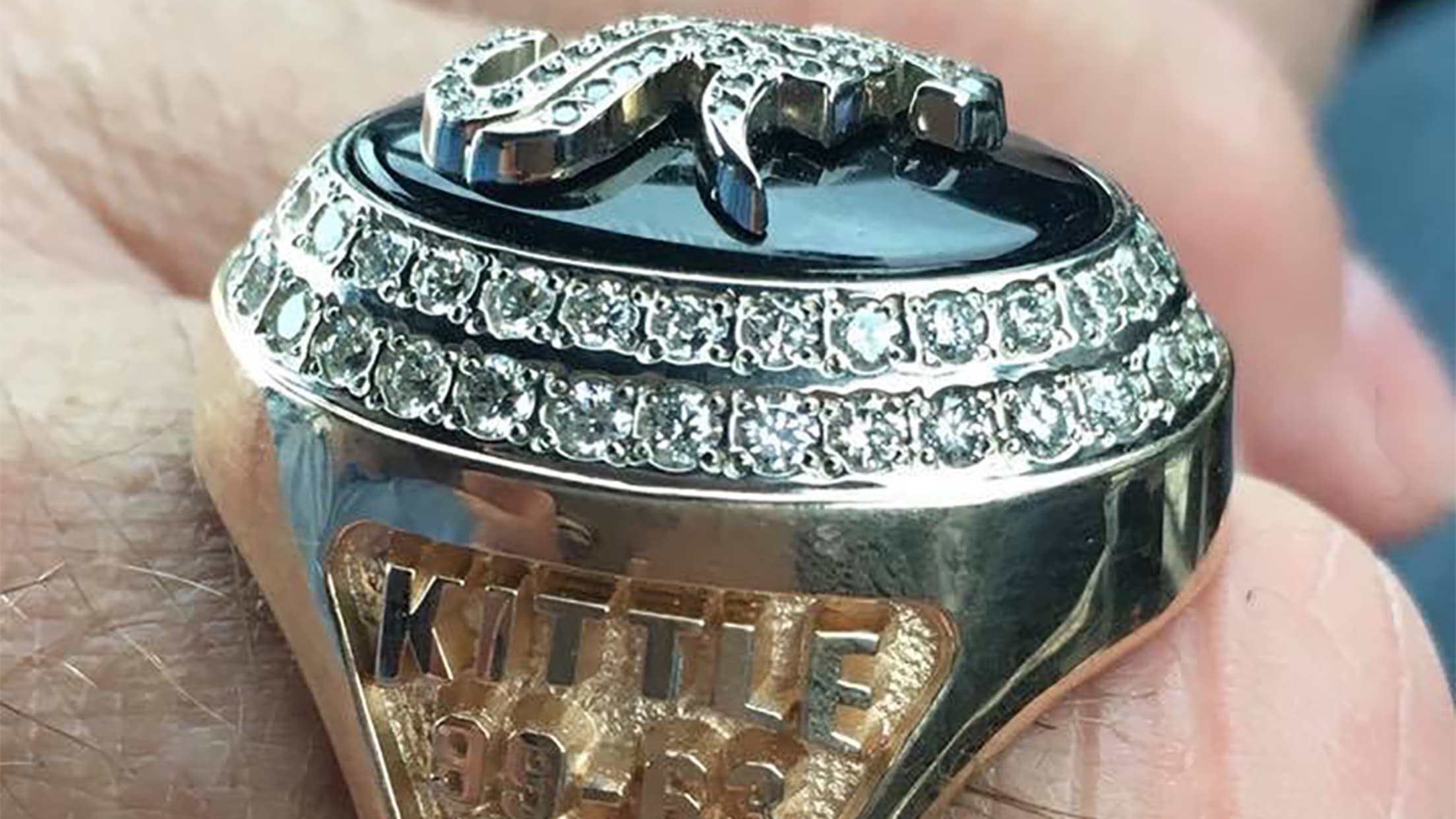 CHICAGO -- Ron Kittle wore his 2005 White Sox World Series championship ring to a Thursday night fundraiser attended in Orland Park, a South Suburb of Chicago situated approximately 25 miles from Guaranteed Rate Field.If the same fundraiser had taken place last Thursday, the one-time White Sox slugger would have
CHICAGO -- Ron Kittle wore his 2005 White Sox World Series championship ring to a Thursday night fundraiser attended in Orland Park, a South Suburb of Chicago situated approximately 25 miles from Guaranteed Rate Field.
If the same fundraiser had taken place last Thursday, the one-time White Sox slugger would have gone without that ring -- because Kittle didn't have one. That situation was taken care of Saturday night during a dinner at Ditka's restaurant in downtown Chicago, courtesy of a special presentation from White Sox chairman Jerry Reinsdorf.
"Jerry likes having dinners off-and-on during the season, and this is always a Saturday night thing for SoxFest," Kittle said during a phone interview. "We sat down, had dinner and some drinks.
"Then he stood up, and we were just chatting, and he said, 'Sometimes there is an injustice in life and you need to correct it. Tonight we are correcting it.' And he presented me with the ring. Brooks Boyer was kind of videotaping it.
"I said, 'I'm speechless,'" Kittle said with a laugh. "All 18 in the room said, 'There's no way Ron Kittle is ever speechless.' I said, 'Maybe a little bit.' Then he walked over and handed it to me."
Kittle, who turned 60 on Jan. 5, launched 140 of his 176 career home runs over eight seasons with the White Sox. The outfielder/designated hitter made his presence known in 1983, finishing with 35 homers and 100 RBIs, while being selected as an American League All-Star and named AL Rookie of the Year.
That '83 AL West title was guided by Kittle, Hall of Famer Carlton Fisk, Greg Luzinski, Harold Baines, and an amazing starting trio of LaMarr Hoyt, Richard Dotson and Floyd Bannister. Manager Tony La Russa led the charge to 99 victories, marking the first division title under Reinsdorf's ownership.
Since 2000, Kittle has served as an ambassador for the organization. Kittle wasn't sure of the timing around the Saturday ring presentation, although he did overhear Reinsdorf talking to another member of the front office about not being sure how Kittle was overlooked.
When the ring was presented at the dinner, Baines quipped, 'That looks good for that fake ring,'" Kittle recounted. He originally received a watch from the organization in honor of the team's '05 championship.
"I mean, the watch was great. It's a nice custom box and everything," Kittle said. "I couldn't put it on my wrist because my wrist is a little bit bigger than most people.
"So, it just sits there and never thought anything about it. Never asked. I wasn't whining. It is what it is. Life is life."
This new ring is inscribed with "Kittle" and "83 ROY" on the side. Kittle showed it to his mother, Dorothy, who turns 90 on Feb. 15. She tried it on, took a picture with it and said she wished Kittle's father could see it right now. Kittle also posted pictures of the ring and the aforementioned story with it on his Facebook page.
"Very honored. Humbled," Kittle said. "There's nothing I wouldn't do for the Chicago White Sox and Jerry Reinsdorf.
"If they want me to pick up peanuts before or after the game, I'll do it. I like being at the ballpark and representing the White Sox. I like being part of that family."