Around the Horn: Braves return formidable OF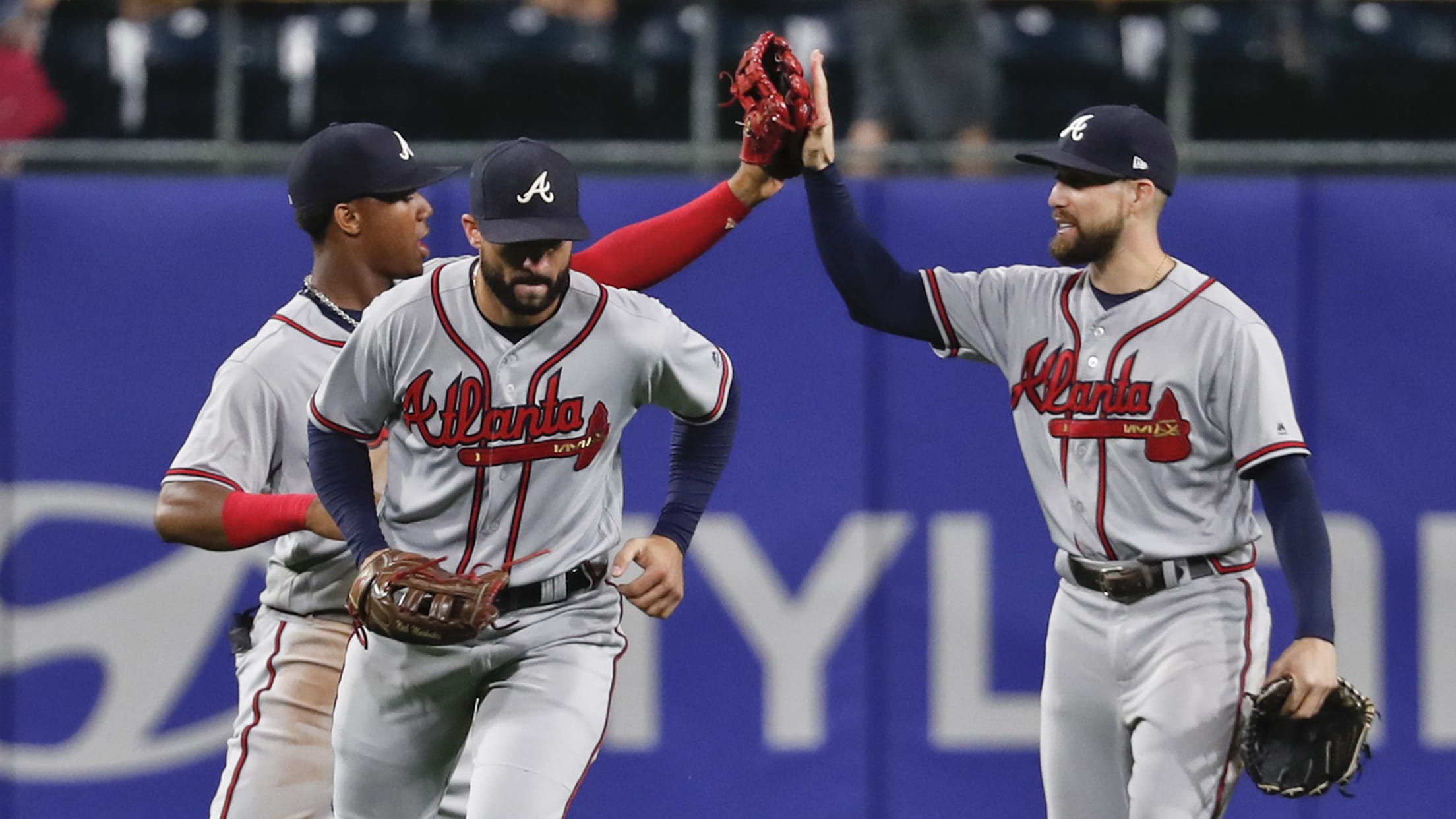 Atlanta Braves right fielder Nick Markakis, right, center fielder Ender Inciarte, center, and left fielder Ronald Acuna Jr., left, celebrates after defeating the Pittsburgh Pirates in a baseball game, Monday, Aug. 20, 2018, in Pittsburgh. The Braves won 1-0. (AP Photo/Keith Srakocic) (Keith Srakocic/AP)
ATLANTA -- With pitchers and catchers set to report to Spring Training on Feb. 15, we extend our breakdown of the Braves' projected roster by focusing on the outfielders. If it's not broke, don't fix it. After evaluating some upgrade options, this is essentially the approach the Braves took when
ATLANTA -- With pitchers and catchers set to report to Spring Training on Feb. 15, we extend our breakdown of the Braves' projected roster by focusing on the outfielders.
If it's not broke, don't fix it. After evaluating some upgrade options, this is essentially the approach the Braves took when they re-signed Nick Markakis at a bargain price and reunited him with the other members of what became one of the most productive outfield trios Atlanta has possessed this decade.
• Around the Horn:Infield | Rotation | Bullpen
Despite Ronald Acuña Jr. being absent for approximately two months, the Braves' outfielders ranked fifth among National League teams with a 10.0 fWAR (FanGraphs' WAR model). This marked the club's highest figure since 2012, when Michael Bourn, Jason Heyward and Martín Prado helped create 13.4 fWAR.
There is a chance the Braves' outfielders could prove even more productive this season. The 21-year-old Acuna has shown he may already be a perennial MVP Award candidate. A rejuvenated Markakis earned his first career All-Star selection last year before fading down the stretch. Inciarte overcame first-half offensive struggles and once again provided steady defense that earned him a third consecutive Gold Glove Award.
Maybe most importantly, the Braves now have the depth necessary to guard against potential fatigue. Markakis led all Major League outfielders with 160 defensive starts last year. Inciarte ranked fourth with 151. The only players who started more games as an outfielder were Mitch Haniger (156) and Bryce Harper (154).
Here's a look at how the Braves' outfield will look in 2019:
Left Field: Acuna
Despite making his MLB debut three weeks into the season and then missing a month with a sprained left knee, Acuna ranked fifth among NL outfielders (minimum 450 plate appearances) with a 3.7 fWAR. The 3.4 fWAR he produced after the All-Star break ranked second among all NL players, trailing just the 5.4 fWAR recorded by National League MVP Award winner Christian Yelich.
Acuna will attempt to extend his second-half success, which saw him hit .322 with 19 homers and a 1.028 OPS. He ranked third among all NL players with 171 Weighted Runs Created Plus during this span.
As things currently stand, it appears the Braves will move Acuna from the leadoff role to the cleanup spot. This move could cost the young phenom at least 30 plate appearances. But his presence in that spot should prove valuable to Freddie Freeman, who will now be sandwiched between Josh Donaldson and Acuna.
Center Field: Inciarte
Though the Braves won last year's division title with Markakis as their cleanup hitter, it doesn't appear they will double down by placing the 35-year-old veteran back in that role. So with Acuna moving down a few spots, the leadoff role will likely be given back to Inciarte, who lost the job after hitting .241 with a .312 on-base percentage during last year's first half.
Inciarte produced a 201-hit season while sitting atop Atlanta's lineup in 2017, and he bounced back from last year's rough start to hit .302 with a .345 OBP in the second half. The veteran outfielder is capable of handling the role as long as he avoids the early-season struggles experienced against left-handed pitchers in '18.
Inciarte finished second in the Majors with 21 Outs Above Average last year, and he leads all MLB outfielders with 63 OAA over the past three seasons. Billy Hamilton ranks second with 51.
Right Field: Markakis
Inciarte's tremendous range allowed the Braves to position Markakis deeper and have him play closer to the right-field line last year. The move proved to be quite valuable as the veteran outfielder went from an average defender in 2017 to a Gold Glove Award winner in '18.
Markakis also notched a Silver Slugger Award, an honor that was based on his strong first-half numbers. After hitting .323 with 10 homers and an .877 OPS before the All-Star break, he batted just .258 with four homers and a .701 OPS after the Midsummer Classic.
When Markakis re-signed with the Braves a few weeks ago, he admitted his second-half struggles were likely a product of the fatigue he felt while satisfying his goal to play in each of the 162 regular-season games.
Backup Options: Adam Duvall, Charlie Culberson, Johan Camargo
Though Camargo will likely see a majority of his time in the infield, his transition into a super-utility player will begin with outfield instruction during Spring Training. Culberson and Duvall are both capable of serving as backups at each of the three outfield positions. But in an effort to keep Camargo's bat in the lineup as much as possible, the Braves will get a feel for whether his tremendous defensive skills extend to the outfield.
When the Braves acquired Duvall from the Reds just before last summer's non-waiver Trade Deadline, he was accurately described as a Gold Glove-caliber outfielder with plus power. But he struggled mightily over the season's final two months and was left off the postseason roster. Now the Braves will need to decide whether they want to take a chance on carrying Duvall again in a backup role.
Culberson had limited outfield experience before last season, but he served as a capable replacement while Acuna was sidelined by his knee injury. His versatility and capability to consistently deliver in big moments made him one of last season's most valuable contributors.
Mark Bowman has covered the Braves for MLB.com since 2001.