Graves offers advice at Marlins PLAY event
Rookie works with kids as part of youth baseball campaign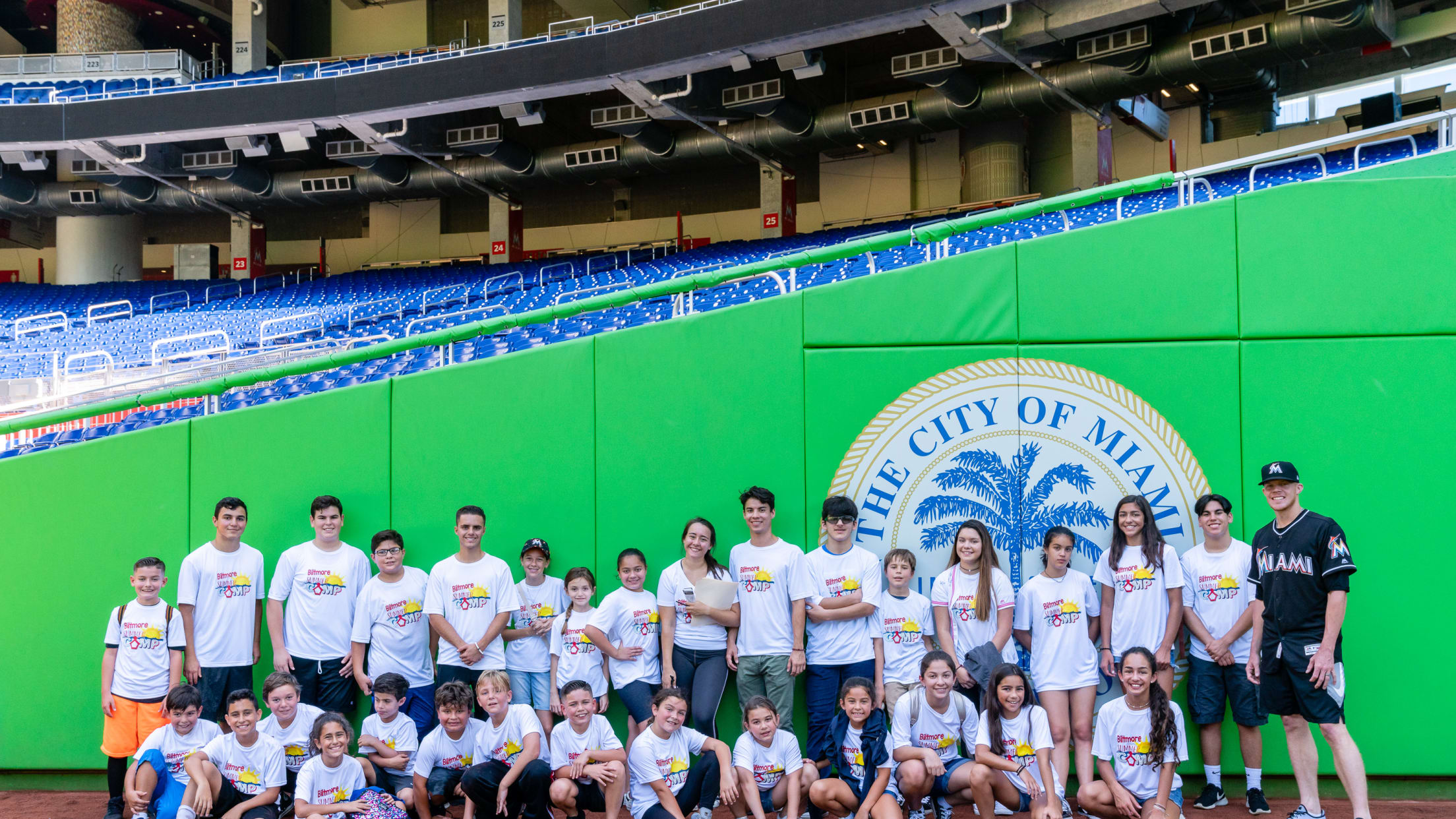 MIAMI, FL - JULY 13: PLAY Clinic as part of Playball Week on July 13, 2018 in Miami , Florida. (Photo by Cato Cataldo) (Cato Cataldo)
MIAMI -- "Stay active," "eat right" and "make sound life decisions" were some of the messages Marlins right-hander Brett Graves and members of Miami's athletic training staff delivered to youth athletes on Friday during a National PLAY Campaign event at Marlins Park."As they prepare to get into the stages of
MIAMI -- "Stay active," "eat right" and "make sound life decisions" were some of the messages Marlins right-hander Brett Graves and members of Miami's athletic training staff delivered to youth athletes on Friday during a National PLAY Campaign event at Marlins Park.
"As they prepare to get into the stages of life where they're going to have to make difficult decisions, we're prepping them to be able to make the right decisions," Graves said. "Educating them on performance-enhancing drugs and why we don't use them, and why they're illegal. And we got to have some fun. We played kickball. I was pitching in one of them the whole time."
Young athletes, separated into two groups, got to experience a morning at Marlins Park, interacting with rookie pitcher Graves and listening to advice from three members of the Marlins' athletic training staff -- head athletic trainer Dustin Luepker and assistant trainers Mike Kozak and Gene Basham.
The PLAY campaign, which will host events in all 30 Major League ballparks this year, strives to educate America's youth about the importance of leading healthy and active lives, as well as disability inclusion.
PLAY is a national public awareness campaign of the Professional Baseball Athletic Trainers Society (PBATS). Friday's event, and all other PLAY campaign events in 2018, are made possible by the generous support and participation of Major League Baseball Charities, the Taylor Hooton Foundation, the Henry Schein Cares Foundation and the Ruderman Family Foundation.
"Getting outside and playing and just being like a kid," Luepker said. "Today we showed them some proper stretching techniques. And we ran around and played a kickball game."
Participants were divided into groups and rotated through a series of stations on the field at Marlins Park. These stations touched upon healthy eating, injury prevention, strength and conditioning and education about the dangers of illegal performance and appearance-enhancing drugs.
"It's just healthy lifestyles," Luepker said. "Achieving healthy lifestyles through exercise, eating right. And then our main focus, through the Taylor Hooton Foundation, is a drug-free sport. We primarily talked about not using steroids."