ROY poll reflects MLB's wealth of young talent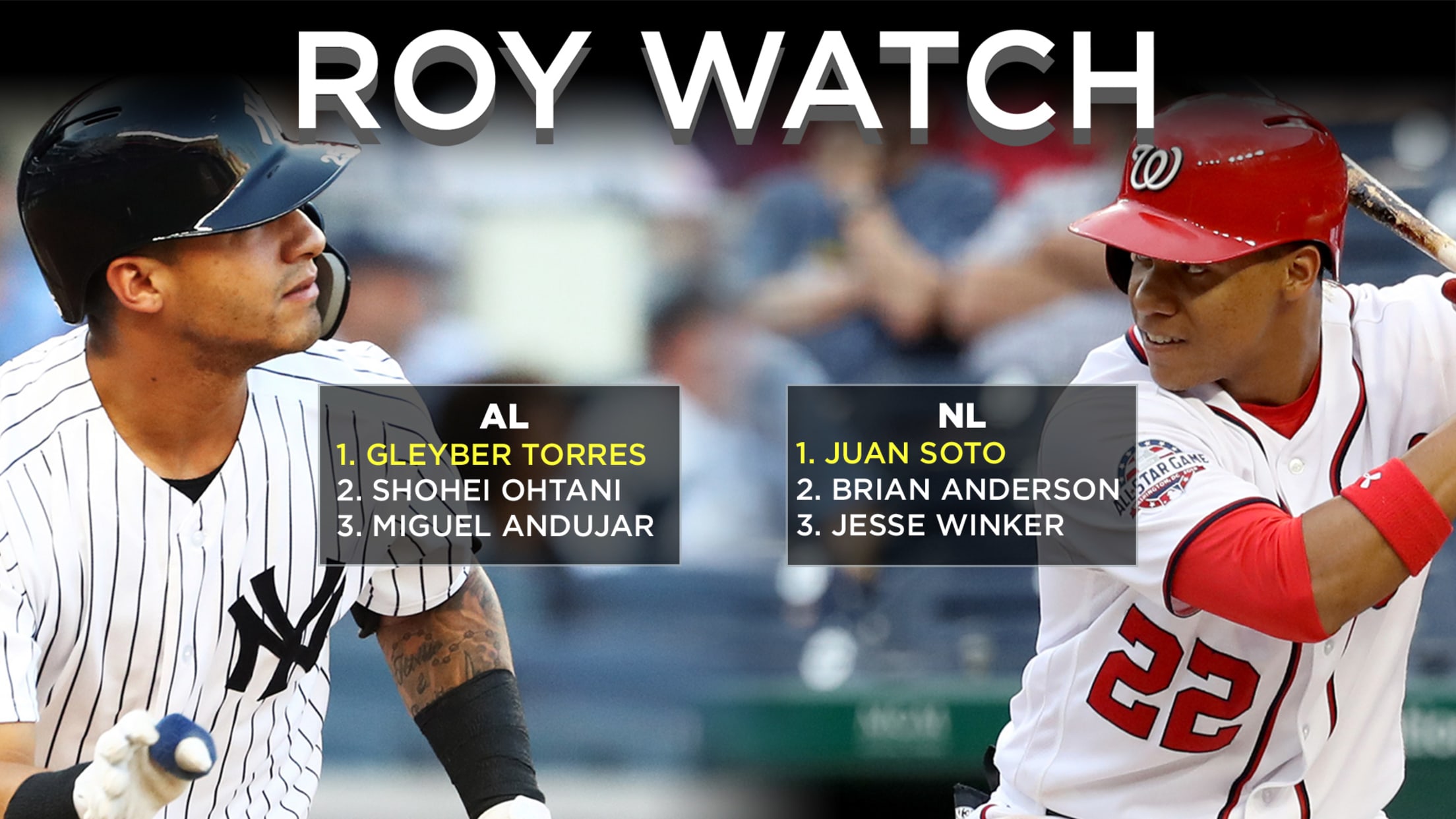 Gleyber Torres of the Yankees and Juan Soto of the Nationals remain comfortably atop our American League and National League Rookie of the Year Award polls. After those two, there's a reminder of how much young talent is in the game today.Here's a snapshot of the poll of our voting
Gleyber Torres of the Yankees and Juan Soto of the Nationals remain comfortably atop our American League and National League Rookie of the Year Award polls. After those two, there's a reminder of how much young talent is in the game today.
Here's a snapshot of the poll of our voting members of the Baseball Writers' Association of America:
• Fifteen players -- nine NL, six AL -- got at least one vote.
• Twelve teams are represented.
• The Yankees, Giants and Cardinals had two players apiece receive votes.
Now a word about the leaders. It seems like years ago when Torres, 21, showed up at Spring Training with the Yanks having very little idea whether he was ready for the Major Leagues.
Rather than force-feed him, the Yankees acquired veteran Neil Walker to play second base, thus allowing Torres to arrive on his own timetable. Despite just 64 games above Class A, he has looked comfortable almost from the moment he stepped onto the field. Angels designated hitter Shohei Ohtani, who was the runaway leader before injuring his pitching elbow, is tied with Yanks third baseman Miguel Andujar for second place in the voting.
Soto, 19, is leading the NL poll for a second straight time, with Marlins first baseman/outfielder Brian Anderson second and seven others getting votes.
Here's the breakdown:
AMERICAN LEAGUE
Torres, Yankees (122 points)
Torres received 23 of 26 first-place votes despite spending most of this month on the disabled list with a right hip strain. He's expected to return Wednesday. Torres leads AL rookies in OPS, home runs and RBIs, and he is top five in runs and hits.
Ohtani, Angels (49 points)
Ohtani has a .790 OPS in 14 games since returning from a month-long stay on the DL with an elbow injury. He's also throwing again, and the Angels have not ruled out allowing him to pitch again this season.
Andujar, Yankees (49 points)
Andujar leads AL in rookies in total bases, hits and doubles, and he has been everything the Yankees hoped he'd be. He has made some mistakes on the bases and at third, but all things considered, his rookie season has been a dazzling success.
Others receiving votes:Lou Trivino, A's; Ryan Yarbrough, Rays; Max Stassi, Astros.
NATIONAL LEAGUE
Soto, Nationals (120 points)
Soto got 22 of 26 first-place votes, and anyone waiting on pitchers to catch up with baseball's youngest player have been disappointed. His batting average dipped below .300 just one day this season, and he has been a huge positive for a team that hasn't yet fulfilled expectations.
Anderson, Marlins (68 points)
Miami's youth movement includes this former third-round pick from the University of Arkansas. Despite moving between right field and third base, Anderson is very much a polished offensive player with an OBP around .360.
Jesse Winker, Reds (16 points)
Winker has used his first full season in the Majors to establish himself as a cornerstone player for the Reds. With an OPS above .800 and an OBP above .400, he had a legitimate argument that he should have been part of the NL All-Star team.
Others receiving votes:Seranthony Dominguez, Phillies; Jack Flaherty, Cardinals; Christian Villanueva, Padres; Harrison Bader, Cardinals; Andrew Suarez, Giants; Dereck Rodriguez, Giants.