Rookie pitchers to start a Game 7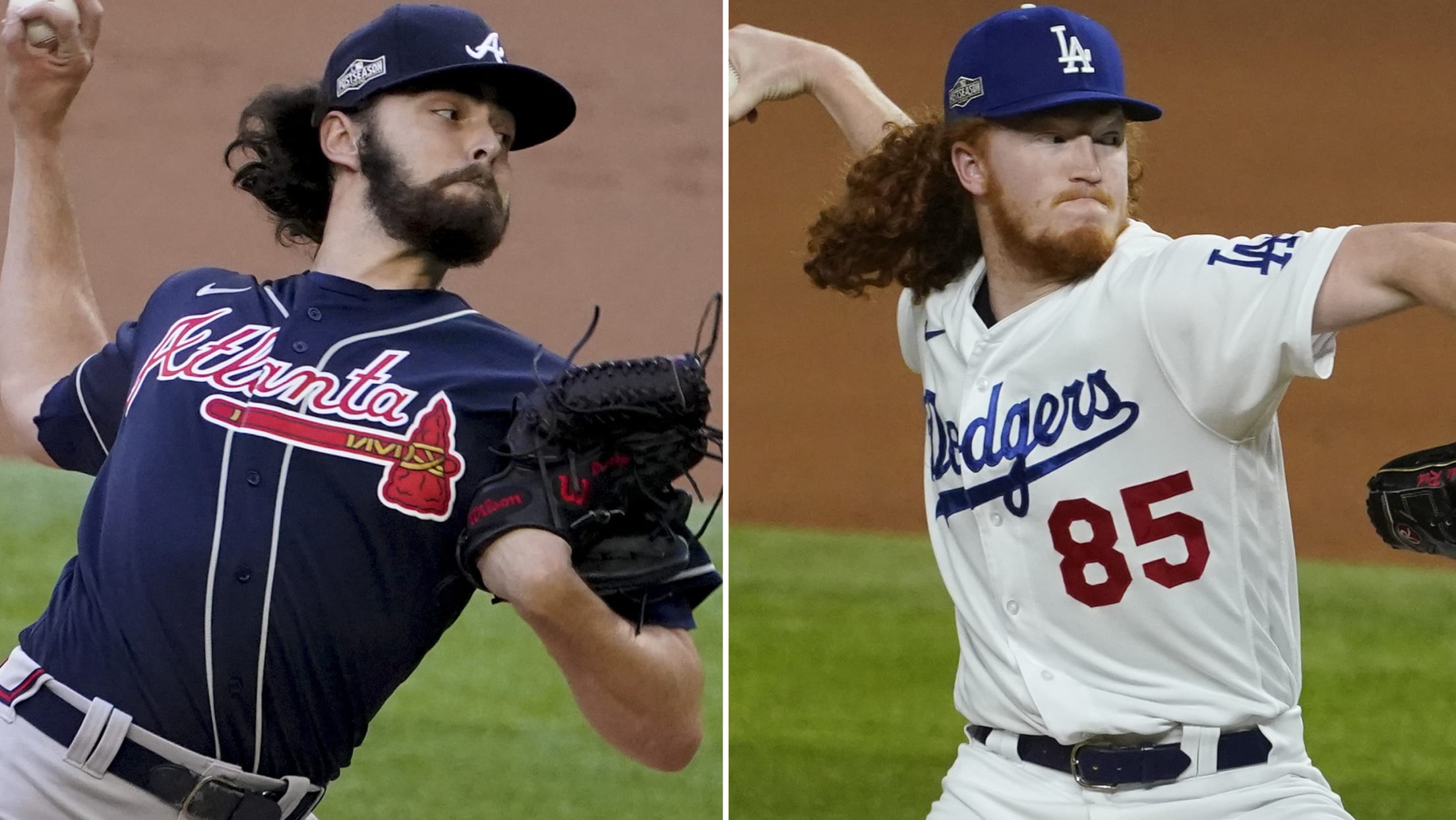 Ian Anderson and Dustin May made postseason history when each started on the mound in Game 7 of the 2020 National League Championship Series. When Anderson took the hill for the Braves against May and the Dodgers, it was the first winner-take-all playoff game with two rookie starting pitchers, according
Ian Anderson and Dustin May made postseason history when each started on the mound in Game 7 of the 2020 National League Championship Series. When Anderson took the hill for the Braves against May and the Dodgers, it was the first winner-take-all playoff game with two rookie starting pitchers, according to the Elias Sports Bureau.
Only two rookies had ever started a winner-take-all Game 7 in the LCS prior to that, since it expanded from five to seven games in 1985 -- Anderson and May became the third and fourth. And dating back to the beginning of the modern World Series in 1903, only 12 rookies have started a decisive Game 7 (or, in one case, a Game 8) in any postseason series, LCS or World Series. The feat has only occurred, on average, approximately once a decade since the 1940s.
Here's a look back at all of the rookies who were trusted with their team's championship hopes hanging in the balance.
Ian Anderson, Braves -- 2020 NLCS Game 7 vs. LAD
3 IP, 2 ER, 2 K, 2 BB
Anderson entered NLCS Game 7 having pitched 15 2/3 scoreless innings during his first postseason, including four scoreless frames against a powerful Dodgers lineup in Game 2. This time, he yielded a pair of runs on a game-tying, two-run single by Dodgers catcher Will Smith in the third inning. Los Angeles went on to clinch the NL pennant with a 4-3 victory, and Anderson finished the postseason with a 0.96 ERA over 18 2/3 innings.
Dustin May, Dodgers -- 2020 NLCS Game 7 vs. ATL
1 IP, 1 ER, 1 K, 2 BB
May's command was shaky to open the winner-take-all contest against the Braves -- he walked the first two batters he faced, Ronald Acuña Jr. and Freddie Freeman, on eight consecutive balls, then gave up an RBI single to Marcell Ozuna. But the flame-throwing right-hander managed to escape with just one run allowed when he induced a ground-ball double play from Travis d'Arnaud before striking out Ozzie Albies to end the inning. That kept the Dodgers in the game early, and eventually Los Angeles was able to edge Atlanta, 4-3, to capture its third NL pennant in four years.
Walker Buehler, Dodgers -- 2018 NLCS Game 7 vs. MIL
4.2 IP, 1 ER, 7 K, 0 BB
Buehler did his part to help the Dodgers reach the World Series for a second straight season. The 24-year-old fireballer kept the Brewers in check into the fifth inning, with the only run he allowed coming on a home run by Milwaukee star Christian Yelich. Buehler didn't qualify for the win, but he left with his team ahead, 2-1, and the Los Angeles bullpen took care of the rest. Buehler's seven strikeouts tied for the most by a rookie in a winner-take-all Game 7, equaling the mark set by the Indians' Jaret Wright in Game 7 of the 1997 World Series.
Daisuke Matsuzaka, Red Sox -- 2007 ALCS Game 7 vs. CLE
5.0 IP, 2 ER, 3 K, 0 BB, W
The pressure was on for Matsuzaka from the moment he inked his six-year, $52 million contract as a 26-year-old rookie prior to the 2007 season -- and it came to a head when then-Red Sox manager Terry Francona handed the Japanese phenom the ball for Game 7 of the American League Championship Series after the right-hander had turned in a pair of shaky performances in his first two playoff starts.
Yet after allowing four runs in 4 2/3 innings in Game 3, Matsuzaka set an early tone in Game 7 by retiring the first eight Indians hitters while Manny Ramirez and the Red Sox's lineup spotted him an early lead. It wasn't the cleanest outing -- he ran into runners in scoring position in each of his last three innings -- but he ultimately held the lead, and Boston finished Cleveland and swept Colorado for its seventh World Series title.
John Lackey, Anaheim Angels -- 2002 World Series Game 7 vs. SF
5.0 IP, 1 ER, 4 K, 1 BB, W
Lackey wasn't even the rookie that made the biggest impression for the Angels in the 2002 postseason -- that distinction belonged to a 20-year-old Francisco Rodriguez, who was called up in mid-September due to injuries before gathering five wins in the postseason as the youngest pitcher in the AL.
But it was Lackey, a midseason callup who didn't join the rotation until the end of June, that delivered the Halos their only World Series championship in franchise history. Lackey allowed a sacrifice fly to Reggie Sanders in the second inning before his lineup gave him a 4-1 lead by the third inning. He held that lead through five frames before the dominant Angels bullpen took over and secured the first win for a rookie pitcher in a Game 7 in nearly a century.
Jaret Wright, Indians -- 1997 World Series Game 7 vs. FLA
6.1 IP, 1 ER, 7 K, 5 BB
Though he could have started ace and 20-game winner Charles Nagy with a championship on the line, Indians manager Mike Hargrove decided instead to hand the ball to Wright, his swaggering rookie 21-year-old, despite being on only three days' rest after his Game 4 victory, in which he'd allowed three runs in six innings. It turned out to be a good call.
Wright was wild but virtually unhittable through the first six innings, allowing a first-inning double to Edgar Renteria before holding the Marlins without another hit until the seventh, when Bobby Bonilla took him deep to trim Cleveland's lead to one run. Wright was pulled after his fifth walk of the game, and four innings later, Renteria drove in Craig Counsell for the series-winning walk-off run with Nagy on the mound.
Joe Magrane, Cardinals -- 1987 World Series Game 7 vs. MIN
4.1 IP, 2 ER, 4 K, 1 BB
The 22-year-old Magrane found a home in the Cardinals' rotation at the end of April 1987 and stuck, finishing third in the NL Rookie of the Year Award voting after leading St. Louis starters with a 3.54 ERA. (The 6-foot-6 lefty even stole home that year against the Dodgers, though it was erased after the game was rained out.) The rookie got the start for Game 7 after getting tagged for five runs in three innings in Game 1 and fared better the second time around, as he exited after a Greg Gagne single with a 2-1 lead in the fifth inning, but was charged with a second run when Kirby Puckett immediately doubled Gagne in. Todd Worrell allowed two late runs to the Twins, and Frank Viola went eight innings to give Minnesota its first World Series championship.
Mel Stottlemyre, Yankees -- 1964 World Series Game 7 vs. STL
4.0 IP, 3 ER, 2 K, 2 BB, L
Stottlemyre, a midseason callup by the Yankees in 1964, matched up against the Cardinals' Bob Gibson three times in the seven-game World Series. He got the better of the Hall of Famer in Game 2, holding the Cards to three runs in a complete-game effort. Stottlemyre took the loss in Game 5 despite only allowing one earned run in seven innings, and the rookie returned to the mound in a do-or-die Game 7. After three scoreless frames, the Cardinals got to him for three runs in the fourth that ended his night. St. Louis won that game, 7-5, and Gibson was named series MVP.
Joe Black, Brooklyn Dodgers -- 1952 World Series Game 7 vs. NYY
5.1 IP, 3 ER, 1 K, 1 BB, L
Joe Black, a former Negro Leagues pitcher who was called up to the big leagues in 1952, won the NL Rookie of the Year Award with 15 wins, 15 saves and a 2.15 ERA for the Dodgers in the regular season. Black then started three times in seven days in the World Series against the Yankees; he hurled a complete-game victory in the series opener, then took the loss despite allowing just one run in seven innings in Game 4. Black gave up three runs in 5 1/3 frames in Game 7 as the Dodgers ceded the championship to New York.
Spec Shea, Yankees -- 1947 World Series Game 7 vs. BRO
1.1 IP, 2 ER, 0 K, 1 BB
The 1947 World Series featured a pair of promising young rookies in Jackie Robinson, the Brooklyn Dodger who integrated the big leagues, and Spec Shea, an All-Star in his first season with the Yankees. Robinson won MLB's Rookie of the Year Award, but it was Shea who won the title. The right-hander held the Dodgers to four runs in 15 1/3 innings (2.35 ERA) and was the winning pitcher in Games 1 and 5. He started the Game 7 clincher on two days' rest, but was pulled after 1 1/3 innings after Brooklyn tagged him for a pair of runs. Joe Page pitched five one-hit innings in relief, and the Yanks won their 11th title.
Hugh Bedient, Red Sox -- 1912 World Series Game 8 vs. NYG
7.0 IP, 1 ER, 2 K, 3 BB
Bedient enjoyed a stellar rookie campaign in 1912, winning 20 games and posting a 2.92 ERA through 41 games (28 starts). That carried over to the postseason, when Bedient allowed just one earned run to the New York Giants in 18 innings of work, including a complete game victory in Game 5. The Red Sox handed the ball to their star rookie hurler in the decisive Game 8, and Bedient delivered as Boston claimed its second championship. He held the Giants to one run and six hits in seven innings, and the Red Sox won in walk-off fashion in the 10th.
Babe Adams, Pirates -- 1909 World Series Game 7 vs. DET
9.0 IP, 0 ER, 1 K, 1 BB, W
Babe Adams broke out with a dominant turn in the Pirates' pitching staff in 1909, going 12-3 with a 1.11 ERA, prompting the Bucs to hand him the ball for three starts in the World Series against Detroit. Adams responded by pitching three complete-game victories, including a shutout in the decisive Game 7. Adams became the first rookie to start Game 7 of the World Series and held the Tigers to six hits and one walk with a strikeout.