Royals GM works for healing at hate-crime site
Moore's foundation and Overland Park JCC hold fifth youth baseball clinic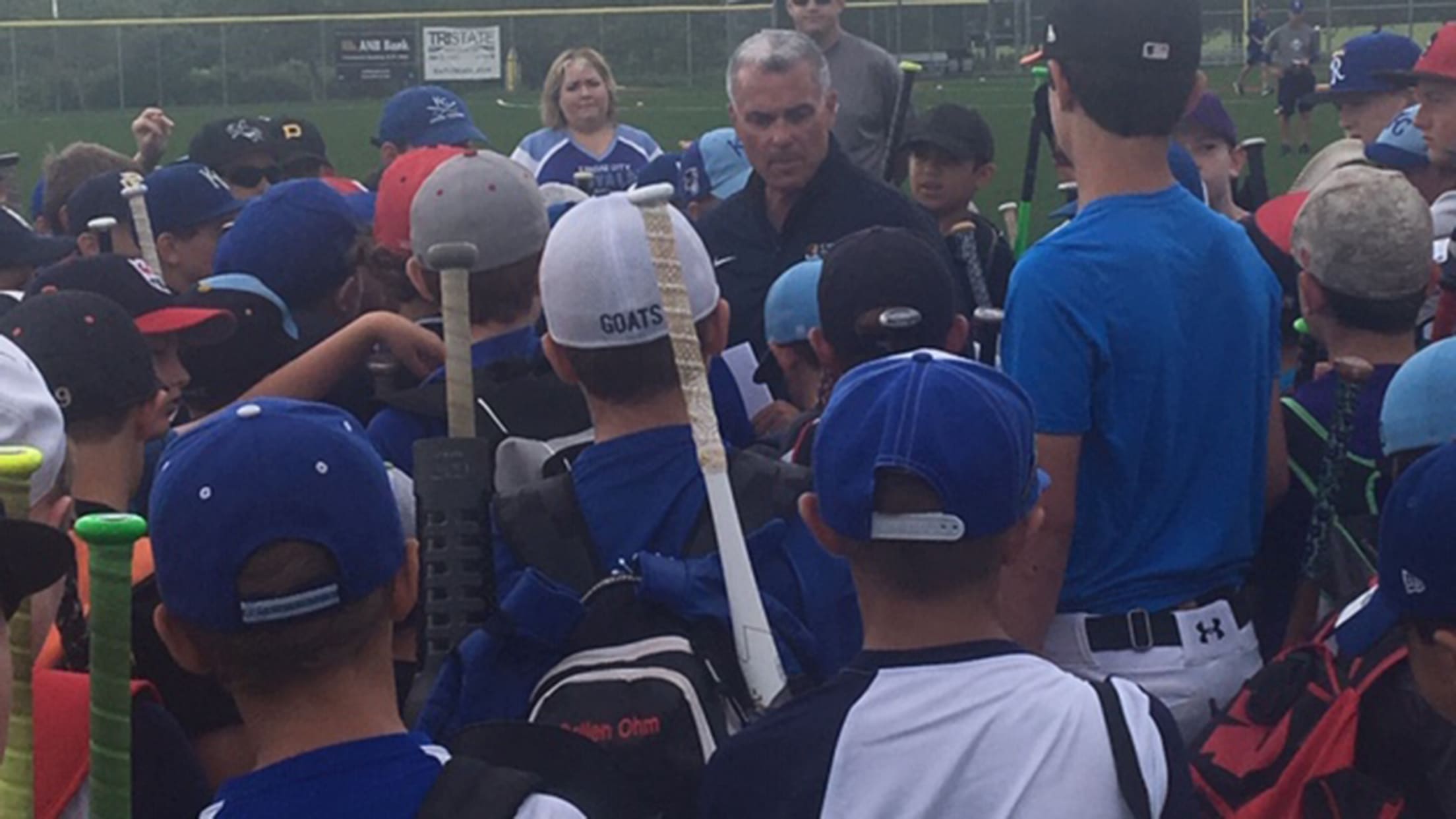 KANSAS CITY -- More than five years after the horrific hate-crime murders of three individuals at the Overland Park Jewish Community Center and the Village Shalom, a retirement community, the Royals are doing their part to assure life and love continue to prevail again at the JCC. It wasn't long
KANSAS CITY -- More than five years after the horrific hate-crime murders of three individuals at the Overland Park Jewish Community Center and the Village Shalom, a retirement community, the Royals are doing their part to assure life and love continue to prevail again at the JCC.
It wasn't long after those tragic April 13, 2014, murders took place that Royals senior VP, baseball operations/general manager Dayton Moore and his foundation C You in the Major Leagues decided to team up with the JCC to conduct an annual baseball clinic for youth.
For the fifth straight year, the clinic was under way on Wednesday, part of a four-day event attended by youngsters ages 8-12. About 112 aspiring ballplayers attended this year.
All eyes were on Moore Wednesday morning as he delivered a pep talk about having goals in life and the passion to reach them.
"This is a great team-building exercise for the kids here and for us," Moore said. "We have most of our front office here. It renews our spirit, too. You get around these kids and it reminds us why we do what we do."
Even now, Moore can vividly recall the heavy heart he felt when he heard about the shootings. He recites the names of the victims as if they were neighbors he had known for years -- 69-year-old Dr. William Lewis Corporon and his 14-year-old grandson, Reat Griffin Underwood, and 53-year-old Terri LaManno, an occupational therapist.
"We live in this community and your heart goes out to the families of the victims," Moore said. "It reminds you of how you go about your day in such a routine and innocent way, but anything can happen at any time. But that's why it's important to cherish every moment, and to keep pushing to make a difference in a positive way."
The baseball clinic will conclude on Thursday with another three-hour day filled with fun drills designed to improve fielding, throwing, batting and baserunning technique. At the end of the daily sessions, the attendees break up into groups to play an organized game.
"It's a very enthusiastic group again this year," Moore said. "I think they do as much to lift our mood as we do for them. And I've noticed they all have questions about the Royals. They ask about Whit [Merrifield] and Alex [Gordon] and when is Salvy [Perez] coming back. So you know they're watching."
Moore said he hopes to continue running the clinic at the JCC every year.
"It has always been the spirit of the front office to use our platform to grow the game of baseball and softball in our community," Moore said. "It fits right in line with Commissioner [Rob] Manfred's Play Ball initiative. We want to honor that. We want our kids and our grandkids to enjoy the game the way we enjoyed it."