Royals, O's, Rangers head trade bubble list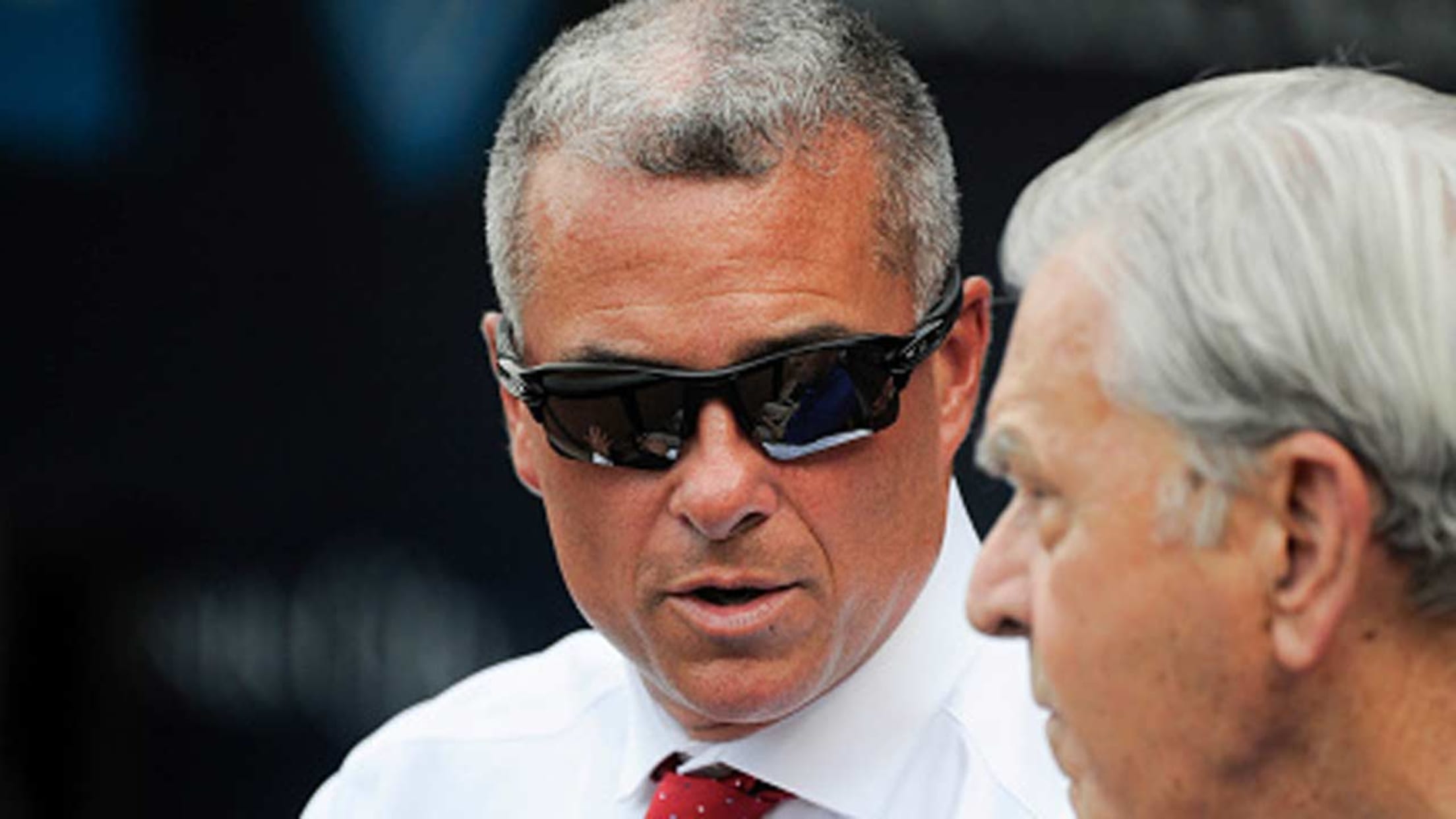 Given the Royals' recent October history, how could GM Dayton Moore avoid diving into the trade market? (Getty)
The Dodgers, Astros and Nationals are in. The Red Sox are also buyers. Brother, can you spare a third baseman?The Tigers, Athletics and Marlins are in sell mode, all looking to retool and get younger.That strategy works, too. If White Sox fans aren't excited about the waves of young talent
The Dodgers, Astros and Nationals are in. The Red Sox are also buyers. Brother, can you spare a third baseman?
The Tigers, Athletics and Marlins are in sell mode, all looking to retool and get younger.
That strategy works, too. If White Sox fans aren't excited about the waves of young talent in their system, they haven't been paying attention.
Those are some of the easy ones. For others, the decision isn't so simple. How do you know who's in and who's out when 21 of 30 teams are within five games of a postseason berth?
To those owners and general managers, these last 10 days leading up to the July 31 non-waiver Trade Deadline can be excruciating as they balance attempting to make a playoff run against acquiring bright and shiny talent that could fuel contenders for a decade?
All these teams on the edge of contending are one hot streak from soaring back into the race. Problem is, there's unlikely to be clarity by the Trade Deadline.
Let's consider five clubs in this gray area:
1. Royals
(47-47, 3rd place AL Central, -1.5 games; 3rd-place tie for second AL Wild Card, -2 games)
The Royals wouldn't even be a candidate for this bubble area if it weren't for the approaching off-season tsunami with so many key players eligible for free agency: Eric Hosmer, Mike Moustakas, Lorenzo Cain, Jason Vargas, Alcides Escobar.
If the Royals were out of contention, general manager Dayton Moore could dive headfirst into shaping the next generation of Kansas City baseball. But the Royals are 36-27 since a 10-20 start and plenty good enough to win the AL Central.
Given this group's October history, only a fool would bet against the Royals making another nice run. Given what they've done for the city and the franchise, they at least deserve the chance to go for it.
2. Orioles
(46-49, 6th place for second AL Wild Card, -3.5 games)
Just when we were convinced the Orioles were about to surprise us yet again, the Birds have been slowed by injuries and pitching problems. The Orioles are 24-39 since May 10, and with Chris Tillman and Seth Smith approaching free agency and Manny Machado, Adam Jones and Zach Britton a year away, the O's are at least willing to listen on Britton, who was one of baseball's best relievers the previous three seasons (1.38 ERA, 0.91 WHIP)
3. Rangers
(45-50, 7th place for second AL Wild Card, -4.5 games)
Can a team do both? That's the juggling act GM Jon Daniels could pursue. He's unlikely to trade 3B Adrian Beltre, but C Jonathan Lucroy, a free agent this offseason, definitely is on the block. Daniels' most interesting call will be RHP Yu Darvish, who is also a free agent this offseason. Given the market for pitching, Darvish, even as a rental, could bring a prospect or two. But if Daniels deals, it will be for a Major League-ready prospect to have the Rangers in contention next season.
4. Cardinals
(46-49, 4th place NL Central, -4.5 games)
Lance Lynn, anyone? He's approaching free agency and could be dealt whether the Cardinals decide they're in contention or not. Now about rebuilding. The Cardinals are not going down that road. They've got the core of their club signed for next season and have a deep enough farm system to make things interesting. If they make a big trade, it would be to upgrade the defense and power and give a team in danger of missing the postseason for a second straight season a different look.
5. Blue Jays
(44-51, 8th place for second AL Wild Card, -5.5 games)
Unless the Jays decide to trade 3B Josh Donaldson, their most marketable veteran, or find takers for pitchers Marco Estrada and Francisco Liriano, the Trade Deadline could pass quietly for baseball's most elderly club. The Blue Jays have made second-half sprints to the postseason the last two summers, and if Estrada gets straightened out and Aaron Sanchez stays healthy, that could happen again.
Richard Justice has been a reporter for MLB.com since 2011. Read his columns and follow him on Twitter at @RichardJustice This story was not subject to the approval of Major League Baseball or its clubs.