Lopez's desire, heart attract Royals to shortstop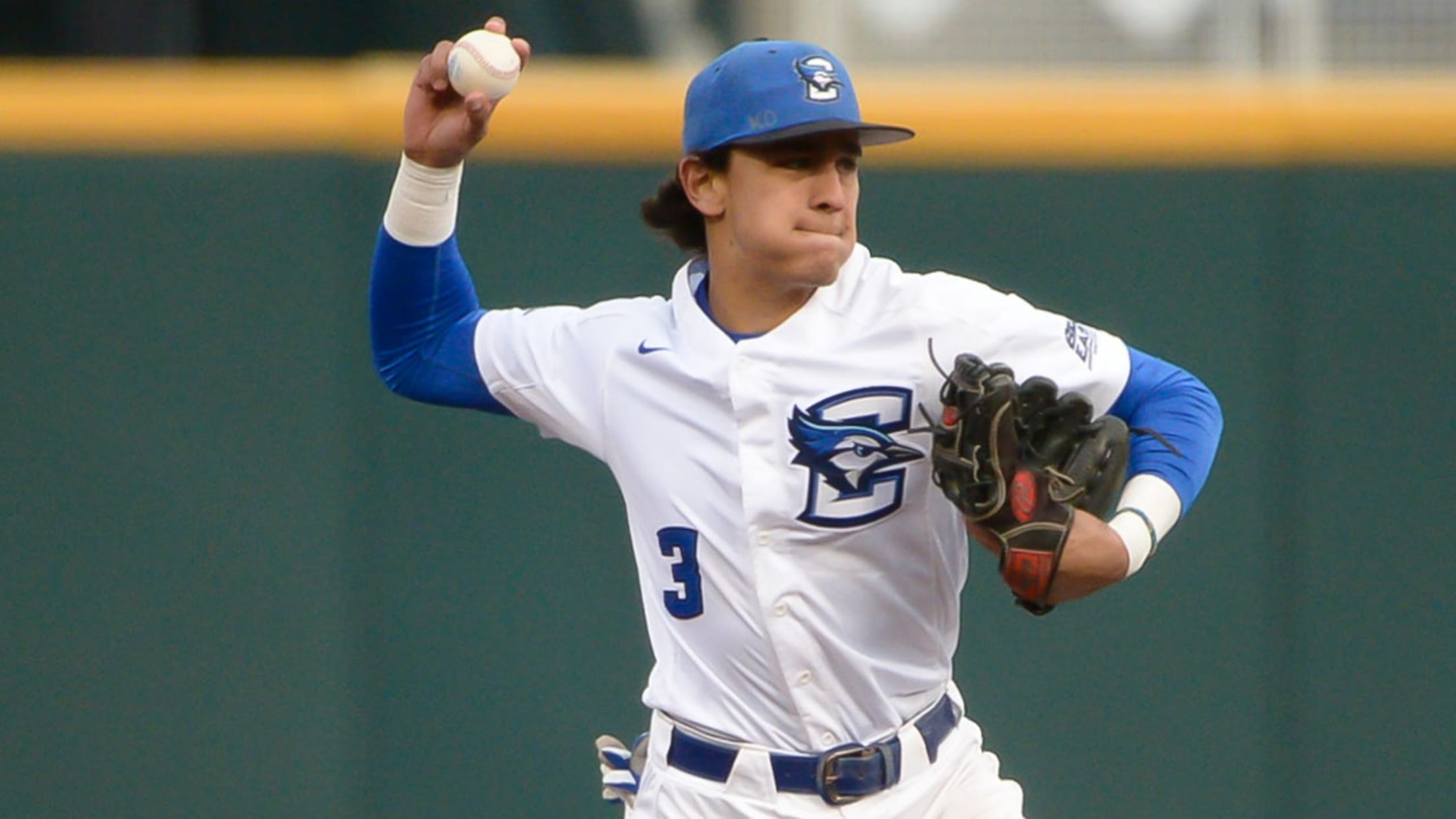 Nicholas Lopez is considered one of the top defensive shortstops in the 2016 Draft. (Creighton)
KANSAS CITY -- Creighton shortstop Nicholas Lopez is no stranger to adversity. As a sophomore, he was already dealing with the difficulty of switching positions from third to short when he suffered a slight tear in his right meniscus.After undergoing surgery, some might have expected Lopez to sit out a
KANSAS CITY -- Creighton shortstop Nicholas Lopez is no stranger to adversity. As a sophomore, he was already dealing with the difficulty of switching positions from third to short when he suffered a slight tear in his right meniscus.
After undergoing surgery, some might have expected Lopez to sit out a while. Instead, he made sure his absence was minimal. Lopez wanted to get back on the field right away, and he was able to limit his time missed to eight games.
• KC takes two-way HS star, then hits college scene
"There are going to be bumps in the road," Lopez said. "You just have to find a way to get through it."
The Royals took note of that perseverance. Director of Scouting Lonnie Goldberg said the team was really high on Lopez as a prospect, but it wasn't solely based on his playing ability.
Goldberg said several times that he was impressed by the way Lopez carried himself at the position -- with energy, a little flair and leadership traits. And that was on display in how Lopez dealt with said adversity, and it's been on display each time he's taken the field since.
"You can't take your eyes off him, because he's filled with energy," Goldberg said. "He can be a coaches' dream when he walks out on the field, because he's not going to have to tell him anything. Just tell him what time the bus leaves and he'll be ready to play."
:: Complete 2016 Draft coverage ::
Those traits carried Lopez through a three-year college career that's already been filled with memories. Even before he took over as shortstop, Lopez was turning heads as a freshman.
In his first year at Creighton, he took the third-base position by storm. He was given the chance to start, and he didn't surrender it. He even capped off his freshman season with a game-winning RBI in a 12-inning slugfest against Xavier that gave his team the Big East regular-season championship.
His sophomore year brought a new position and a new challenge with the injury, but he faced the challenges head on. As a junior, he continued to showcase his defensive ability while developing into a .306 hitter.
The rest was history. Lopez's dream of playing in the Majors was realized when he was selected in the fifth round by the Royals with the 163rd overall pick in the 2016 MLB Draft on Friday.
"When it got closer, I got a text saying, 'Keep your phone close. This might be the time,'" Lopez said. "It happened, and then the phone started blowing up."
Lopez said he expects to reach an agreement with the team shortly. Certainly, the Royals are just as eager to get him signed.
Goldberg said the team likes how he plays with not only quick feet but a little flair. Really, there was only one time the scouting director drew a blank talking about the new shortstop. It was when he was asked to find a player comparison.
"A left-handed-hitting shortstop with tools and energy," Goldberg said, "just ... Nicky Lopez."
Scott Chasen is a reporter for MLB.com based in Kansas City.