Finale with Royals PPD; Norris to skip start
Game rescheduled as part of day-night doubleheader on April 20; Zimmermann, Fulmer to stay on turn vs. White Sox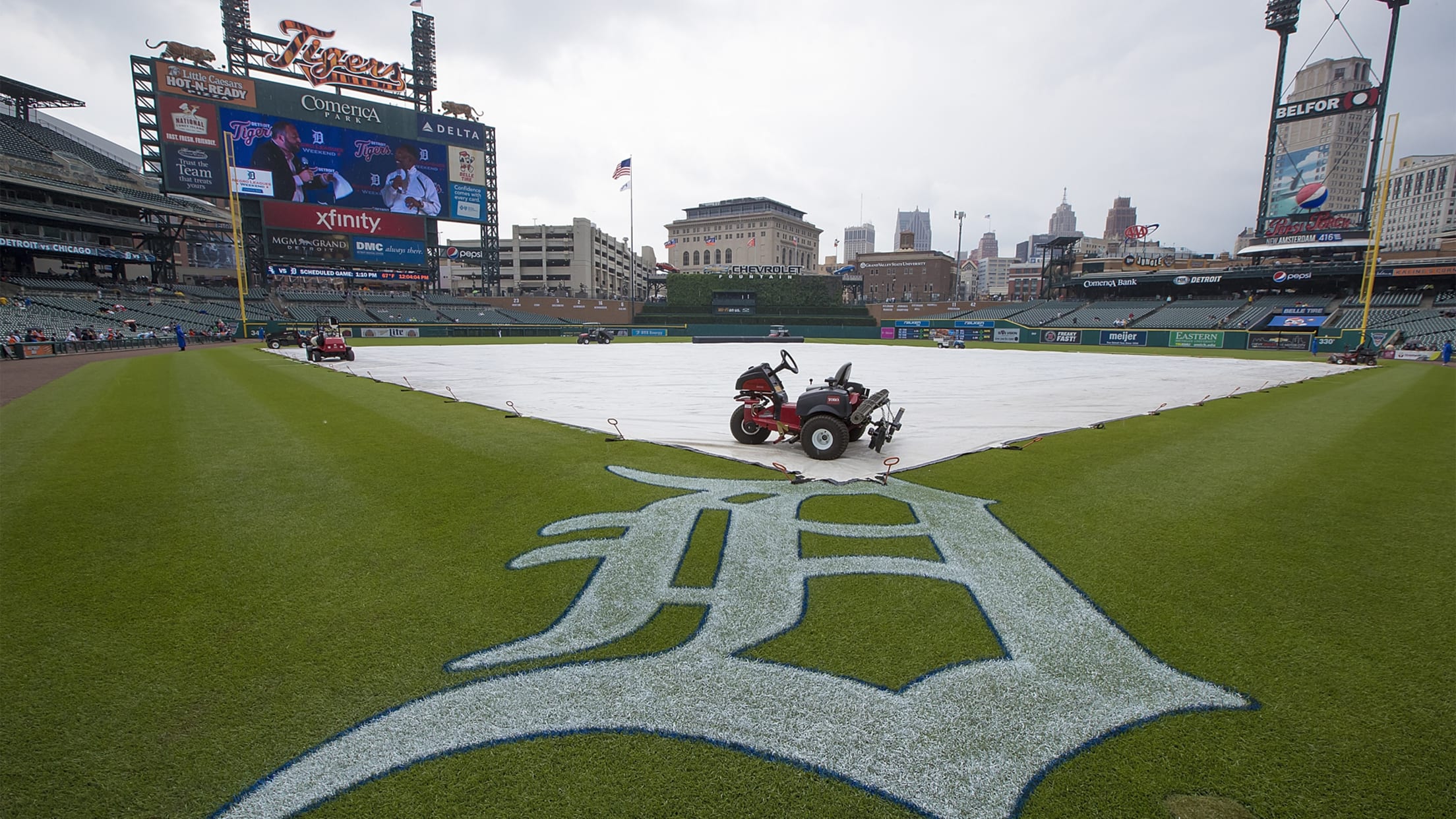 DETROIT -- Snow flurries, bitter cold and high winds led to the postponement of the final game in the first Tigers-Royals series of the season on Wednesday. The Tigers will now travel to Chicago for a three-game series against the White Sox, where they'll face more of the same weather
DETROIT -- Snow flurries, bitter cold and high winds led to the postponement of the final game in the first Tigers-Royals series of the season on Wednesday. The Tigers will now travel to Chicago for a three-game series against the White Sox, where they'll face more of the same weather concerns.
After a 1-0 loss on Tuesday, which saw equally dreary weather and an absence of offense, the teams conversed with MLB and opted not to go for a repeat under the same conditions, with 40-mph wind gusts and temperatures in the mid-30s. Instead, the Tigers and Royals will make up the game when the Royals return to Comerica Park on April 20 for what will now be a four-game series. The makeup game has been scheduled to begin at 1:10 p.m. ET as the first half of a split doubleheader, with that day's originally scheduled game starting at 7:10 p.m.
"Neither team -- we talked to [the Royals'] players and their reps over there -- said, 'Anything you can do to work this thing out is great,'" Tigers manager Ron Gardenhire said. "Because they didn't want to play, and our guys were in the same boat, just because it's so ugly out there. We played in it yesterday and it was a rough one."
As a result, the Tigers will adjust their rotation. Wednesday's scheduled starter, Daniel Norris, is being skipped. Jordan Zimmermann will stay on his regular turn and will start on Thursday for the Tigers, as they visit the White Sox for Chicago's home opener. After an off-day on Friday, Michael Fulmer will get the ball on Saturday.
Unfortunately, it doesn't look like the weather will be much of an improvement in Chicago.
"It's not going to be pretty," Gardenhire said. "We're just going to have to deal with it. Weather like this one today, it's not good. After yesterday, our guys took a beating yesterday, body-wise. [The Royals], same thing."
Wednesday's postponement marks the third game this season that has been postponed in Detroit due to inclement weather. The Tigers' home opener and Game 3 of the season, both against the Pirates, were the first two games to fall victim to the elements.
Norris likely will see time in minors, Reyes improving
Right-handed starter Mike Fiers is feeling great in his recovery from a lumbar strain in his back, but that's not such great news for Norris, who was supposed to make his season debut on Wednesday as the fifth starter while Fiers is on the 10-day disabled list.
Thus, Norris will work out of the bullpen on Thursday in Chicago until the Tigers make additional moves. Fiers' progress is being monitored, but Gardenhire said he is healthy, at this point, and it's likely that the right hander will be slotted into the rotation if he continues to improve. Meanwhile, the team will work on "backing [Norris] out" of his current slot.
Fiers' last rehab game on Tuesday resulted in six innings of work involving 83 pitches. Gardenhire is reluctant to go with 13 pitchers on the roster, because of a thin bench. He is hoping the team's starters will go a minimum of six or seven innings and offer some relief for the bullpen.
Meanwhile, outfielder Victor Reyes is showing improvement, as well. Reyes, who collided with Jose Iglesias on Sunday and required eight stitches in his right arm, was fully available for Wednesday's game.
"He feels good," Gardenhire said. "He's a little sore, but the doctors and trainers said they don't believe, unless he got hit the same way, he would rip the stitches open. We weren't going to [send him to the disabled list]. They told me we didn't need to do that. He's fine now. He's ready to go."
Catherine Slonksnis is a contributor to MLB.com based in Detroit and covered the Tigers on Wednesday.