De La Rosa overcomes poverty to make Majors
D-backs star righty had to balance school, baseball and work in Dominican Republic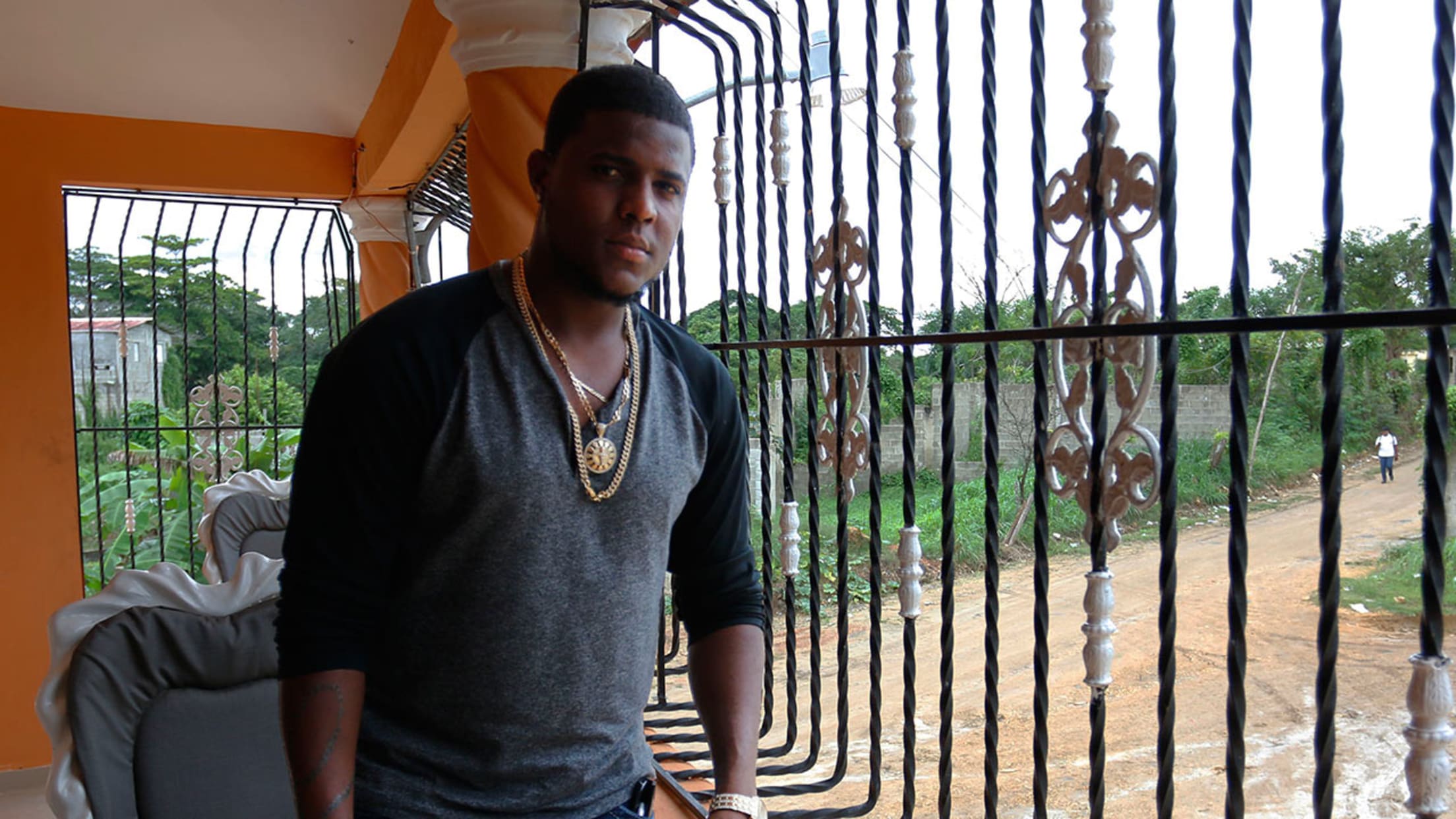 D-backs righty Rubby De La Rosa stands by his house in the Dominican Republic. (D-backs) (D-backs)
Rubby De La Rosa wasn't gifted an easy or comfortable life. The day after De La Rosa was born in Santo Domingo, Dominican Republic, his mother sent him to live with his grandmother. While she looked after him as best she could, it was a poverty-stricken childhood for the future
Rubby De La Rosa wasn't gifted an easy or comfortable life. The day after De La Rosa was born in Santo Domingo, Dominican Republic, his mother sent him to live with his grandmother. While she looked after him as best she could, it was a poverty-stricken childhood for the future D-backs pitcher.
"A lot of days, I would have only one or two meals, and sometimes I wouldn't have any," De La Rosa said. "I only had one pair of shoes to go to school, to play baseball, to do everything pretty much."
De La Rosa started working at a young age in an effort to support his grandmother and try to put food on the table consistently. It led to a tough balancing act as he tried to fit in his jobs, school and of course, baseball.
"I didn't know how to find the time to do all those things in the same day," De La Rosa said. "It was hard to keep on [baseball], because sometimes I didn't have food to eat, sometimes I didn't make it to school because I was late from work. Sometimes I didn't go to a field because I had to work my job."
But baseball was, and remains, De La Rosa's passion. It started as just a fun activity for him to pass the time. The thought of playing professionally didn't really cross his mind at first.
"I started playing baseball in front of the house with all of my friends," De La Rosa said. "I just realized when I was playing that I really liked it, so I should take it more seriously."
Though he now touts an arsenal of pitches with his electric right arm, De La Rosa's career didn't begin on the mound. His first position was left field. He was fine defensively, but when asked about his bat, he laughed about how bad it was.
"Then one day, they needed a pitcher to throw in Little League," De La Rosa said. "I said, 'I can throw. I can't throw strikes, but I can throw it to home plate.' When I threw my first time, I looked back and thought it was easy. I didn't have to bat, I didn't have to do all those other things."
De La Rosa took off from there, eventually signing with the Los Angeles Dodgers at 18 years old. The path to get there wasn't always easy, he said, and it hasn't been easy since, but he's grateful for the success he's had and the ability to help those with whom he grew up.
• Castillo discusses growing up in Dominican Republic
"I'm the guy always to be supporting my family, my people," De La Rosa said. "I've been put in a good position to help all of my family, and it makes me happy that I'm able to do that."
De La Rosa's grandmother passed away in 2011, his rookie year, before getting the chance to see him pitch in the United States. But it's easy to see she continues to influence his life, as De La Rosa tries to help others the way she once helped him. Particularly, he wants to reach the young Dominican ballplayers who try to follow in his footsteps.
"I try to help people to not have to go through what I went through," De La Rosa said, before adding the advice he extends to every player with whom he works. "Never get tired. Never stop fighting for what you want to do. Never throw in the towel."
Kyle Payne is a social media coordinator for the D-backs and contributor to MLB.com.