Martin's charity poker tourney a success
Event raises over $170,000 for Jays Care Foundation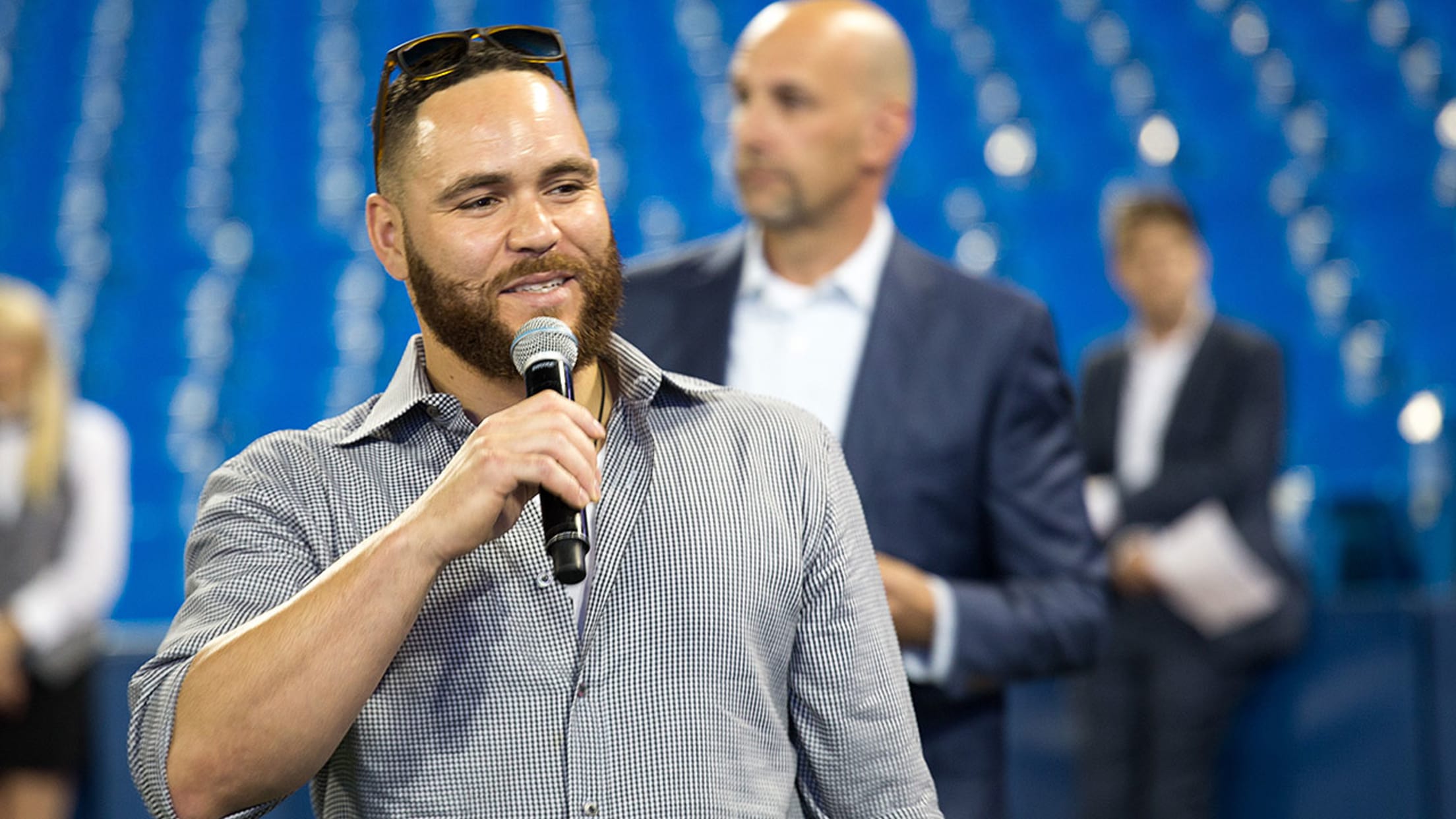 "It's rewarding, and it's just something that's fun to do," Russell Martin said. (Blue Jays)
TORONTO -- The Blue Jays and their fans went all-in for a good cause on Thursday evening at Rogers Centre.For one night, the home field was transformed into a strategic gaming zone for Russell Martin's inaugural poker tournament, aptly named the 55 Poker Classic.Held in conjunction with Jays Care Foundation
TORONTO -- The Blue Jays and their fans went all-in for a good cause on Thursday evening at Rogers Centre.
For one night, the home field was transformed into a strategic gaming zone for Russell Martin's inaugural poker tournament, aptly named the 55 Poker Classic.
Held in conjunction with Jays Care Foundation -- the charitable arm of the Blue Jays -- fans were given an opportunity to enter the tournament and test their poker skills against members of the current Toronto roster, as well as special alumni guests.
In addition to Martin, fellow Blue Jays José Bautista, Devon Travis, Marco Estrada, Darwin Barney and Marcus Stroman showed off their poker skills, while former Major Leaguers Devon White, Lloyd Moseby, Duane Ward and Tanyon Sturtze were also on hand to partake in the festivities.

"I knew I wanted to do something for the community, and I just kind of threw that out there with our fans," Martin said about the idea behind the tournament. "When you're just doing something that's positive and everyone is behind it, you feel really good about it. It's rewarding, and it's just something that's fun to do."
The tournament saw 10 tables scattered across the outfield at Rogers Centre, with a chance for fans to enjoy dinner, enter an auction to win exclusive prizes, take a behind-the-scenes tour of the Blue Jays' clubhouse and purchase exclusive team memorabilia.
The event raised over $170,000 for Jays Care Foundation, which will be used to continue building safe spaces and supporting organizations dedicated to improving the lives of all Canadian youth.
Established in 1992, Jays Care Foundation continues to focus on using baseball as a tool to engage youth in active lives and developing leadership skills that can last a lifetime. This season alone, Jays Care Foundation will invest over $5 million across the nation.
"We've got a lot of fans across the country who love the Jays and also love what Jays Care does for some of the most vulnerable youth across the country," Jays Care Foundation executive director Robert Witchel said. "They approached us a year ago and said, 'Hey, we want to do a poker tournament, is there someone on the team who is interested?' We put it out there and Russ stepped up, as he always does, and said, 'I'll be the chair of that.'"
With tickets selling out less than five hours after going on sale, the 55 Poker Classic falls right in line with some of Jays Care Foundation's most popular events. Although Martin called his own poker game "rusty," he does believe the event will become a staple in Jays Care Foundation's yearly roster of initiatives.
"The goal is to make money and put it in places where kids are going to strive," Martin said. "Hopefully, they are given more opportunities with what they're able to do with that money.
"We're trying to create positive waves and work to change people's lives. It was run really well, and hopefully next year we can make it even a bit bigger."