Braun (hamstring) a late scratch vs. Cubs
Anderson set for Monday rehab start; Crew may use opener before Peralta again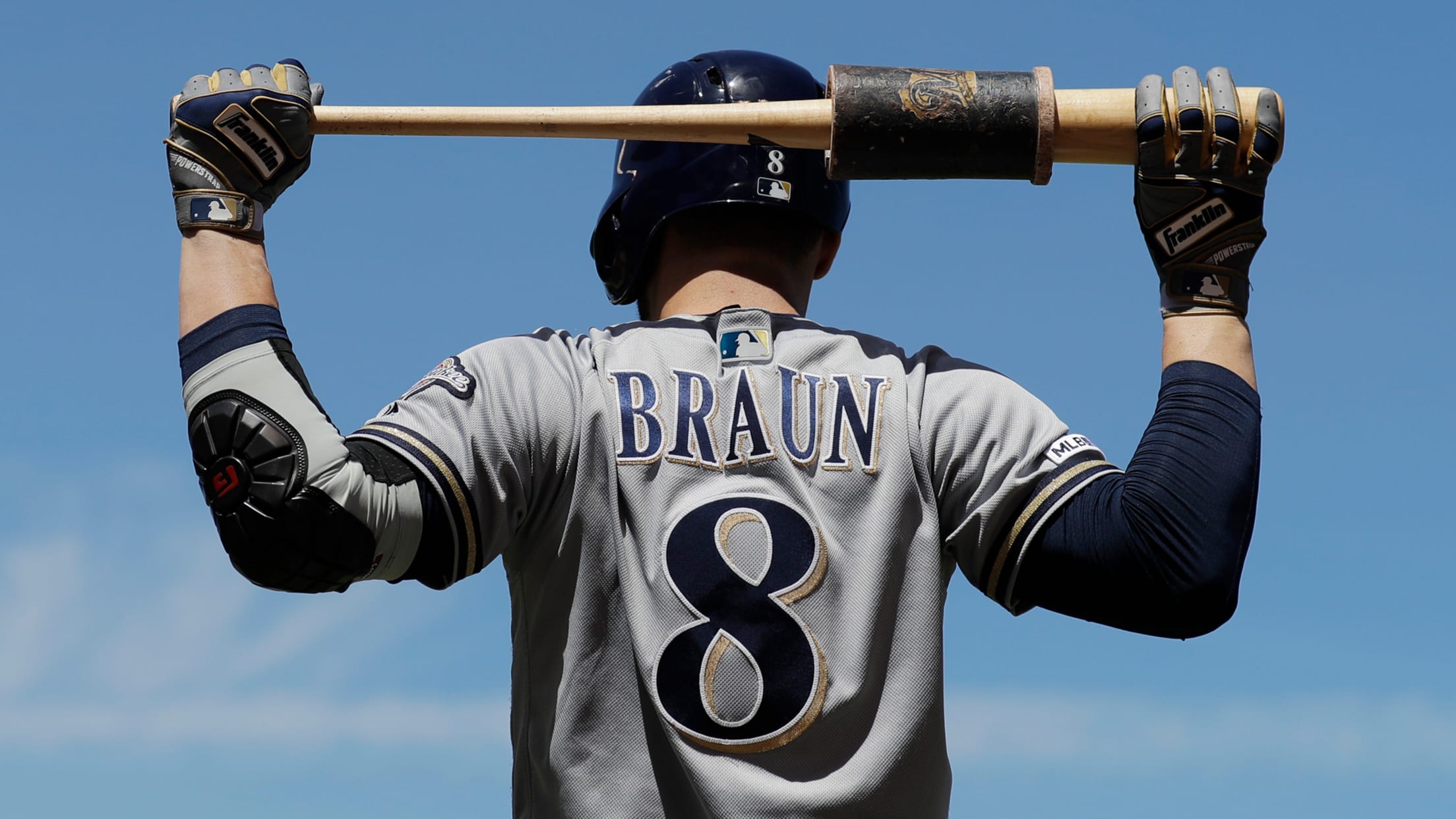 MILWAUKEE -- There's never a good time for a tight left hamstring, but Ryan Braun's acted up on Saturday at a particularly inopportune moment. It forced a late-morning scratch from the Brewers' starting lineup for what became a 15-inning, 2-1 loss to the Cubs at Wrigley Field, and it cost
MILWAUKEE -- There's never a good time for a tight left hamstring, but Ryan Braun's acted up on Saturday at a particularly inopportune moment. It forced a late-morning scratch from the Brewers' starting lineup for what became a 15-inning, 2-1 loss to the Cubs at Wrigley Field, and it cost Braun some at-bats in matchups which historically have favored him.
Manager Craig Counsell said Braun's hamstring acted up while he was running the bases in Friday's series-opening win.
"Hopefully get him back in there [Sunday]," Counsell said.
Here's a look at what Braun and the Brewers were missing by the numbers:
• Including a fourth-inning solo home run on Friday that got the Brewers started on a 7-0 win, Braun entered the day a .325 hitter with 18 homers and 69 RBIs in his first 84 career games at Wrigley Field. The only active player with more home runs or RBIs at Wrigley is Albert Pujols (29 homers and 75 RBIs).
• Braun's longball came off Jose Quintana, one of three left-handed pitchers slated to start for the Cubs in this series. By day's end, Braun's career OPS against southpaws was 1.000, fourth-highest among active players. Only Nolan Arenado (1.026 OPS), Giancarlo Stanton (1.023) and Paul Goldschmidt (1.011) were better. Pujols is the only active player with more home runs against left-handers, with 165 to Braun's 102.
• Braun is a career .302 hitter with three homers in 43 career at-bats against Saturday's Cubs starter, Cole Hamels.
Lefty Jon Lester is scheduled to start for the Cubs on ESPN's Sunday Night Baseball. Braun is 8-for-20 (.400) lifetime against Lester.
Anderson ready for rehab assignment
After clearing a mound session Friday with his right ring finger intact, Chase Anderson will make a rehab start for Triple-A San Antonio on Monday before rejoining the Brewers in a role to be determined later in the week.
Anderson has been on the 10-day injured list since a callus on his finger broke open while he was warming up for a scheduled start against the Rockies on May 1.
"No issues with the finger. I'm champing at the bit to get back, that's for sure," Anderson said.
Monday's rehab start for the Missions at New Orleans will be an extended outing, so Anderson will need time to recover after rejoining the Brewers on Tuesday in Philadelphia. Precisely when the Brewers opt to activate him, and what role he will fill upon his return, will be dictated in part by circumstances.
"We'll see where we're at. We'll get him healthy, and then that's a week away," Brewers manager Craig Counsell said. "We plan to keep him extended as much as we can."
Anderson opened the season as the Brewers' long reliever before moving into the rotation out of need. But while his last-minute scratch created some immediate challenges, Milwaukee's pitching stabilized in the 10 days that followed, creating a situation in which the club may be able choose how it wants to use Anderson upon his return.
"It's 120 games left, and we're going to need depth, we're going to need options," Counsell said. "We're in a really good place right now with both of those. But we know there's going to be bumps in the road ahead of us."
Last call
• Brewers senior director of media relations Mike Vassallo listed "TBA" in the team's daily press notes where Monday's probable starting pitcher would go, indicating the Brewers will employ an "opener" in front of Freddy Peralta for the second straight turn through the rotation -- if bullpen circumstances allow. Peralta tends to have trouble in the first inning, so Milwaukee had Adrian Houser pitch the first two innings of Peralta's last turn, and Peralta delivered five scoreless innings.
• The Brewers are on Madison Bumgarner's eight-team no-trade list along with the Braves, Red Sox, Cubs, Astros, Yankees, Phillies and Cardinals, reported MLB Network insider Ken Rosenthal on Saturday. But as Rosenthal explained, that's not an indication Bumgarner does not want to go to any of those clubs. Rather, it gives a player some say in his destination should his team try to trade him to a contender.
• Center fielder Lorenzo Cain was back in the Brewers lineup Saturday after fouling a pitch off his right shin, just below his knee, in Friday's victory.