Buchter impressive against hometown crowd
Reliever grew up near Philly, relishes experience on mound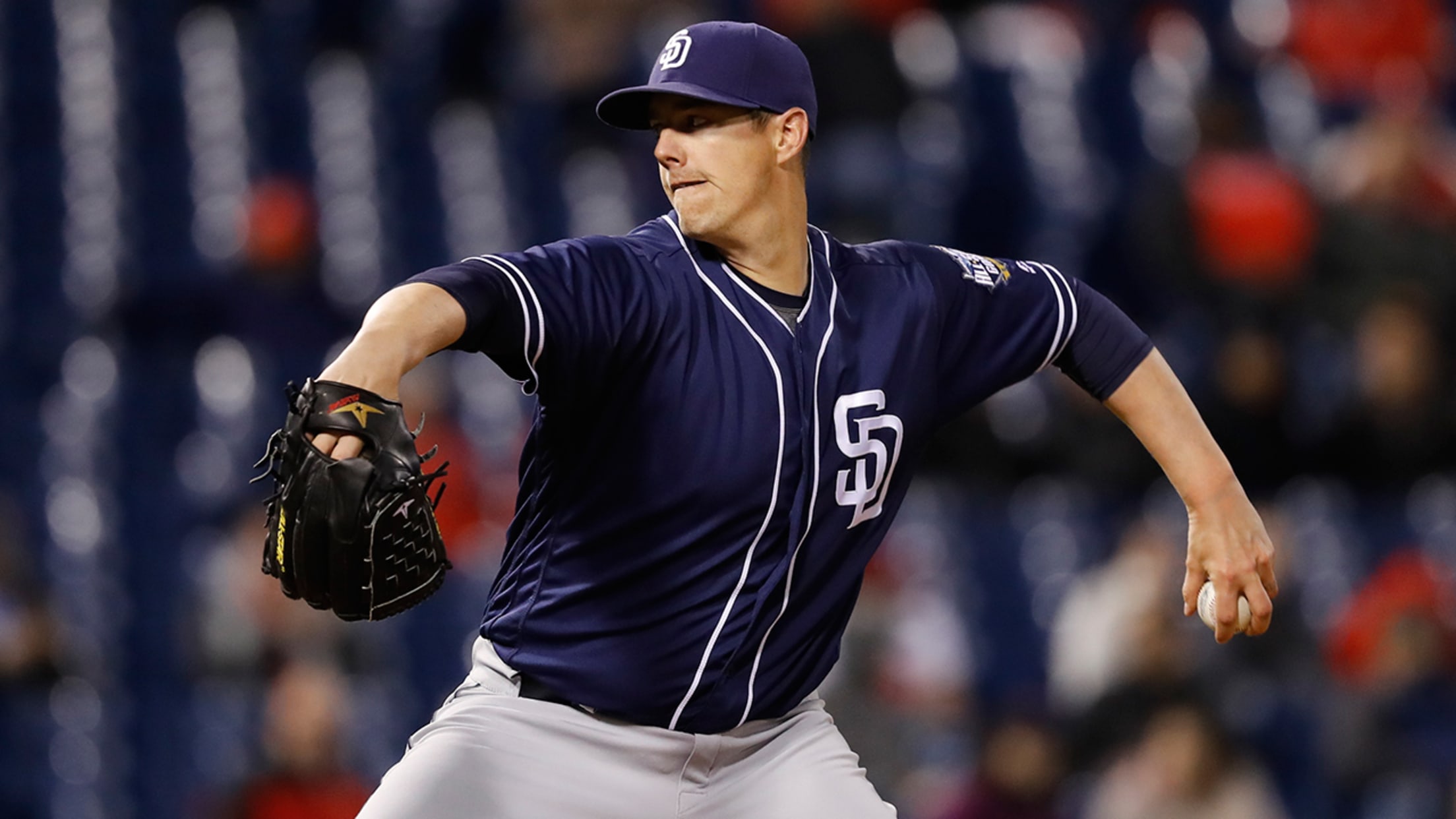 Ryan Buchter has had friends and family in the crowd during the Padres' visit to Philadelphia. (AP)
PHILADELPHIA -- Ryan Buchter was so locked in on the Citizens Bank Park mound Tuesday night, he didn't even notice what was happening about 100 feet away on top of the Phillies' dugout. The Phillie Phanatic, Philadelphia's famed mascot, jumped on top of the dugout and began his seventh-inning dancing
PHILADELPHIA -- Ryan Buchter was so locked in on the Citizens Bank Park mound Tuesday night, he didn't even notice what was happening about 100 feet away on top of the Phillies' dugout. The Phillie Phanatic, Philadelphia's famed mascot, jumped on top of the dugout and began his seventh-inning dancing ritual -- an attempt to put a hex on the Padres left-hander.
It was the very same Phillie Phanatic that Buchter watched as a kid, attending games at Veterans Stadium. Buchter grew up across the Delaware River in Blackwood, N.J., about 15 minutes from the ballpark, and he still resides in Deptford, N.J., during the offseason.
"I was watching game film afterward, and I actually said to them, 'I wish I could've seen it when it was happening,'" Buchter said of the Phanatic's antics.
During the Padres' series in Philadelphia, Buchter estimates about two dozen tickets per game have gone to his friends and family. They haven't left disappointed.
Buchter tossed a scoreless inning Tuesday and another Wednesday, both times blowing through the heart of the Philadelphia order without allowing a hit.
"You still have to do a job," said Buchter. "Even though it's close to home, you still have to go out and pitch."
Buchter tries to attend an Eagles game or two every offseason, and he still keeps tabs on other Philadelphia teams. The first two batters Buchter faced on Tuesday were Ryan Howard and Carlos Ruiz, both Philadelphia legends in their own right.
"I faced them in Spring Training for Atlanta for three years, so I'm kind of numb to it now," Buchter said. "But it's still pretty cool."
Buchter appeared to be a longshot to make the Padres' bullpen at the beginning of camp, but the addition of Drew Pomeranz to the rotation left a spot open for a lefty reliever in the bullpen.
For most of Spring Training, Buchter flew largely under the radar -- but not in the eyes of Padres skipper Andy Green.
"I was impressed with him the first time I talked to him in the offseason," Green said. "He was a guy I targeted right away from the amount of confidence he had. What he said to me in the first conversation I had with him, it was an understanding that this guy believes [he's] a Major League pitcher that just hasn't received an opportunity to do that on a consistent basis.
"He came out and showed that all the way through Spring Training. At this point in time, absolutely nothing has rattled him."