Cards protect top prospects Helsley, Cabrera
Schrock, Fernandez, Ynfante will be available in Rule 5 Draft; Greene, Gonzalez DFA'd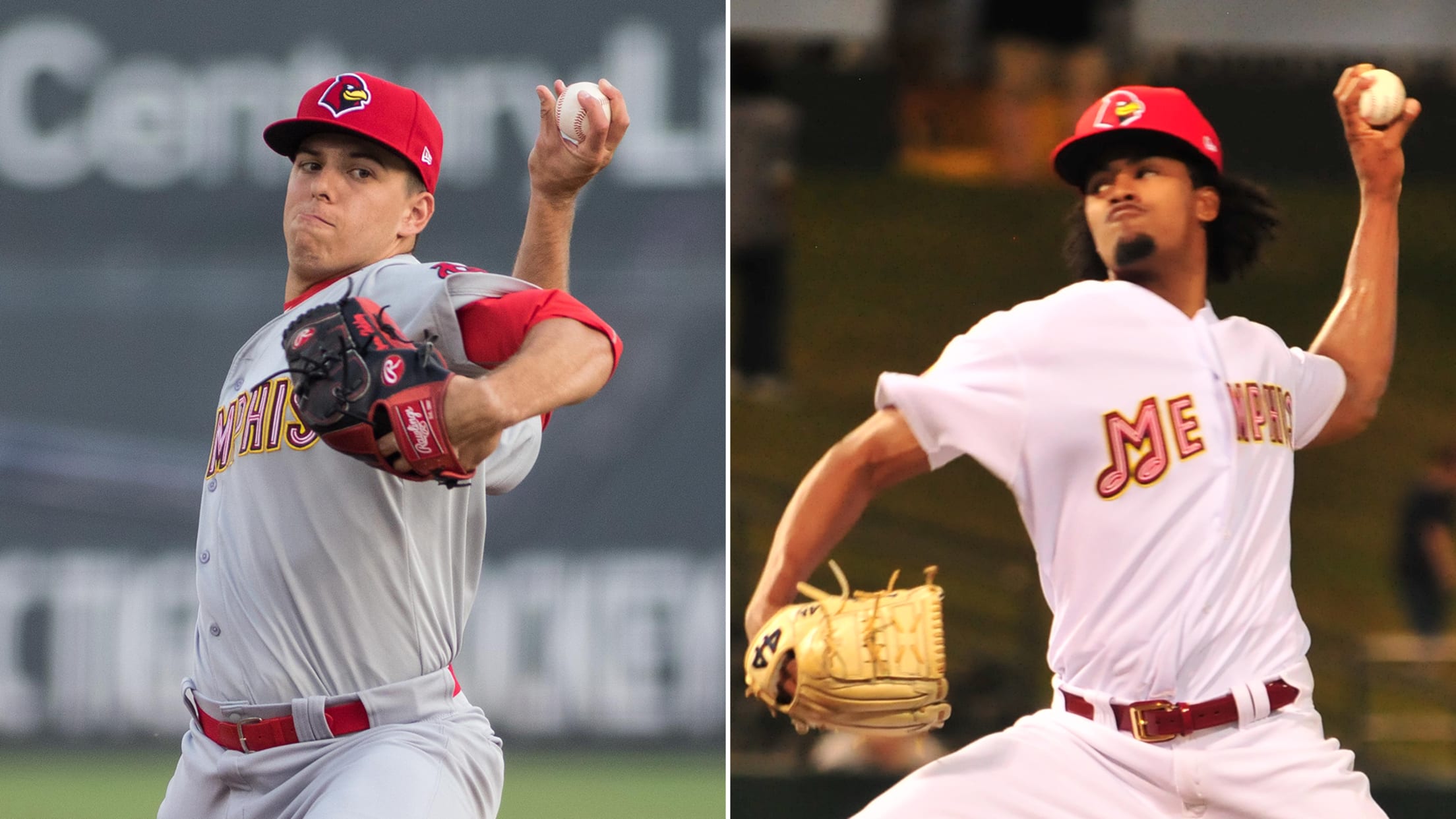 The annual deadline to protect prospects from the Rule 5 Draft came with some significant roster rejiggering for the Cardinals, who backpedaled on two players they chose to protect last year, safeguarded two ascending talents and hinted at the chance of two others playing significant 2018 roles at the big
The annual deadline to protect prospects from the Rule 5 Draft came with some significant roster rejiggering for the Cardinals, who backpedaled on two players they chose to protect last year, safeguarded two ascending talents and hinted at the chance of two others playing significant 2018 roles at the big league level.
Tuesday's series of moves left the Cardinals' 40-man roster full. Here is a breakdown of how the roster was reshuffled, and what it means for the club going forward.
Who was protected?
RHP Ryan Helsley (No. 4 prospect): The hard-throwing 24-year-old began 2018 ranked above both Jordan Hicks and Dakota Hudson on most prospect lists, but he stalled due to shoulder soreness that sidelined him for much of the summer. With a fastball that touches 98 mph, the right-hander has drawn comparisons to former Cardinals closer Trevor Rosenthal.
LHP Genesis Cabrera (No. 13): The prize of the prospect package Tampa Bay sent to St. Louis in last July's Tommy Pham trade, the 22-year-old has the advanced stuff to profile as a potential middle-of-the-rotation starter. But now he seems like a dark-horse candidate to earn a big league spot next spring as a reliever, particularly for a Cardinals club starving for impact left-handed bullpen help.
OF Lane Thomas (Unranked): Acquired for international bonus pool money from the Blue Jays in 2017, the 23-year-old broke out in his first full season in the Cardinals' system this summer, hitting 27 home runs and stealing 17 bases across Double-A Springfield and Triple-A Memphis. His progression in part made the Cardinals more comfortable dealing away Oscar Mercado, whom they protected from Rule 5 Draft eligibility at this point last winter, then traded to Cleveland in July.
INF Ramon Urias (No. 20): Signed out of the Mexican League, the 24-year-old hit .300/.356/.516 with 13 home runs across two levels last season, and he played a big role in Memphis' Pacific Coast League championship run. He's capable of playing all four infield positions.
Which prospects were left unprotected?
2B Max Schrock (No. 11): Acquired along with Yairo Munoz in the Stephen Piscotty trade, the 24-year-old brings skills in two areas of need for the Cardinals: left-handed hitting and defensive versatility. But his offensive numbers plateaued last season at Memphis in his first crack at Triple-A (.249/.296/.331).
RHP Junior Fernandez (No. 14): Control issues and inconsistency have muddied the 21-year-old's shine somewhat, but the Cardinals still love the ceiling that comes with his near triple-digit fastball.
OF Wadye Ynfante (No. 23): A converted infielder who can now play all three outfield positions, Ynfante brings plus speed, athleticism and a projectable bat. But at age 21, he has yet to play behind short-season A ball. That inexperience makes him unlikely to be plucked from the Rule 5 Draft and stick in the Majors for a full season.
Who was removed from the roster?
RHP Conner Greene (previously No. 20): The second of two hard-throwing righties (along with Dominic Leone) acquired from Toronto for Randal Grichuk last winter, Greene's progress continued to stall due to control issues. Now 23, he walked 7.1 batters per nine innings in his first crack at Triple-A, then struggled mightily in the Arizona Fall League (14 BB/9 IP).
RHP Derian Gonzalez (Unranked): When they protected him from the Rule 5 Draft a year ago, the Cardinals hoped Gonzalez could iron out the command issues that hindered his path to the Majors as a starter. But they persisted enough for the Cardinals to send him to rookie ball as a 23-year-old this summer, and when back in the upper levels, the right-hander struggled in exclusively relief roles.
When a player's contract is designated for assignment -- often abbreviated "DFA" -- that player is immediately removed from his club's 40-man roster. Within seven days of the transaction (had been 10 days under the 2012-16 Collective Bargaining Agreement), the player can either be traded or placed on irrevocable outright waivers.
What does it mean going forward?
The Cardinals' 40-man roster consists of 13 potential relievers after Tuesday's moves, and that's without counting Alex Reyes, who could return from injury to a bullpen role, or Adam Wainwright, whose 2019 role remains undefined. All of them except Cabrera and Helsley appeared in the Majors in '17, so expect tons of competition come spring.
As for this offseason, packing the 40-man roster means any additional moves would require turnover. The most likely way the Cardinals could create space is via trade, as the club continues to gauge market interest in Jose Martinez and possibly others.
The current logjam makes the Cardinals unlikely candidates for any Rule 5 Draft selections themselves, something they haven't done since snagging Matt Bowman from the Mets in 2015.