Howard's 58-homer season was one for the ages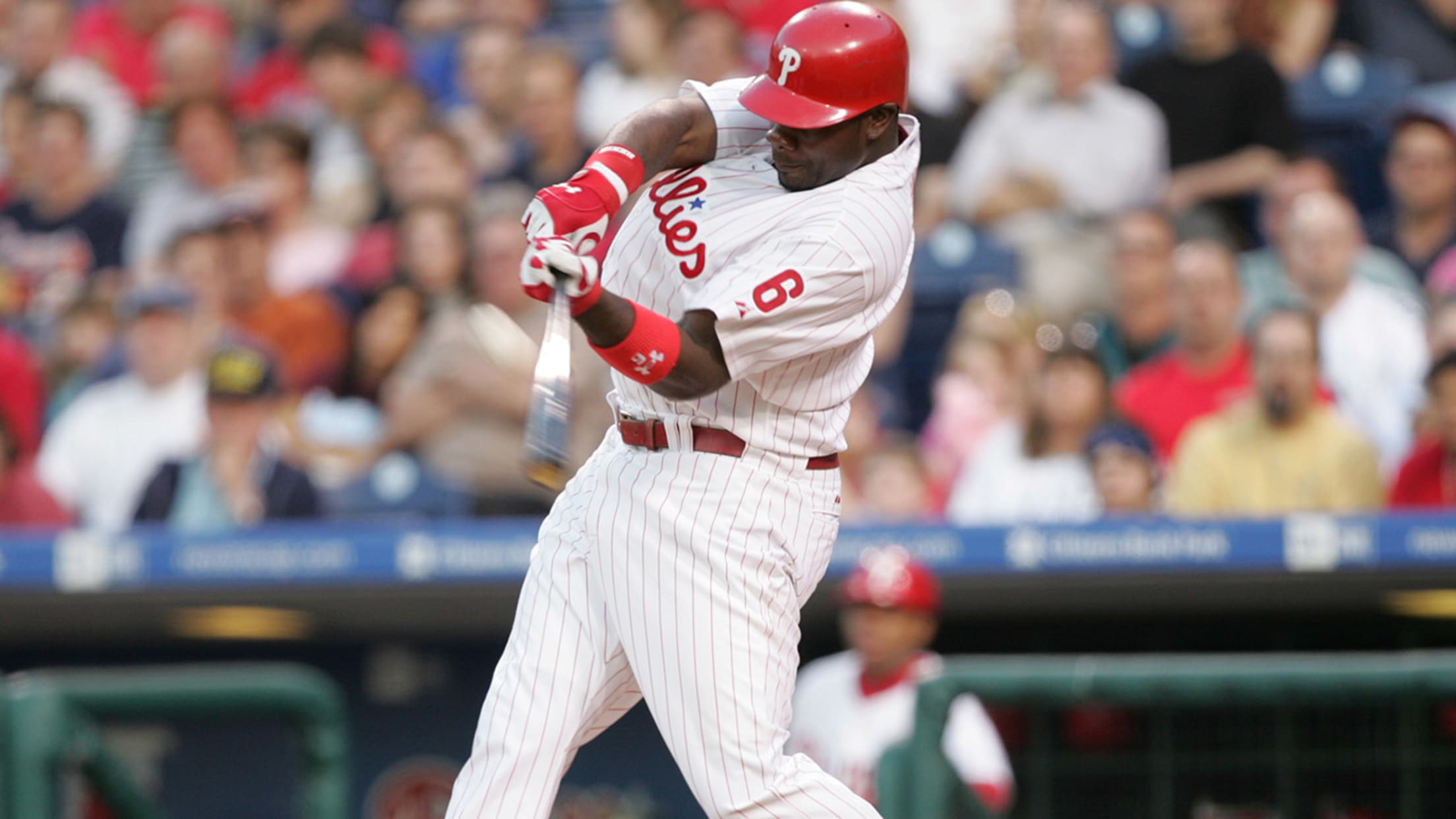 When it comes to Phillies single-season home run record holders, six players are on a short list. Of the half-dozen, only Schmidt was a right-handed hitter. He, Sam Thompson and Chuck Klein are enshrined in the Baseball Hall of Fame in Cooperstown, N.Y.20: OF Sam Thompson (1899) 24: RF Gavvy
When it comes to Phillies single-season home run record holders, six players are on a short list. Of the half-dozen, only Schmidt was a right-handed hitter. He, Sam Thompson and Chuck Klein are enshrined in the Baseball Hall of Fame in Cooperstown, N.Y.
20: OF Sam Thompson (1899)
24: RF Gavvy Cravath (1915)
26: CF Cy Williams (1922)
41: CF Cy Williams (1923)
43: RF Chuck Klein (1929)
48: 3B Mike Schmidt (1980)
58: 1B Ryan Howard (2006)
As a 25-year-old rookie in 2005, Howard hit 22 home runs in 88 games, good enough to earn National League Rookie of the Year Award honors. Power was his forte, as he hit 112 in 515 Minor League games. Yet, no one could forecast what he would do in his second major league season (2006). Bottom line: Howard obliterated Schmidt's record by blasting 58 home runs.
• Phillies alumni
Howard, nicknamed "The Big Piece" by manager Charlie Manuel, tied Schmidt's record on Aug. 29 -- the fourth consecutive game in which he went deep. It was a simple matter of when, not if, he would surpass Schmidt's 26-year-old record. Two days later in Washington, D.C., Howard did it in typical fashion, a mammoth home run into section 461 of the RFK Stadium upper deck. He destroyed a 2-2 fast ball from Pedro Astacio at 8:04 p.m. Ken Mandel of MLB.com wrote, "A few feet higher and it would've been considered a hostile flying object in restricted D.C. airspace."
Manuel said, "That had lift. It kept going. He's a special player and legit." Battling for a Wild Card spot, the Phillies lost the game in 10 innings, 6-5, to the Nationals. His historic homer had tied the game at 2-2 in the fourth inning -- the 25th time that one of his bombs either tied a game or gave the Phillies a lead.
"It was great, but the big thing is that we lost the game," Howard said. Losses were critical, as the Phillies were trying to earn the wildcard berth and their first postseason appearance since 1993.
Sitting on 49 home runs, where would he finish? A month more of baseball was to be played. Returning to Citizens Bank Park, Howard quickly did some major damage. The date was Sept. 3, a Sunday afternoon against Atlanta. Facing right-hander Tim Hudson, Howard hit three consecutive home runs on a total of nine pitches: 2nd inning, 0 on, 0 out; 3rd inning, 1 on, 2 out; 6th inning, 0 on, 0 out. His bid to hit four straight ended with a one-out single in the 8th off Macay McBride. The Big Piece had just become the 23rd player ever to reach 50.
"Howard's performance electrified the building, as standing ovations, curtain calls and chants of 'MVP' dominated the afternoon," wrote Dennis Deitch in the Delaware County Daily Times.
Howard's total now stood at 52, the most ever hit by a player in his sophomore big league season. Hall of Famer Ralph Kiner of the Pirates held the distinction with 51 in 1947. Visons of 60 began dancing in the heads of fans and the media. Would he become the sixth to reach that lofty plateau? Twenty-six games remained and he needed eight more. On September 22, game #153, he became the eighth player to reach 58 with a three-run blast off Ricky Nolasco of the Florida Marlins. It matched Jimmie Foxx, who hit 58 for the Athletics in 1932 setting a Philadelphia record.
With nine games remaining, two more for 60 seemed within his grasp. As we all know, he didn't get there. Ryan got 10 hits and walked 10 times, six being intentional in those nine games.
"Someday in the offseason, when I look back at this season, it will be special. I try to stay locked in and try to win games. One day I'll wake up and realize what happened," he said at the time.
Critics pointed to the fact Howard played in hitter-friendly Citizens Bank Park. Well, he hit 29 there to match Schmidt's 1979 record for most home runs at home in Phillies history, and 29 on the road, equaling Chuck Klein's club record set way back in 1932.
"You hear talk about the ballpark we play in and things like that," said Manual. "Honestly, it doesn't matter where Ryan plays. His home runs are legitimate."
Howard also set club records for most home runs in August (14) and RBIs for that month (41). His 37 intentional walks were yet another record. His 149 RBIs were second only to Klein's 170 in 1930, and his .659 slugging percentage trailed only Klein's .687 in 1930. He also led the team with a .313 average. The last Phillie to lead in average, home runs and RBIs was another left-handed hitting first baseman, John Kruk, in 1991.
"The Big Piece" Nuggets
• Became the 23rd player to reach 50 home runs.
• Led all MLB players with homers off a left-handed pitchers (16), the opposite field (28), May (13) and August (14).
• Had seven multi-home run games, matching Dick Allen's 1968 club record and equaled by Chase Utley also in 2006.
• Set a club record by homering in 16 of the 19 parks he played in, missing Fenway Park, Miller Park and PNC Park.
• 28 home runs either tied the game or gave the Phillies a lead (5 tied, 23 lead). • 26 came when the count was even.
• 13 in the sixth inning, the favorite inning for #6.
• Phillies were 32-18 (.640) when he homered.
• Won the Century Home Run Derby at the All-Star Game.
• To no one's surprise, he didn't have one inside-the-park home run.
Those fan chants of "MVP", "MVP", "MVP" became a reality when he was named the National League's Most Valuable Player after the season. He joined legend Cal Ripken Jr. (1982-83) as the only players to win Rookie of the Year and MVP awards in back-to-back seasons.
58 home runs in one season. Hundreds of Phillies dreamed of doing that. Only one did it. A historic feat to remember.
Larry Shenk is the vice president of alumni relations for the Phillies.