Nats plan to give both Zim, Adams starts at 1B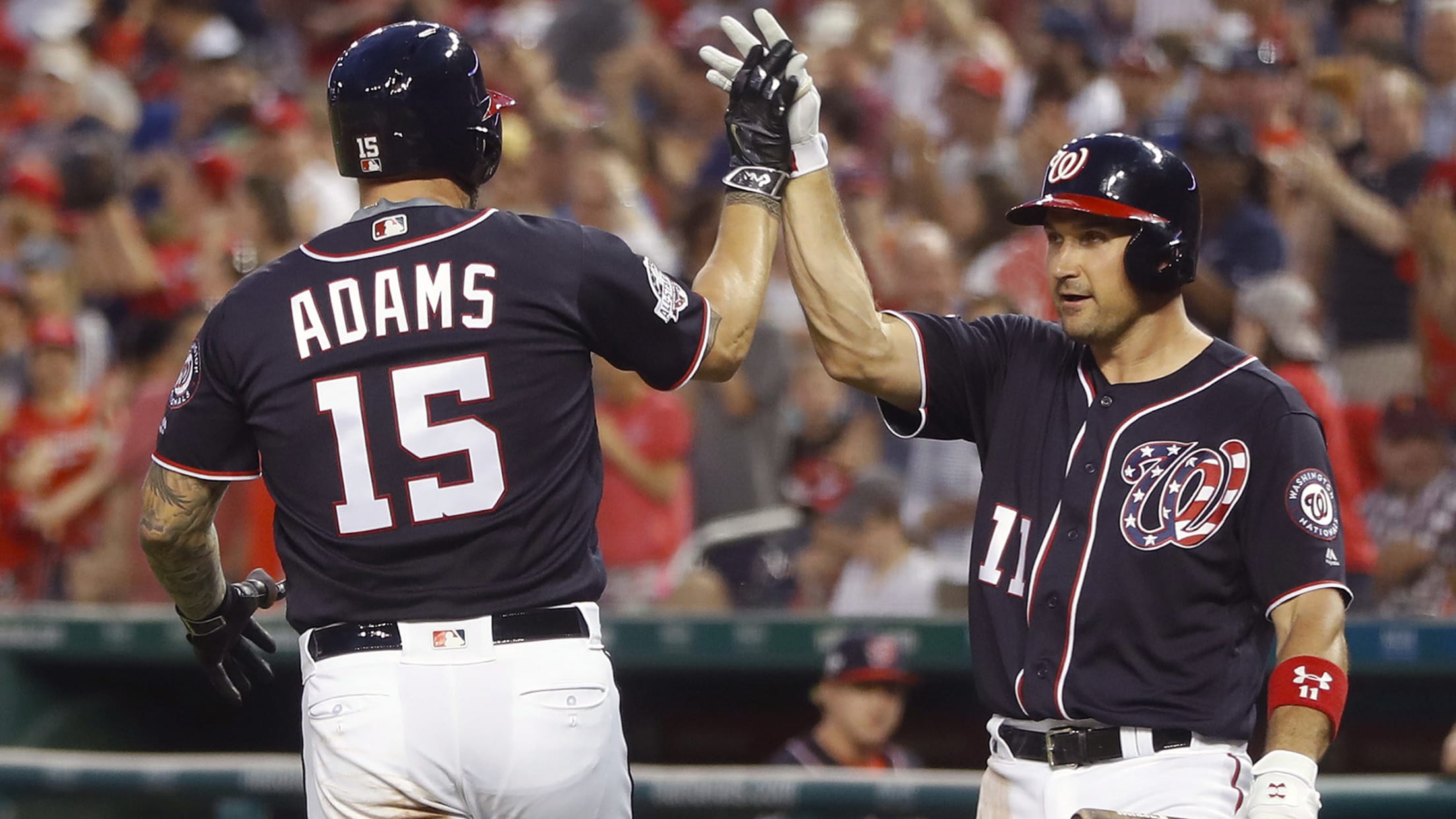 Washington Nationals' Matt Adams (15) is greeted by teammate Ryan Zimmerman (11) after hitting a two-run home run off Philadelphia Phillies starting pitcher Nick Pivetta during the second inning of a baseball game at Nationals Park, Friday, May 4, 2018, in Washington. (AP Photo/Pablo Martinez Monsivais) (Pablo Martinez Monsivais/AP)
MILWAUKEE -- Activated off the disabled list after dealing with a right oblique strain on Friday, Ryan Zimmerman spent the weekend in Washington watching Matt Adams start at first base for the Nationals. Zimmerman got his turn in Monday's 6-1 loss in the series opener against the Brewers at Miller Park.Adams
MILWAUKEE -- Activated off the disabled list after dealing with a right oblique strain on Friday, Ryan Zimmerman spent the weekend in Washington watching Matt Adams start at first base for the Nationals. Zimmerman got his turn in Monday's 6-1 loss in the series opener against the Brewers at Miller Park.
Adams went 2-for-8 with a home run and two RBIs in the rain-shortened two-game series against the Braves, and he has impressed manager Dave Martinez this season, slugging .565 with 16 homers and 41 RBIs in 71 games.
But Martinez plans on giving Zimmerman a fair shot at earning back some playing time at first base. The Nationals' longest-tenured player made his first start since May 9 on Monday.
"We've got to get [Zimmerman] in the lineup and got to get him going," Martinez said. "When he's hot, he can carry us. We want to make sure that we get him going. Matt has done an unbelievable job, and he'll get a chance as well. But we've got to figure out where and when to play both these guys."
Zimmerman played three rehab games between Double-A Harrisburg and Class A Advanced Potomac last week, going 4-for-9 with a double and a home run, but he grounded out to second in a pinch-hit appearance on Friday against the Braves. On Monday, Zimmerman went 0-for-3 and was hit by a pitch on his right side, but he said he felt fine after the game.
Zimmerman has played 35 games this season, after playing at least 115 each of the past two seasons, including an All-Star campaign in 2017, when he hit .303 with 36 homers.
"I want to see if we can get [Zimmerman] going," Martinez said. "He might play [Tuesday], too, but we'll see."
At first base on Monday, Zimmerman made a barehanded grab on a fourth-inning grounder and threw out Hernan Perez at the plate. But Zimmerman also misplayed a sixth-inning grounder down the line, which resulted in a three-run triple by Christian Yelich.
"Should've made the play," Zimmerman said. "Took a step back on the big hop and realized that might've not been the best, but I should have made the play."
Martinez wouldn't call his plan of action with Adams and Zimmerman a platoon, and the splits for Jhoulys Chacin, who started for the Brewers on Monday, would prove that Martinez doesn't plan on using one. Right-handed hitters, like Zimmerman, entered Monday batting .190 against the right-handed Chacin this season, while lefties, such as Adams, were hitting .274.
Martinez hopes to find a way to get both Zimmerman and Adams playing time going forward, and his best option might be to give Adams a few starts in left field. While Adams' primary position has been first base since debuting with the Cardinals in 2012, he has made 30 starts in left since the start of '17.
That move would affect rookie outfielder Juan Soto, who hit .311 over his first 53 games after debuting on May 20.
"The nice thing about it is that if we have to give Soto a day off, we can play Matt in left field, too, and play [Zimmerman] at first. They're good options," Martinez said. "I told Matt, 'You've done a great job, but you're not going to play [Monday]. Don't think this is something where he comes back and you won't. You're both going to get a chance to play.'"
Glover nearing return to Majors
Koda Glover is pitching well during his rehab stint with Triple-A Syracuse, but the Nationals are in no rush to call up the 25-year-old reliever.
Since July 7, Glover has tossed 5 2/3 innings over five rehab appearances, including two starts, allowing three runs and striking out nine. He underwent offseason shoulder surgery, and Martinez continued calling Glover's time in the Minor Leagues his version of "Spring Training."
"He's got to keep going," Martinez said. "He's got like five outings down there, and typically in Spring Training, these guys get eight or nine outings. But he's doing well."
Glover threw 39 innings in 42 games over his first two Major League seasons in 2016 and '17, picking up eight saves last season.
With concerns of an overworked bullpen mounting for the Nats, Glover would add depth upon his return. However, the club does not plan to speed up his rehab so that he could be a short-term fix toward the end of the season.
"The biggest thing with him is to continue to stay healthy, and go out there and build up his innings and build up his strength," Martinez said.
Stephen Cohn is a reporter for MLB.com based in Milwaukee.